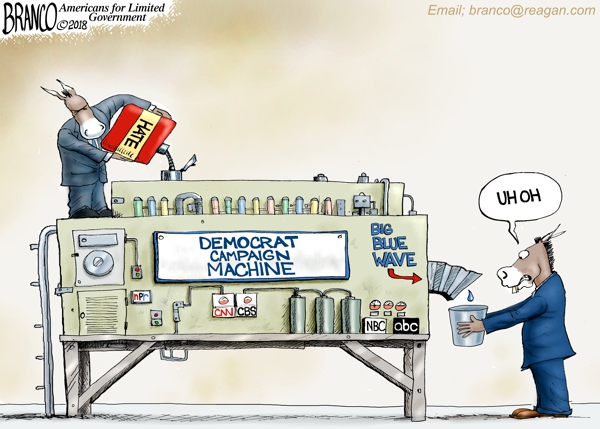 With nearly all of the dust settled from the midterm elections, now is a good time to assess where we stand. The results were not as good as conservatives had hoped; but by any objective measure, the Republican Party is in good shape. The House Republican caucus in the next Congress will be larger than the current Democrat caucus is; Senate Republicans expanded their majority by two seats — which means that the judicial confirmation factory will remain open for business — and Republicans at the state level retained many of their advantages over the Democrats.
Some of the worst election results for Republicans were in the House. Going into the elections, Republicans held 235 House seats; Democrats held 193; and there were seven vacancies. Next year, Republicans will have about 200 seats, which puts the party well within striking distance of the majority. Because they won a House majority, Democrats must share the responsibility of governing, and a spotlight will be shown on their leaders and their priorities. If they are unable to restrain their crazier impulses, their House majority could be short-lived.
In the Senate, the news was better. Republicans knocked off four incumbent Senate Democrats while losing two seats, for a net gain of two seats. This boosts the Republican majority to 53, and makes it a bit tougher for Democrats to retake the Senate in 2020.
Republicans also faced some setbacks at the gubernatorial level, but that is not surprising given the fact that Republicans held 33 state governorships going into the elections. As for the Democrats, they held only 16; and there was one Independent governor. Next year, Republicans will have 27 governorships, and Democrats will have 23. Democrats picked up seven governorships in this year's elections, and Republicans picked up a governorship that is currently held by an Independent. So the Democrats had a net gain of six governorships, but Republicans kept their gubernatorial majority, including in the important swing states of Ohio, Florida, New Hampshire and Iowa. Most of the Democrats' gubernatorial gains were in states that are either solidly Democrat or lean Democrat. Looking ahead to next year's elections, Republicans have a good pickup opportunity in Louisiana.
Republicans also lost a bit of ground in state legislatures, but they still retain a considerable advantage over the Democrats. Going into the elections, Republicans had majorities in 67 state legislative chambers (including the unicameral Nebraska state legislature, which is officially nonpartisan); Democrats had majorities in 32; and the parties were tied in one. Next year, Republicans will have majorities in 62 state legislative chambers (including Nebraska); Democrats will have majorities in 37. So Democrats chipped away at the number of Republican-controlled chambers, but Democrats are still decidedly in the minority in terms of legislative chambers held.
When considering these election results, a couple things should be kept in mind. First of all, Republicans were in a much worse predicament just a few years ago. In the early days of the Obama Administration, Republicans had only 178 House members, 40 Senators, and 22 governors. Secondly, we live in a closely-divided country that tends to like divided government. Of the last three presidents, Clinton had two years with Democrat control of Congress; Bush had about four and a half years of full Republican control of Congress; and Obama had two years of full Democrat control of Congress. During the rest of their terms, all three presidents were forced to deal with at least one chamber led by the other party. In other words, the situation in which we find ourselves is not new.
In summary, while the elections could have gone better, they most certainly were not the sweeping victory Democrats hoped for. Finally, for those on the right who are disappointed with the election results, now is the time to start preparing for 2020 so Republicans will be well-positioned to keep the White House and the Senate, retake the House, and pick up seats at the state and local levels.
Richard McCarty is the Director of Research at Americans for Limited Government.