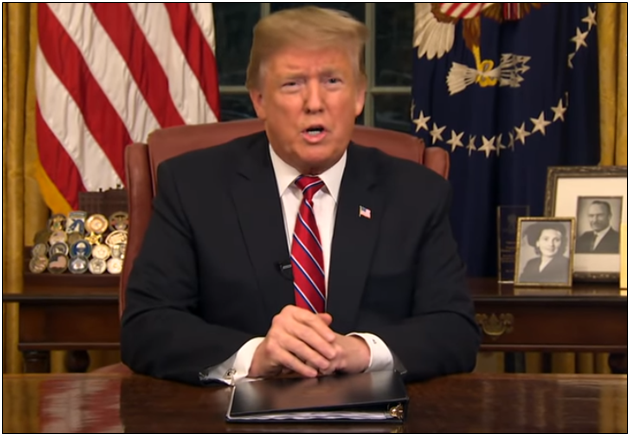 By Rick Manning
After President Donald Trump's national address on the crisis at the nation's southern border, it is stunning that the Democrats in Congress refuse to provide the basic border security tools, including a steel barrier that covers the top ten places that the Border Patrol has identified the greatest need.
As the President noted, aliens have been charged or convicted of 100,000 assaults, nearly 30,000 sex crimes and 4,000 violent killings over the past two years.  Where are the concerns for the victims, the Kate Steinles who don't make the headlines?
How can the Democratic leaders look at their children knowing that 300 Americans die every week from heroin, 270 of them from heroin that came across our southern border?
How can they tell their children that they did nothing to stop the dangerous trek from Central America to our border over which one in three women are sexually assaulted?
And how can they look themselves in the mirror knowing that 20,000 migrant children were subjected to this abusive and dangerous journey and illegally smuggled into the country last month alone?
Nancy Pelosi declared when she took the gavel as House Speaker that she was taking over for America's children. If this is true, she should join President Trump in serious negotiations to establish border security including a wall that discourages the abuse of Central American children who are used as pawns in the human trafficker games that she is aiding and abetting by continuing to have an open border.
It is time for every freedom loving American to contact Congress and demand that they fund our nation's border security including a tall and strong steel barrier.
Call and let Congress know that you expect them to put our country first by funding both the national security and humanitarian priorities laid out by the President of the United States now: (202) 224-3121.
Rick Manning is the President of Americans for Limited Government.