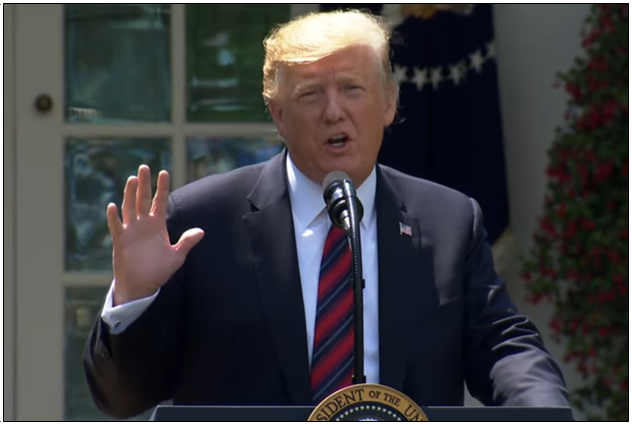 President Donald Trump on May 16 unveiled his immigration reform plan that would secure the border, place an emphasis on merit-based migration and limit family chain migration.
These changes are long overdue and come after more than 50 years since immigration has been meaningfully addressed by Congress.
On border security, Trump proposed using customs and border fees to create, in the President's words, a "permanent and self-sustaining border security trust fund" that in the future could be used to make improvements and expand the wall, without the need for Congress to get involved with annual appropriations.
This would deal with normal wear and tear on border barriers that have gone into disrepair and give an administration the flexibility needed to react quickly when the drug cartels and gangs shift the routes they are pursuing to smuggle heroin and other drugs across the U.S. border.
Trump said, "Everyone agrees that the physical infrastructure on the border and the ports of entry is gravely underfunded and woefully inadequate."
The President also reported on progress being made to build the wall by the Army Corps of Engineers, saying, "we should have close to 400 miles built by the end of next year, and probably even more than that.  It's going up very rapidly."
On human trafficking, the President proposed addressing current law and the Flores decision that incentivizes children to be smuggled into the U.S., saying, "Current law and federal court rulings encourage criminal organizations to smuggle children across the border.  The tragic result is that 65 percent of all border-crossers this year were either minors or adults traveling with minors.  Our plan will change the law to stop the flood of child smuggling and to humanely reunite unaccompanied children with their families back home — and rapidly. "
Trump also promised to rein in bogus asylum claims. According to Justice Department data through 2016, up to 43 percent of asylum seekers depending on the year never make their court appearances after they are released, with tens of thousands simply disappearing into the woodwork every year. In 2016 alone, 34,193 cases were completed in abstentia and ordered to be deported because the alien had not shown up in court.
In addition, only about 10 percent of those whose credible fear claims are initially granted are actually given asylum, according to the White House.
An order from Attorney General William Barr to immigration judges addresses that in part by blocking some of those making asylum claims from being released on bond while their proceedings are ongoing.
Said Trump of the problem, "legitimate asylum seekers are being displaced by those lodging frivolous claims — these are frivolous claims — to gain admission into our country… My plan expedites relief for legitimate asylum seekers by screening out the meritless claims."
Trump also said that it was time to restrict the family chain migration system and shift towards a merit-based system depending on the economic needs of the nation. Trump noted of the 1.1 million new permanent legal residents admitted every year, "Currently, 66 percent of legal immigrants come here on the basis of random chance.  They're admitted solely because they have a relative in the United States.  And it doesn't really matter who that relative is.  Another 21 percent of immigrants are issued either by random lottery, or because they are fortunate enough to be selected for humanitarian relief."
In other words, about 87 percent of those coming to the U.S. are not based on economic needs but upon familial relations or luck of the draw, and only 12 percent explicitly come for work. Trump proposes increasing work-based immigration from 12 percent to 57 percent and reducing familial immigration to just immediate families and visa lotteries commensurately.
Trump underscored the problem that we are turning away doctors and other highly educated persons because they choose to follow the law, and the law provides no room for them to stay: "Under the senseless rules of the current system, we're not able to give preference to a doctor, a researcher, a student who graduated number one in his class from the finest colleges in the world — anybody… Some of the most skilled students at our world-class universities are going back home because they have no relatives to sponsor them here in the United States."
The plan met with support by Americans for Limited Government President Rick Manning, who said, "The framework laid out by the President today is a smart way forward and it is important that Democrats support it and securing the border in a humane way, build a merit-based system and move away from family chain migration. Any attempts to add amnesty or other poison pill provisions would be an admission that Democrats are unwilling to work on basic issues of common ground on securing the border, reforming our broken system and treating immigrants humanely."
In other words, the President's plan puts America first — and it's about time.
Robert Romano is the Vice President of Public Policy at Americans for Limited Government.