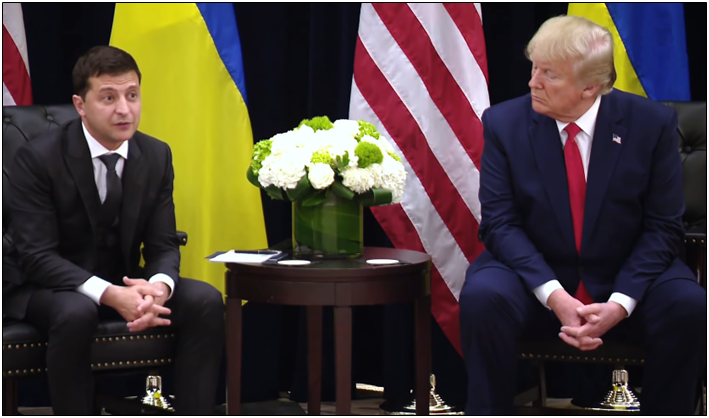 Consider the following sequence of events and tell me where the quid pro quo is.
On March 5, now-removed former U.S. Ambassador Marie Yovanovitch to Ukraine called to have anti-corruption prosecutor Nazar Kholodnytskyi fired in a speech to the Ukraine Crisis Media Center, saying, "To ensure the integrity of anticorruption institutions, the Special Anticorruption Prosecutor must be replaced," accusing Kholodnytskyi of corruption.
On March 20, then-Ukrainian Prosecutor General Yuriy Lutsenko told The Hill's John Solomon Yovanovitch had given him a do-not-prosecute list, "Unfortunately, from the first meeting with the U.S. ambassador in Kiev, [Yovanovitch] gave me a list of people whom we should not prosecute."
On April 1, Solomon reported Kholodnytskyi  had reopened the office's investigation of Burisma Holdings following former Vice President Joe Biden's Jan. 2018 statement to the Council on Foreign Relations bragging about having the former Prosecutor General Viktor Shokin, Lutsenko's predecessor, fired in March 2016 by threatening $1.2 billion of loan guarantees to then-President Petro Poroshenko.
Kholodnytskyi told Solomon, "We were able to start this case again… [But] we don't see any result from this case one year after the reopening because of some external influence."
As for Shokin, he told Solomon he was removed in 2016 because of his investigation of Burisma, which Biden's son, Hunter, served on the Board of Directors of. Shokin told Solomon he had "specific plans" to investigate including "interrogations and other crime-investigation procedures into all members of the executive board, including Hunter Biden."
Lutsenko told Solomon in the same April 1 interview he wanted to give the information to Attorney General William Barr. The U.S. and Ukraine signed a mutual legal assistance treaty in 1998.
On April 22, Volodymyr Zelensky wins the election in Ukraine for president by a landslide, garnering 73 percent of the vote on an anti-corruption, peace platform against the U.S.-backed Poroshenko.
On July 18, President Donald Trump and Office of Management and Budget Director Mick Mulvaney put a pause on military assistance to Ukraine pending a review by both the State and Defense Departments.
On July 25, President Trump and Ukrainian President Zelensky have the phone conversation, where Zelensky thanks the U.S. for military assistance: "It turns out that even though logically, the European Union should be our biggest partner but technically the United State is a much bigger partner…"
Trump and Zelensky each request mutual legal assistance to assist Attorney General William Barr's ongoing investigation into the origins of the Russiagate conspiracy theory peddled by intelligence agencies and the Justice Department that falsely accuse Trump and his campaign of being Russian spies, and with Ukraine's anti-corruption investigations.
Zelensky pledges in the phone call to help out with the Russiagate origins investigation: "Yes, it is very important for me and everything that you just mentioned earlier. For me as President, it is very important and we are open for any future cooperation. We are ready to open a new page on cooperation in relations between the United States and Ukraine… I also plan to surround myself with great people and in addition to that investigation, I guarantee as the President of Ukraine that all the investigations will be done openly and candidly. That I can assure you."
Later, after the topic turns to corruption in Ukraine, Trump asks Zelensky about Burisma and Biden, saying it sounded "horrible," and Zelensky says his people were already looking into that and that it was essential to his administration: "I understand and I'm knowledgeable about the situation… Since we have won the absolute majority in the our Parliament, the next prosecutor general will be 100% my person, my candidate, who will be approved by the parliament and will start as new prosecutor in September. He or she will look into the situation, specifically to the company that you mentioned in this issue. The issue of the investigation of the case is actually the issue of making sure to restore the honesty so we will take care of that and work on the investigation of the case."
Zelensky in turn asked for U.S. assistance and confirmed the active investigation: "On top of that, I would kindly ask you if you have any additional information that you can provide to us, it would be very helpful for the investigation to make sure that we administer justice in our country…"
At this point, Zelensky is unaware of the pause in military assistance.
On Aug. 12, the anonymous CIA so-called whistleblower alleges to the Intelligence Community Inspector General's office that Trump is leveraging the military assistance.
On Aug. 28, Politico breaks the story publicly that the military assistance is being reviewed by the Trump administration.
Per acting U.S. Ambassador Bill Taylor's Oct. 22 testimony before the House Intelligence Committee, on Aug. 29, Ukraine finally learns of the pause on the military spending: "Mr. Yermak [Zelensky's aide] contacted me and was very concerned, asking about the withheld security assistance. The hold that the White House had placed on the assistance had just been made public that day in a Politico story."
The Defense and State Departments finished their review on the military funding, which was ultimately released on Sept. 11.
Zelensky says at a meeting with Trump in New York on Sept. 25: "Nobody pushed me… We had a great phone call. It was normal."
Justice Department spokeswoman Kerri Kupec confirmed the investigation into foreign agency involvement including Ukraine in the Russiagate hoax on Sept. 25, "A Department of Justice team led by U.S. Attorney John Durham is separately exploring the extent to which a number of countries, including Ukraine, played a role in the counterintelligence investigation directed at the Trump campaign during the 2016 election… While the Attorney General has yet to contact Ukraine in connection with this investigation, certain Ukrainians who are not members of the government have volunteered information to Mr. Durham, which he is evaluating."
On Sept. 26, John Solomon reported at the Hill that Ukrainian prosecutors had been attempting to get the information about Burisma and Biden to the Justice Department since 2018: "Ukrainian prosecutors say they have tried to get this information to the U.S. Department of Justice (DOJ) since the summer of 2018, fearing it might be evidence of possible violations of U.S. ethics laws."
On Oct. 9, Solomon reported on Fox News that U.S. intelligence agencies were aware of the investigation into Burisma before Zelensky was even elected, saying, "the U.S. government had open-source intelligence and was aware as early as February of 2019 that the Ukrainian government was planning to reopen the Burisma investigation… This is long before the president ever imagined having a call with President Zelensky," noting that Zelensky had not even been elected yet.
Which, coincidentally, was just weeks before Yovanovitch tried to have the same Ukrainian prosecutors pursuing the Burisma probe sacked.
Finally, on Oct. 22, U.S. Rep. John Ratcliffe (R-Texas), who questioned Taylor, told Fox News that Taylor confirmed Ukraine was unaware of any pause in funding: "The mainstream reporting that [diplomat Bill Taylor] provided evidence of a quid-pro-quo involving military aid is false. I questioned him directly on that and under Adam Schiff's rules I can't tell you what he said, but I can tell you what he didn't say. And neither he nor any other witness has provided testimony that the Ukrainians were aware that military aid was being withheld. You can't have a quid-pro-quo without quo."
So, if 1) the investigation by Ukrainian prosecutors into Burisma and Biden began in 2018 when they began trying to get the information to the Justice Department; 2) the U.S. became aware of that investigation at least as early as Feb. 2019; 3) the U.S. Ambassador to Ukraine tried to have those same prosecutors fired in March 2019; 4) the Ukrainian prosecutors are on the record on March 20 saying that same ambassador gave them a do-not-prosecute list, and in April again saying they were trying to get the information to Attorney General Barr all before Zelensky is elected; 5) Trump speaks to Zelensky in July when Zelensky confirms the investigation is already underway and requests U.S. assistance with it; 6) Ukraine does not find out about any delayed military aid until Aug. 29 when the press published it, which is ultimately released on Sept. 11; and 7) Zelensky says there was "no pressure" to pursue the investigations his own prosecutors had already initiated, then where's the quid pro quo?
No, it's not in a time machine. It simply doesn't exist.
Robert Romano is the Vice President of Public Policy at Americans for Limited Government.