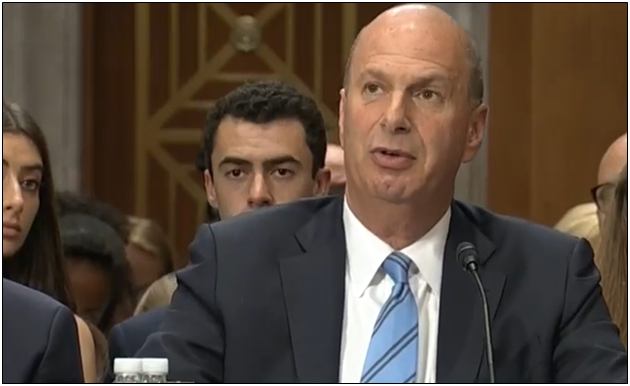 U.S. Ambassador to the European Union Gordon Sondland issued a new statement on Nov. 4 to the House Intelligence Committee that he "presumed" military assistance to Ukraine was "likely" being conditioned by the administration when he spoke to a Ukrainian presidential aide on Sept. 1, but that he "did not know… when, why, or by whom the aid was suspended…"
In any sane world, this would be the end of the impeachment farce by House Speaker Nancy Pelosi (D-Calif.) and House Intelligence Committee Chairman Adam Schiff (D-Calif.). Per Sondland, there was no communication from the White House, President Donald Trump or his attorney, Rudy Giuliani, to leverage Ukraine using military assistance — the heart of the allegation against the President.
From the testimony, "I now do recall a conversation on September 1, 2019, in Warsaw with [Zelensky presidential aide Andriy] Yermak. This brief pull-aside conversation followed the larger meeting involving Vice President [Mike] Pence and President [Volodymyr] Zelensky, in which President Zelensky had raised the issue of the suspension of U.S. aid to Ukraine directly with Vice President Pence. After that large meeting, I now recall speaking individually with Mr. Yermak, where I said that resumption of U.S. aid would likely not occur until Ukraine provided the public anti-corruption statement we had been discussing for many weeks."
But, he didn't know. Here, Yermak says he was speculating: "I always believed that suspending aid to Ukraine was ill-advised, although I did not know (and still do not know) when, why, or by whom the aid was suspended. However, by the beginning of September 2019, and in the absence of any credible explanation for the suspension of aid, I presumed that the aid suspension had become linked to the proposed anti-corruption statement."
On Aug. 28, Politico broke the story that the U.S. had decided to pause U.S. military assistance to Ukraine, days before the planned meeting, which is how Ukrainian officials had learned about it.
Then the meeting in Warsaw happened, and the issue was raised there by both Zelensky and afterward by Yermak. But if Sondland was "presuming" the aid was being leveraged, and told Ukrainian presidential aide Yermak that the military assistance would "likely" not resume until the statement had been issued, then he was guessing.
Meaning, there was no quid pro quo. Nowhere does Sondland say the White House had told him to tie military aid to any statement by Ukraine.
Of course that's not stopping major media outlets from reporting what they want the testimony to mean. They think Sondland is their star witness.
"Sondland reverses himself on Ukraine, confirming quid pro quo," reported Politico.
"The guy Trump cited as proof there wasn't a quid pro quo just said there was a quid pro quo," blared Rolling Stone.
"With revised statement, Sondland adds to testimony linking aid to Ukraine investigations that Trump sought," the Washington Post added.
"It was a corrupt quid pro quo," the Atlantic found.
The anti-corruption statement by Ukraine that had been sought was that they were looking at origins of the Russiagate investigation and potential corruption at Burisma Holdings, but not in exchange for military assistance but a sought-after meeting between President Donald Trump and Ukrainan President Volodymyr Zelensky.
Per Sondland's updated testimony, in May 2019, "scheduling a White House visit for President Zelensky was conditioned upon President Zelensky's agreement to make a public anti-corruption statement. This condition had been communicated by Rudy Giuliani, with whom President Trump directed Ambassador Volker, Secretary Perry and me, on May 23, 2019, to discuss issues related to the President's concerns about Ukraine."
But those conditions were dropped. Because the Sept. 1 Warsaw meeting was originally supposed to be Trump and Zelensky but an imminent hurricane had Pence traveling there instead, facilitating such a statement had already abandoned by State Department officials.
According to former United States Special Representative for Ukraine Negotiations Kurt Volker's Oct. 3 testimony, "To my knowledge, the news about a hold on security assistance did not get into Ukrainian Government circles, as indicated to me by the current foreign minister, then diplomatic adviser, until the end of August. And by the time that we had that, we had dropped the idea of even looking at a statement" in exchange for a meeting.
Further, Volker was asked about the conditioning the meeting, "Did the President ever withhold a meeting with President Zelensky… until the Ukrainians committed to investigate the allegations… concerning the 2016 election?"
To which, Volker replied, "The answer to the question is no… there was no linkage." And we now know that because the Sept. 1 meeting in Warsaw — which again, was supposed to be Trump and Zelensky not Pence — had already been scheduled.
Now, perhaps the reason for that is Trump became satisfied by what Zelensky had told him in the July 25 phone call, where Zelensky pledged to look into both potential Ukrainian origins of the Russiagate investigation by intelligence agencies and the Justice Department falsely accusing the President and his campaign of being Russian agents, which had been debunked by Special Counsel Robert Mueller, and looking at potential corruption in Burisma Holdings.
On the Russiagate investigation, without any preconditions communicated by Trump — the President just asked nicely — Zelensky said, "Yes, it is very important for me and everything that you just mentioned earlier… I also plan to surround myself with great people and in addition to that investigation, I guarantee as the President of Ukraine that all the investigations will be done openly and candidly. That I can assure you."
And on Burisma, again without any pressure from Trump, Zelensky said, "I understand and I'm knowledgeable about the situation… Since we have won the absolute majority in our Parliament, the next prosecutor general will be 100 percent my person, my candidate, who will be approved by the parliament and will start as new prosecutor in September. He or she will look into the situation, specifically to the company that you mentioned in this issue. The issue of the investigation of the case is actually the issue of making sure to restore the honesty so we will take care of that and work on the investigation of the case."
As for military assistance, both Trump and Zelensky blasted Europe for not doing more, and Zelensky thanked the U.S. for everything it was doing. Trump said, "I will say that we do a lot for Ukraine. We spend a lot of effort and a lot of time. Much more than the European countries are doing and they should be helping you more than they are. Germany does almost nothing for you… A lot of the European countries are the same way so I think it's something you want to look at…"
To which Zelensky replied, "Yes you are absolutely right. Not only 100 percent, but actually 1000 percent and I can tell you the following:  I did talk to Angela Merkel and I did meet with her. I also met and talked with Macron and I told them they are not doing quite as much as they need to be doing on the issues with the sanctions. They are not enforcing the sanctions. They are not working as much as they should work for Ukraine. It turns out that even though logically, the European Union should be our biggest partner but technically the United States is a much bigger partner…"
A month later, Trump was set to meet Zelensky on Sept. 1. And then a hurricane hit and so did the Politico story about military aid being paused. That's when Trump canceled his trip and Pence went in his stead, and then Sondland says he surmised that the military assistance was tied to the statement.
But when he circled back to the White House, he found out he was wrong. In Sondland's original testimony on Oct. 17, he said he asked Trump directly what he wanted out of Ukraine, and Trump said nothing: "On September 9, 2019, Acting Charge de Affairs/Ambassador William Taylor raised concerns about the possibility that Ukrainians could perceive a linkage between U.S. security assistance and the President's 2020 reelection campaign. Taking the issue seriously, and given the many versions of speculation that had been circulating about the security aid, I called President Trump directly. I asked the President: 'What do you want from Ukraine?' The President responded, 'Nothing. There is no quid pro quo.' The President repeated: 'no quid pro quo' multiple times. This was a very short call. And I recall the President was in a bad mood."
Two days later, on Sept. 11, the military assistance was released. On Sept. 25, Zelensky spoke with reporters at his meeting with Trump in New York saying, that "nobody pushed me."
If there's no victim, where's the crime?
Sondland now says he made he "presumed" that military assistance was "likely" being conditioned directly following the Sept. 1 meeting between Vice President Pence and Zelensky where the issue of the lapse in military funding was raised. But he was wrong. Barring any other disclosures, it appears Sondland was the source of the confusion.
That will probably not be enough for Pelosi and Schiff — they are too committed at this point. But if Zelensky says there was no pressure, neither Trump nor Pence conveyed any conditions on the aid, and the only person who communicated that the military assistance was being conditioned by the administration now says he was assuming that it was, then that's it. This is a dead end.
Robert Romano is the Vice President of Public Policy at Americans for Limited Government.