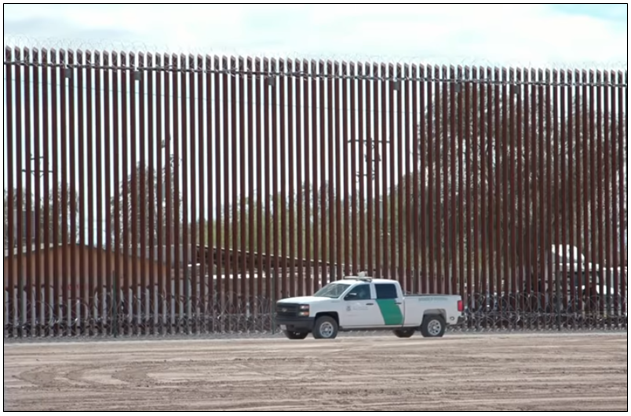 Because President Trump made immigration enforcement a signature issue of his campaign, State of the Union viewers can expect to hear more from him on the subject. The President will highlight success in securing the southern border and progress on building the wall, and make proposals to limit chain migration, a more robust effort to remove those who overstay their visas, and changing immigration policies to favor immigrants who are most likely to strengthen our economy. Speaking English will improve an immigrant's chances of citizenship while those who are most likely to join the welfare rolls should expect to be denied.
Interestingly, Trump has been talking about best practices for handling immigration with various world leaders, and perhaps he will share some of what he has been hearing. But before we hear the President's speech, a look back at his immigration enforcement record is appropriate.
In December of 2019 (the most recent month for which we have numbers), fewer than 41,000 people were apprehended or turned away at the border; this is 20,000 fewer than were apprehended or turned away in December of the previous year, and 75 percent down from the migrant car peak in May.
Trump's Remain in Mexico policy, which took effect last January, has also been a huge success. For years, asylum seekers gamed our system. After being given a court date to see an immigration judge, they would simply disappear into the country and never show up for court. Under the Remain in Mexico policy, some asylum seekers must wait in Mexico until their case is heard. This policy, too, has been fought in the courts, but, so far, Trump has prevailed.
Last month, it was reported that the Trump administration had built 100 miles of wall consisting of steel-bollard fencing 18-30 feet tall, but that is just the beginning. Along with the wall, the Administration is installing lighting, cameras, and motion sensors, and building patrol roads. Hundreds more miles of wall are expected to be built by the end of this year. About $12 billion has so far been allocated for wall construction.
The liberal media likes to point out that much of the wall built so far is "replacement" wall. However, what the liberal media does not like to mention is that the old wall that is being replaced is often dilapidated and not very effective — or it was merely a vehicle barrier and not at all difficult for a person on foot to get over or under. So, in effect, the "replacement" wall is new wall because the old wall was nearly useless.
Were it not for Congressional obstruction and frivolous lawsuits, much more of the wall would be built by now. It is truly unfortunate that so many Members of Congress have so little interest in securing our border; and voters should keep that in mind as they go to the polls. Of course, Congressional opponents of the wall had accomplices in their fight. Seeking to halt — or at least slow — construction of the wall, pesky liberal groups like the Center for Biological Diversity, Sierra Club, and the ACLU all filed lawsuits. At times, these groups found robed Resisters willing to block the wall; but, in the end, their frivolous lawsuits were brushed aside.
Even setting aside the wall, the Trump administration is racking up quite a list of achievements. The number of illegal immigrants removed by Immigration and Customs Enforcement has increased each year for the past three years. In FY 2019, more than 260,000 illegal immigrants were removed from the country. Under Trump, ICE has significantly increased its enforcement actions against companies that employ illegal immigrants. After a spike in border apprehensions last year, the numbers have continued falling, all good news.
At the end of three years in office, President Trump has much to be proud of, including his determined efforts to secure the border. One can only imagine what he might be able to accomplish on the border with another four years.
Richard McCarty is the Director of Research at Americans for Limited Government.