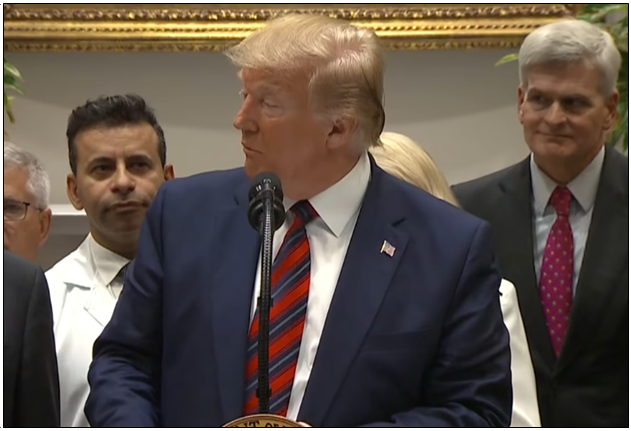 What is surprise medical billing, and what do conservative organizations think should be done to address this problem?
Surprise medical billing occurs when a patient has a medical emergency and is taken to an out-of-network emergency room for treatment and then receives a large bill in the mail weeks or months later for care.
Surprise medical billing also occurs when a patient goes to an in-network hospital but is treated by an out-of-network doctor who then sends an unexpected bill weeks or months after treatment. This problem was worsened by Obamacare, which led to narrower networks of health care providers — and more out-of-network providers. Conservative organizations oppose allowing the government or insurance companies to set rates for out-of-network providers, but they differ in the solutions they support.
In a letter to Congressional leaders sent last December, several organizations, including the Taxpayers Protection Alliance, Citizens Against Government Waste, the Competitive Enterprise Institute, Consumer Action for a Strong Economy, Frontiers of Freedom, and the 60 Plus Association, wrote in favor of requiring arbitration between health care providers and insurers to settle billing disputes.
From the letter: "Congress should avoid any measures that would seek to address surprise medical billing by creating a government-mandated benchmark (i.e. rate-setting) to determine out-of-network rates for physicians. Current legislative proposals that utilize this approach would expand the government's reach into healthcare.
"The problem with rate-setting is that in-network rates are inherently discounted during insurer-provider contract negotiations. Using them as the benchmark would artificially suppress rates for physicians providing out-of-network care to the point that enormous financial losses would be shifted to local hospitals and emergency rooms.
"Many of these facilities — particularly the ones serving rural, hard-to-reach communities across the nation — are already operating under razor-thin profit margins, if they are even profitable at all…
"Independent Dispute Resolution (IDR) is a pragmatic solution that leverages a less heavy-handed approach to ending surprise medical billing. Under IDR, both insurers and providers would be able to negotiate out-of- network payments among themselves, ensuring patients are held harmless for any costs above and beyond their standard, in-network and out-of-pocket amounts."
Doug Badger, of the Heritage Foundation has a different view:
"Congress should impose penalties on insurers that represent medical facilities—and medical facilities that represent themselves—as being in-network if doctors balance bill patients for services they provide at that facility.
"Patients treated at network hospitals never should be balance billed, whether for scheduled or emergency care.
"In other words, a hospital that advertises itself as being in network for insurer A, cannot allow a doctor who provides services there to balance bill a patient covered by insurer A. Ditto for insurer A. It cannot advertise a hospital as being in network if the hospital allows insurer A's customers to be balanced billed. Neither hospitals nor insurers should be permitted to give patients false and misleading information…
"That leaves the special case of emergency care at non-network hospitals—another circumstance in which patients can get hit with surprise bills. A patient with severe chest pains or one riding in the back of an ambulance can't shop for a network hospital. Congress can protect such patients by banning non-network hospitals from balance billing for emergency care. Federal regulations currently stipulate that insurers must pay such hospitals the greatest of the Medicare rate, the network rate or the out-of-network rate.
"These changes, combined with greater price transparency, will both eliminate surprise bills and empower consumers to make better decisions about their medical care."
The National Taxpayers Union appears to side more with the Heritage Foundation than with those calling for mandatory arbitration:
"Provisions that have been introduced in Congress to address surprise billing introduce what could be a single-payer health care system in disguise. These include additional price controls, federal benchmarks, out-of-network caps, or rate-setting that are all solutions that lead to more government control over who gets health care and who pays for it…
"There are better ways to stop surprise bills, like clearer enforcement of truth in advertising rules, more accurate information on networks, and stronger cost transparency for patients."
However Congress chooses to deal with surprise medical billing, it should avoid doing anything to further reduce the number of health care providers or to further consolidate the health care industry. Due to our aging population, doctor and nursing shortages, and the fact that hundreds of rural hospitals are at risk of closure — on top of the scores of rural hospitals that have closed in recent years — the stakes are very high.
Richard McCarty is the Director of Research at Americans for Limited Government Foundation.