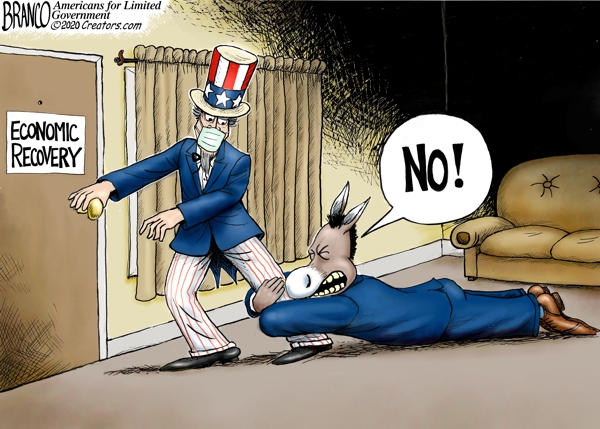 Another 630,000 Americans came off continuing unemployment claims the week ending June 27, according to the latest unadjusted data from the U.S. Department of Labor, proving President Donald Trump is right about the economy rapidly recovering from the COVID-19 pandemic state-based shutdowns.
Since the week ending May 9, unadjusted continuing unemployment claims have dropped from 22.8 million to 16.8 million the week ending June 27, a massive turnaround of 6 million Americans who temporarily found themselves on unemployment benefits but then rapidly came off of it on a net basis.
Really, the number of Americans coming off of assistance is greater than that because the overall drop of 630,000 came the same week initial claims came in at about 1.4 million, indicating more than 2 million people found jobs that week, with the 1.4 million as an offset. That type of churn has been going on for weeks.
Meaning, there is still a lot of volatility in labor markets, with many Americans temporarily finding themselves out of work only to return to the workforce a few weeks later. The good news is that the worst of the pandemic-related shutdowns are past us, and more Americans are returning to work every week than are leaving it.
When coupled with the monthly jobs data from the Bureau of Labor Statistics, where anywhere from 7.8 million to 8.8 million Americans have found jobs the past two months, the picture becomes clearer.
While certain industries, especially hospitality and retail, will continue to be affected during this pandemic — especially in states experiencing some resurgence now — after a brief pause in the U.S. economy and people locked up in their homes for a couple of months, there is so much momentum of Americans returning to labor markets that almost nothing can slow it down, not even the temporary slight uptick in COVID-19 cases being seen right now.
Note, I wrote "almost nothing." Barring a massive resurgence of COVID-19 like we were seeing in late March with almost 250,000 new cases a day — today the number's more like 80,000 according to IHME — another thing that could slow labor markets down is the current mismatch in the unemployment benefits that pay out more than some Americans were making at their jobs in the first place depending on where they live. It is a perverse incentive that Congress should address in the upcoming phase four legislation, and then even more jobs can be created on a weekly and monthly basis going forward.
So, what should we expect going forward? After new cases of the virus stabilize later this month and throughout August according IHME projections, even more Americans will return to the labor force in rapid succession.
While the second quarter that just ended will undoubtedly be horrific in terms of the Gross Domestic Product, one of the worst ever, the third quarter may very likely be the best quarter for economic growth in U.S. history, built entirely by those Americans returning to work in droves.
Then, when a vaccine comes either later this year or early next year, we could very likely see an economic boom like never before.
All along, one of the only people who had this much unyielding faith in the American people and the U.S. economy was President Donald Trump, who was predicting such a rapid turnaround. On March 25, the President predicted, "I don't think it's going to end up being such a rough patch.  I think it's going to, when we open — especially, if we can open it — the sooner, the better — it's going to open up like a rocket ship.  I think it's going to go very good and very quickly."
As it turns out, Trump was right, and now top Democrats are "dreading" the possibility of a robust recovery before the election in November, fearing that it will help Trump politically.
A Politico story quoted a former Obama official saying "This is my big worry… It's high — high, high, high, high" that the economy will begin a rapid recovery.
The Obama official was responding to an early April presentation by Jason Furman, a former Obama administration economist proclaiming that "We are about to see the best economic data we've seen in the history of this country."
Now it looks like it is most certainly happening for real. As cases stabilize this summer and hundreds of thousands of Americans return to the labor force every week, Trump will certainly benefit as voters this fall will have to contend with an economy that is objectively on a massive rebound. To the victor go the spoils.
Robert Romano is the Vice President of Public Policy at Americans for Limited Government.