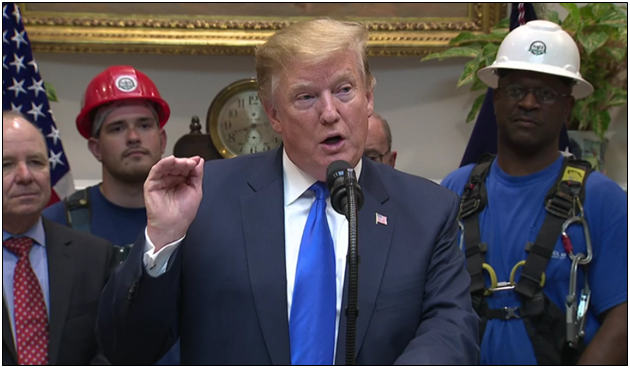 A combined, unadjusted 1.56 million Americans came off of unemployment continued insurance claims the weeks of August 1 and August 8, according to the latest data by the Department of Labor as the U.S. economy continues a rapid recovery almost nobody but President Donald Trump was predicting.
Since the week ending May 9, unadjusted continuing unemployment claims have dropped from 22.8 million to now 14.26 million, a decrease of 8.5 million.
The biggest state gains the week of August 8 were in California, with more than 118,000 coming off of continued claims, 114,000 in Michigan, 103,000 in Nevada, 96,000 in Texas and almost 81,000 in Florida.
Overall, according to the Bureau of Labor Statistics' household survey, a record 10.1 million jobs have been added back to the economy in just three months after labor markets bottomed in April.
With the latest readings from the Department of Labor, with millions more Americans coming off of unemployment benefits down to 14.26 million — 16.3 million were said to be unemployed in July — we might expect to see a couple million more jobs recovered in August.
This not only portends very well for the next monthly jobs report due out on Sept. 4, it is far and away the fastest economic recovery in American history. Consider, in the Obama economy, labor markets bottomed in Dec. 2009 and then it would take almost 5 years for 8 million jobs lost in the financial crisis and the Great Recession to be recovered.
In contrast, in the Trump economy, more than 10 million jobs have already been recovered in just three months, with millions more expected in the next reports as coronavirus daily new cases have stabilized for now before they are expected to increase again in the fall when the cold and flu season begins again. Still, this is unbelievable momentum.
It speaks to the strength of the U.S. economy and labor markets before the COVID-19 pandemic struck, when we were at a 50-year low in unemployment at just 3.5 percent, but also the foresight and wisdom of the Trump administration and Congress to put into place economic supports. That particularly includesthe payroll protection plan for 5.2 million small businesses that were saved because decisive action was taken early in the pandemic.
Now, a V-shaped recovery in labor markets is clearly forming. After a gargantuan 32.9 percent pandemic contraction in the second quarter, when the third quarter Gross Domestic Product is reported on Oct. 29 right before the election, expect a record double-digit recovery.
Almost nobody but President Donald Trump thought this could happen. On March 25, the President confidently predicted, "I don't think it's going to end up being such a rough patch.  I think it's going to, when we open — especially, if we can open it — the sooner, the better — it's going to open up like a rocket ship.  I think it's going to go very good and very quickly."
Turns out, President Trump was exactly right. And as millions more Americans return to work, he will have a strong case to make this fall politically that his leadership was instrumental in not only saving hundreds of thousands of lives from the virus, but in making this rapid recovery possible.
Robert Romano is the Vice President of Public Policy at Americans for Limited Government.