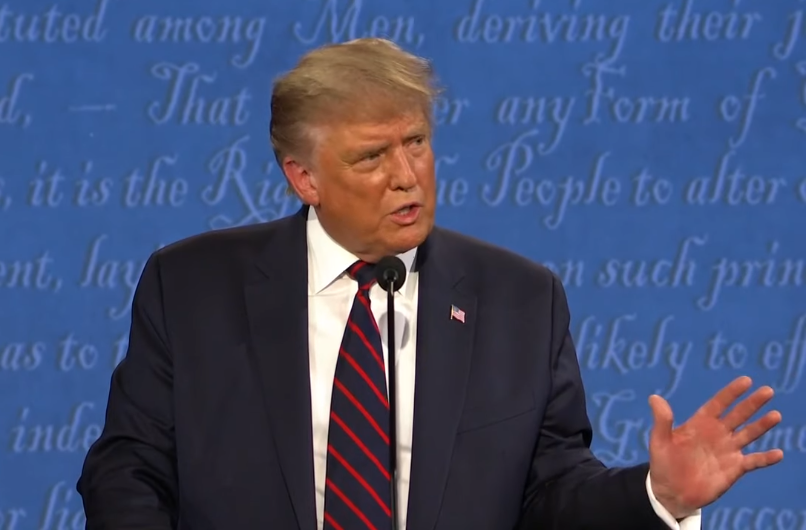 Another 275,000 jobs were added to the U.S. economy in the month of September, according to the Bureau of Labor Statistics' (BLS) household survey, and 661,000 in the establishment survey, adding to the miraculous economic recovery that has taken place since COVID-19 lockdowns this spring as now states and businesses continue reopening at a rapid clip.
That makes for a record 14.1 million jobs that have been recovered in just five short months since labor markets bottomed in April — all on the eve of the 2020 presidential election. This will be the last monthly jobs report before Nov. 3 — and it is undoubtedly great news not just for President Donald Trump, who has insisted on safely reopening the economy, but to the American people who depend on it to support their families.
At the first presidential debate between President Trump and former Vice President Joe Biden on Sept. 29, days before the latest numbers were released, Trump touted the success the nation has seen with reopening and laid into Biden for wanting to shut it down again.
"[W]hat happened is we've closed it down and now we're reopening, and we're doing record business. We had 10.4 million people in a four-month period that we've put back into the workforce. That's a record the likes of which nobody's ever seen before, and he wants to close down the — he will shut it down again," Trump declared, referring to the separate BLS establishment survey of employers prior to the September numbers being released, which show now 11.4 million jobs recovered in revised data.
Both surveys are right, each showing the same V-shaped recovery that has formed, and this month, it appears the establishment survey was catching up to the household one, which may be more useful in terms of gauging the experience of more Americans as a leading indicator.
President Trump contrasted his vision with what he said were the implication's of Biden's prescription: "He will destroy this country, you know, a lot of people, between drugs and alcohol and depression, when you start shutting it down and you take a look at what's happening in some of your Democrat run states where they have these tough shutdowns, and I'm telling you it's because they don't want to open it…. They think they're hurting us by keeping them closed. They're hurting people. People know what to do. They can social distance, they can wash their hands, they can wear masks — they can do whatever they want, but they can open these states up."
Biden for his part, keeps maintaining that "you can't fix the economy until you fix the COVID crisis," and at one point in the debate declared "You need to shut it down" before Trump cut him off.
Biden said, "The idea that … we go forward and open when you have almost half the states in America with a significant increase in COVID desks and COVID cases in the United States of America, and he wants to open it up more. Why does he want to open it up? Why doesn't he take care of the American — you can't fix the economy until you fix the COVID crisis, and he has no intention of doing anything about making it better for you all at home, in terms of your health and your safety. Schools — why aren't schools open? Because it costs a lot of money to open them safely."
Trump, on the other hand, emphasized the toll the ongoing closures have on working families: "[P]eople want their schools open. They don't want to be shut down. They don't want their state shut down. They want their restaurants. I look at New York. It's so sad what's happening in New York, it's almost like a ghost town. And I'm not sure I can ever recover what they've done in New York. People want their places open. They want to get back to their lives."
The American people already know the difference. In April, at the height of the state-led lockdowns, 25 million jobs were lost. The Gross Domestic Product contracted by an inflation-adjusted, annualized 31.7 percent in the second quarter.
Since then, more than 16 million jobs have been recovered, and now, the Atlanta Federal Reserve is projecting a 34.6 percent expansion of the economy in the third quarter — another report that will be released just days before the election.
The news comes as COVID-19 cases continue to stabilize nationwide, including in Texas, California, Florida and Arizona where cases saw a brief uptick this summer but other states like Wisconsin are witnessing an uptick. The President and First Lady's positive COVID-19 tests are a testament of the risks.
And with the cold and flu season upon us again, the Institute for Health Metrics and Evaluation (IHME) is projecting that coronavirus cases will rise significantly through October and November.
One trouble spot, right on time for the advent of the cold and flu season, the labor markets recovery slowed down significantly in the household survey, with a net 970,000 fewer unemployed, of which 879,000 left the labor force.
Which is why we continue to need an emphasis on safely reopening, especially schools, is so important. Congress is still considering phase four legislation, and more than any other thing, getting the schools back and operational is critical to millions of parents getting back to work — and keeping their jobs. The pandemic shutdowns disproportionately knocked women out of the labor force.
The longer the schools are shut, the harder the recovery will become.
Both the Senate and House versions of the legislation provide additional resources for schools — so did the already passed CARES Act — and so the only question is why both chambers have not simply passed the things that they do agree on while working families and small businesses continue to struggle. In particular, the small business lending program to 5 million small business ran out of money on Aug. 8, that has supported 50 million jobs.
While a lot of hope has been placed in the vaccine, there is also the disquieting possibility that it might not work. After all, there's never been an effective vaccine for coronavirus. States have to make plans for what the country will look like — even without an immediate vaccine and regardless of who wins the election in November.
Looking forward, this fall and winter will undoubtedly be a trying time for the American people and the world, and President Trump and former Vice President Biden each have different visions on how and whether to reopen the economy. It is about as clear a contrast as you can get in any debate, which despite the sparring between the candidates, was full of substance. And that may be what the election comes down to: To reopen the country or not to reopen? You decide.
Robert Romano is the Vice President of Public Policy at Americans for Limited Government.