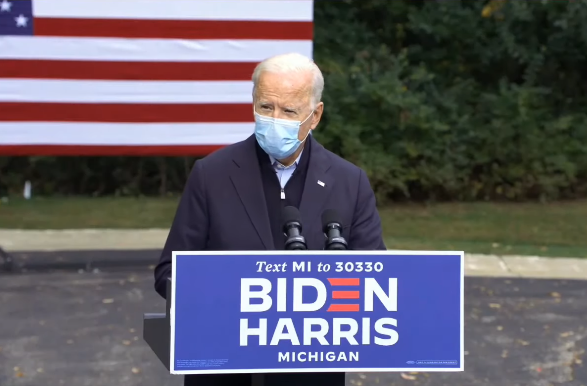 To hear former Vice President Joe Biden tell it, in January, he had perfect knowledge about the Chinese coronavirus, what its mortality would be and all the actions that would be necessary to save American lives.
On July 20 on MSNBC, Biden claimed, "I, all the way back in January, warned him this pandemic was coming. I talked about what we needed to do," referring to President Trump and a Jan. 27 oped he wrote on the virus.
But that oped in truth was very short on substance.
In terms of "what we needed to do" all Biden offered in late January was to "ask Congress to beef up the Public Health Emergency Fund and give me the power to use the Stafford Disaster Relief and Emergency Assistance Act to declare a disaster if an infectious disease threat merits it" and "I will also renew funding — set to expire in May — for the nationwide network of hospitals that can isolate and treat people with infectious diseases, and fully fund the Global Health Security Agenda so the world is ready for the next outbreak."
That's it. Turns out President Trump did not need Congress to change the Stafford Act in order to invoke it and declare a national emergency, he simply declared one on March 13. Apparently, Biden would have waited.
You can read the rest of the oped for yourself, which is mostly touting his past record during his term as Vice President, including addressing the 2014 Ebola outbreak in Africa, and blasting Trump for supporting travel bans.
But it was hardly a crystal ball.
It anticipated President Trump's Jan. 31 China travel ban but did nothing to support it. Instead, Biden blasted Trump's calls in 2014 for travel restrictions during the Ebola outbreak as "reactionary".
Biden wrote, "I remember how Trump sought to stoke fear and stigma during the 2014 Ebola epidemic. He called President Barack Obama a 'dope' and 'incompetent' and railed against the evidence-based response our administration put in place — which quelled the crisis and saved hundreds of thousands of lives — in favor of reactionary travel bans that would only have made things worse."
On Feb. 1, after Trump shut down travel from China, Biden said in Iowa, "We have, right now, a crisis with the coronavirus… This is no time for Donald Trump's record of hysteria and xenophobia — hysterical xenophobia — and fearmongering to lead the way instead of science… Diseases have no borders, they have no borders."
On March 12, when Trump issued more travel restrictions on Europe Biden said in a speech, "Banning all travel from Europe or any other part of the world may slow it but as we've seen will not stop it. And travel restrictions based on favoritism and politics, rather than risk, will be counterproductive."
The same day, Biden tweeted, "A wall will not stop the coronavirus. Banning all travel from Europe — or any other part of the world — will not stop it…"
But it turns out, the travel restrictions saved lives. When asked by House Minority Whip Steve Scalise (R-La.) if he believed barring travel from China, Europe and United Kingdom saved lives, Dr. Anthony Fauci, Director of the National Institute of Allergy and Infectious Diseases, in testimony before the House Select Subcommittee on the Coronavirus Crisis stated, "Yes, I do."
On ventilator production, Biden is not much better, another Joey come lately. The very first time Biden mentioned invoking the Defense Production Act to boost U.S. ventilator production was on March 18 — the same President Trump was already invoking it saying it was "in case we need it."
A little more than a week later, on March 27, President Trump issued a presidential proclamation on the Defense Production Act and General Motors, stating at the White House, "This afternoon, I invoked the Defense Production Act to compel General Motors to accept, perform, and prioritize federal contracts for ventilators.  Ventilators are a big deal and we've delivered thousands of them.  And oftentimes, you don't need ventilators very much.  Hospitals don't have very many.  And now we're — turning out that we have to produce large numbers.  But we've been able to do that and we're going to be doing a lot more."
Trump added, "This invocation of the DPA should demonstrate clearly to all that we will not hesitate to use the full authority of the federal government to combat this crisis.  We thought that we had to deal with, as an example, General Motors.  And I guess they thought otherwise; they didn't agree.  And now they do.  They do agree.  And I think we might be able to pull it.  But we let them know the way we felt, and they can't be doing that."
In addition, on reopening, Biden is again late to the party.
On Aug. 21, Biden told ABC News' David Muir that if elected President in November, he is prepared to shut down the U.S. economy again to deal with the Chinese coronavirus.
"I would be prepared to do whatever it takes to save lives because we cannot get the country moving until we control the virus… In order to keep the country running and moving and the economy growing and people employed, you have to fix the virus, you have to deal with the virus," Biden explained, adding, "I would shut it down, I would listen to the scientists."
But we're already past the state lockdowns in large part. The scientists are not recommending another shutdown.
The White House, Department of Health and Human Services and the Centers for Disease for Control and Prevention have already issued a strategy and recommendations for safely reopening America in three phases where after periods of confirmed cases declining based on conditions on the ground with the virus, states, medical centers, schools and business could reopen.
Coronavirus Response Coordinator Dr. Deborah Birx defined the criteria at the White House for entering each of the phases as "you have to go through those gating criterias related to 14 days of decreasing evidence of illness and decreasing testing, despite adequate testing."
Meanwhile, Dr. Fauci told Politico in early August that following the Trump administration's strategy for virus mitigation that there is no need for another shutdown.
"That would not require shutting down again," Fauci said, adding, "There seems to be a misperception that either you shut down completely and damage a lot of things, mental health, the economy, all kinds of things, or let it rip and do whatever you want. There's a stepwise fashion that you can open up the economy successfully. You don't have to lock down again, but everybody has got to be on board for doing these five or six fundamental public health measures."
Instead of another lockdown, Fauci listed things the American people can do instead, even without a vaccine, which he says he is "cautiously optimistic" about: "Universal wearing of masks, six feet or more; avoid crowds; outdoor better than indoor; stay away from bars if you possibly can and in some cases even have authorities close them, that's a hotbed of transmission; and maintain hand hygiene."
Finally, on just acting in the full capacity as President, Biden leaves much to be desired.
While Biden routinely cancels campaigning, hiding from the virus, President Trump keeps working even as he contracted the virus and was briefly admitted to Walter Reed Medical Center.
Now, Trump has returned to the White House, and is still working. If how he campaigns is how he will govern on the virus, Biden will at best be a part-time President.
Robert Romano is the Vice President of Public Policy at Americans for Limited Government.