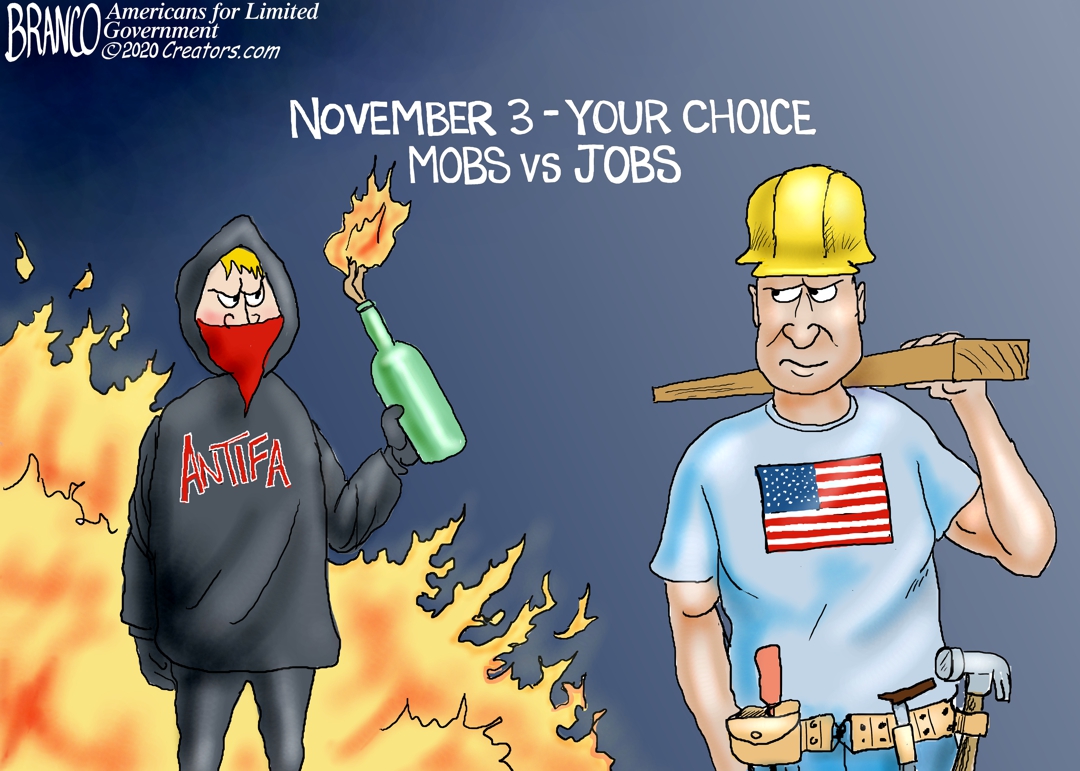 Americans don't feel safe.
Earlier this week, rioters in Philadelphia injured thirty police officers following a fatal police shooting. A dozen of those officers required hospitalization for their injuries, according to local reporters.
Given the level of violence in our cities, much of it aimed directly at police, it is not surprising that this election could hinge on law and order. A recent Monmouth University poll on that question finds nearly two-thirds of Americans are concerned about safety in their communities.
While Donald Trump promises to restore law and order, his opponents, Joe Biden and Kamala Harris hem and haw when asked about how to restore order to our cities. They want to show solidarity with the violent Left wing of their party, but not alienate law-abiding voters. Here are the facts about why Biden-Harris would not make America safe again.
LAW & ORDER!

— Donald J. Trump (@realDonaldTrump) June 24, 2020
In an interview with the progressive news site "Now This News," Biden called police the enemy.
In June Sen. Harris supported cutting $150 millionfrom the Los Angeles Police Department budget.  Those kinds of cuts would make it impossible for police to protect law-abiding citizens from the BLM-Antifa street thugs. Biden and Harris seem to want to meet the protest movement halfway, seeking out a weak middle position that strips police of resources at the very time of heightened violent crime and civil unrest.
Biden and Harris campaign staffers bragged about donating to a group that paid bail fees for Minneapolis rioters. In late May, at least 13 Biden campaign staff members posted on Twitter that they made donations to the Minnesota Freedom Fund, which opposes the practice of cash bail, or making people pay to avoid pre-trial imprisonment. The group uses donations to pay bail fees in Minneapolis.
Matched. These wounds cut deep and it is up to everyone to fight injustice. Who's next? #GeorgeFloyd@MNFreedomFundhttps://t.co/SapscBTAkIpic.twitter.com/lUb5knLG8K

— Colleen the Friendly Ghost 🤠🥁 (@MissColleenMay) May 29, 2020
Biden campaign spokesman Andrew Bates said in a statement to Reuters that the former vice president opposes the institution of cash bail as a "modern day debtors prison."But the campaign declined to answer questions on whether the donations were coordinated within the campaign, underscoring the politically thorny nature of the violent protests.
"This is important because if Biden were to win the presidency, he would put these kinds of anti-cop kooks into his administration," noted ALG President Rick Manning. "These people would be running the Department of Justice. No one in America would be safe under a Biden administration."
Biden, who claims to be a moderate, is an extremist on the issue of firearms. His campaign website says he plans to ban the manufacture, sale, and possession of a host of popular semiautomatic firearms, including the most popular one of all, the AR-15. For anyone who currently owns such guns, Biden's plan calls for government confiscation, unless gun owners pay a $200 tax and register their firearms with a national data base. Americans who already fear police won't be there to protect them, are at least hoping to be able to exercise their Second Amendment and protect themselves. But even that looks like it will be hard or in some cases possible under a Biden-Harris presidency.
Biden would bring back a failed Obama-era housing scheme that would radically reinvent local zoning laws in the United States – reengineering American neighborhoods based on racial and ethnic quotas.  Suburban families would see their neighborhoods morph into inner-city Detroit and Baltimore under this so-called fair housing plan.
Catherine Mortensen is the Vice President of Communications at Americans for Limited Government.