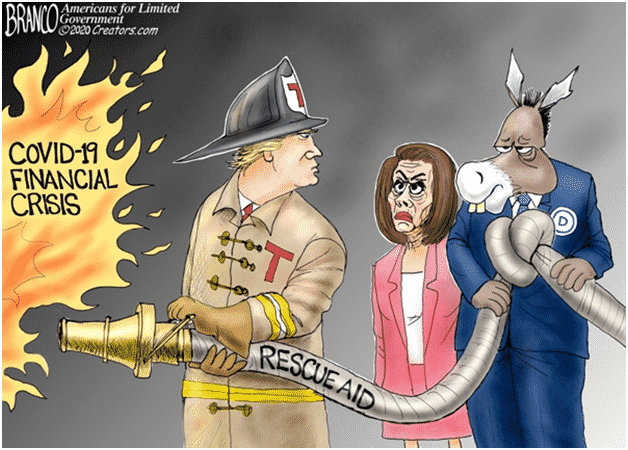 Bipartisan Senate legislation is being offered by Senators Susan Collins (R-Maine), Joe Manchin (D-W.Va.), Bill Cassidy (R-La.), Mark Warner (D-Va.) and others that attempts to bridge the divide on crucial phase four Covid economic relief legislation after months of legislative stalemate between House and Senate leaders, and the White House.
The legislation comes in at $908 billion, including $288 billion for reupping small business relief in the Paycheck Protection Program, $45 billion for critical industries including airlines, $180 billion extending unemployment for Americans still suffering through state lockdowns, $82 billion for schools to safely reopen and $160 billion to state and local governments.
It's a whole lot of money, but believe it or not, it is scaled back and less than prior proposals.
House Speaker Nancy Pelosi (D-Calif.) originally wanted $3.3 trillion, including $1 trillion for state and local governments and other non-Covid-related funds including mail-in balloting.
The compromise legislation comes much closer to the original Senate GOP that wanted $1 trillion in the HEALS Act, that includes much of what's in the new bipartisan legislation, except it had nothing for state and local government bailouts but did include $70 billion for schools and another $30 billion for colleges to safely reopen.
Now, Congressional Democrats including Pelosi and Senate Minority Leader Chuck Schumer (D-N.Y.) have completely retreated from the Pelosi proposal as support grows across party lines for the scaled down bipartisan bill. President Donald Trump has said they are "close" to a deal, indicating continued interest from the White House as well to get something done before the end of the year.
Already, Congress provided $2 trillion in March with the CARES Act, including $525 billion for small businesses, $500 billion for critical industries, cities and states, $500 billion of additional checks to households that will come atop paychecks or unemployment benefits, $130 billion for hospitals to fight the outbreak, an additional $150 billion for state and local governments akin to the Obama stimulus of a decade ago, an additional $50 billion employee retention tax credit for companies, and the rest was a massive expansion of unemployment benefits that amounted to paid sick leave for every person who lost their jobs when the virus struck.
In particular, the small business relief supported 5.2 million small businesses and saved about 50 million jobs is credited with the rapid economic recovery with massive growth in the third quarter and 16.4 million recovered out of the 25 million jobs lost when labor markets bottomed in April.
Unfortunately, the small business funds ran out on Aug. 8 and airlines ran out of money in September as massive layoffs have been ensuing—putting the current recovery at risk.
Reacting to the proposed legislation, Americans for Limited Government President Rick Manning noted, "The compromise proposal on Covid economic relief legislation appears to be a promising framework that will ensure that the state-led lockdowns will not have another disastrous effect on small businesses by reupping the Paycheck Protection Program by $288 billion, and more broadly the economy as a whole by supporting a more rapid recovery in 2021."
To be certain, the urgency is there. Today's unemployment report showed 74,000 jobs were lost in the household survey, and those not in the labor force — those who were unemployed but now have given up looking for a job — increased by 560,000.
But the devil is in the details, as they say. The framework that's been offered here, particularly compared to the $3.3 trillion the House originally proposed, is not horrible and is actually cheaper than the original $1 trillion Senate Republican bill. But the language still has not been drawn up yet, so this not final.
And it's not perfect. Particularly, we don't like state and local government bailouts when they're already getting additional funds for reopening schools. On the other hand, the small business and critical industry funding is critical to protecting the recovery currently underway. The short-term liability protection for businesses reopening in the midst of the pandemic is also something Senate Republicans have long sought, and it is included in the compromise.
Looking forward to 2021, Democrats will continue to control the House and Republicans if they pick up at least one of the Georgia Senate runoff seats, will continue to hold the Senate. Meaning, even if President Trump's legal challenge to state certifications of the election results in favor of former Vice President Joe Biden were to prevail, perhaps not much would change on Capitol Hill, but Republicans could still lose the Senate.
So, the question is: Are Republicans likely to get a better deal now or in 2021 with the Senate still in question? That's easy. Getting a deal done now takes the pressure off both the Georgia Senate races and with the guarantee that President Trump will be there to finalize the negotiations and ultimately sign the bill. It may still take some finesse, but it looks like Trump may be able to get one more art of the deals done before the end of the year.
Robert Romano is the Vice President of Public Policy at Americans for Limited Government.