"A fair and credible audit — conducted expeditiously and completed well before January 20 — would dramatically improve Americans' faith in our electoral process and would significantly enhance the legitimacy of whoever becomes our next President. We owe that to the People."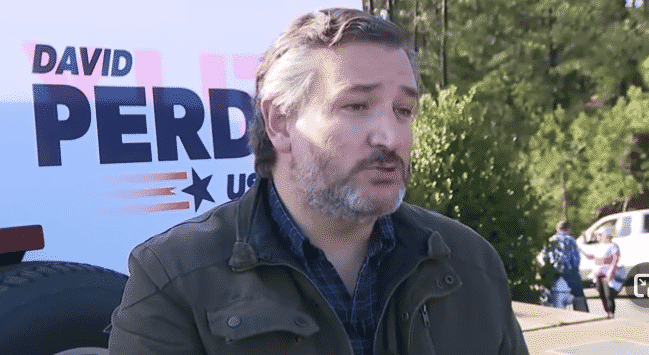 Sen. Ted Cruz (R-Texas) is leading a last-ditch effort by Senate Republicans to delay the Jan. 6 certification of the Electoral College by Congress, urging an Electoral Commission to examine evidence of potential election fraud in the key battleground states of Pennsylvania, Georgia, Michigan, Wisconsin, Arizona and Nevada.
In a joint statement issued on Jan. 2, Senators Cruz, Ron Johnson (R-Wis.), James Lankford (R-Okla.), Steve Daines (R-Mont.), John Kennedy (R-La.), Marsha Blackburn (R-Tenn.), and Mike Braun (R-Ind.), and Senators-Elect Cynthia Lummis (R-Wyo.), Roger Marshall (R-Kan.), Bill Hagerty (R-Tenn.), and Tommy Tuberville (R-Ala.) all say there has not been a sufficient investigation of widespread allegations of election fraud.
Per the statement, "The election of 2020, like the election of 2016, was hard fought and, in many swing states, narrowly decided. The 2020 election, however, featured unprecedented allegations of voter fraud, violations and lax enforcement of election law, and other voting irregularities. Voter fraud has posed a persistent challenge in our elections, although its breadth and scope are disputed. By any measure, the allegations of fraud and irregularities in the 2020 election exceed any in our lifetimes."
Without an adequate investigation, tens of millions Americans believe the election was stolen in favor of former Vice President Joe Biden, with the Senators pointing to polling showing 39 percent of Americans the election was "rigged: "And those allegations are not believed just by one individual candidate. Instead, they are widespread. Reuters/Ipsos polling, tragically, shows that 39% of Americans believe 'the election was rigged.' That belief is held by Republicans (67%), Democrats (17%), and Independents (31%)."
Meaning, the American people lack confidence in the outcome of the 2020 election, undermining the consent of the governed and the peaceful transfer of power — something Congress can remedy, by appointing a commission to investigate before Jan. 20, the date for presidential inauguration.
The statement continued, "In 1877, Congress did not ignore those allegations, nor did the media simply dismiss those raising them as radicals trying to undermine democracy. Instead, Congress appointed an Electoral Commission-consisting of five Senators, five House Members, and five Supreme Court Justices-to consider and resolve the disputed returns. We should follow that precedent. To wit, Congress should immediately appoint an Electoral Commission, with full investigatory and fact-finding authority, to conduct an emergency 10-day audit of the election returns in the disputed states. Once completed, individual states would evaluate the Commission's findings and could convene a special legislative session to certify a change in their vote, if needed."
This sets up a showdown in Congress on Jan. 6, with the Senators promising to reject the electors from the disputed states unless they get a commission: "Accordingly, we intend to vote on January 6 to reject the electors from disputed states as not 'regularly given' and 'lawfully certified' (the statutory requisite), unless and until that emergency 10-day audit is completed."
Such a commission might not change the outcome of the election. But it would finally create a forum to hear the evidence being touted by the Trump campaign.
The commission could hear the allegations and either confirm them — or put them to bed once and for all. That's a fairly reasonable position, and one that could help the American people to fully accept the outcome of the 2020 election.
The question is why won't Congress and the courts hear this evidence in a thorough manner? The letter warns: "[W]hether or not our elected officials or journalists believe it, that deep distrust of our democratic processes will not magically disappear. It should concern us all. And it poses an ongoing threat to the legitimacy of any subsequent administrations. Ideally, the courts would have heard evidence and resolved these claims of serious election fraud. Twice, the Supreme Court had the opportunity to do so; twice, the Court declined."
The Supreme Court's dodging of these cases has only fueled suspicions that the election was rigged, and because there is little to no attempt to even hear the evidence being presented by the Trump campaign and other organizations, including that widespread use of absentee ballots were not allowed to be inspected and challenged by legal, partisan election observers before they were separated from their envelopes,, this undermines confidence in the outcome and gives the appearance of a cover-up.
An Electoral Commission could solve that, the Senators concluded, "A fair and credible audit — conducted expeditiously and completed well before January 20 — would dramatically improve Americans' faith in our electoral process and would significantly enhance the legitimacy of whoever becomes our next President. We owe that to the People."
Again, that's a fairly reasonable position. Delay Congressional certification until a commission can confirm the outcome.
And no less than the ability of the next administration to govern with the consent of the governed could be at stake. Even if Joe Biden prevails on Jan. 6, if he finds he lacks the legitimacy to govern with a mandate, he will have no one to blame but the local Democratic Parties in Pennsylvania, Michigan and elsewhere that blocked legitimate Republican poll watchers from inspecting ballots in clear violation of state laws — and the courts and Congress that refused to consider how that might have impacted the outcome.
In the very least, what's to hide? Congress should allow a commission to hear these allegations and evidence — not dismiss them as frivolous. That is, if members want the next President to have the full confidence of the American people.
Robert Romano is the Vice President of Public Policy at Americans for Limited Government.