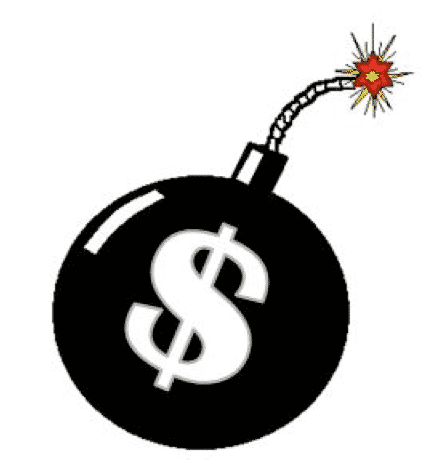 Among the plethora of spending in the $1.9 trillion Covid spending bill passed by the U.S. House and Senate — which already includes $571 billion of the spending on state government bailouts including schools, Medicaid and transportation funds, $242 billion in expanded unemployment benefits, $415 billion for $1,400 checks to adults and $143 billion for increasing child tax credits to as much as $3,600 — is an $88 billion bailout for multiemployer pensions.
Nobody should be surprised by the bailout which will cover 114 of the nation's 1,400 multiemployer pension plans covering 1.3 million workers being underfunded by $36.4 billion. Of the $36.4 billion in unfunded liabilities, half of it or $17.2 billion is for just one plan, the Teamsters Central States fund.
The rest includes Baker and Confectionary Union at $3.2 billion of unfunded liabilities, United Mine Workers of America at $2.3 billion, New York State Teamsters Conference Pension & Retirement Fund at $1.65 billion, Felra & UFCW Pension Plan at almost $1.1 billion, Western Pa Teamsters & Employees Pension Plan at $836 million, Gcc/IBT National Pension Fund at $835 million and $10 billion for a number of smaller plans.
According to the Pension Benefit Guaranty Corporation annual report released in Dec. 2020, multiemployer pensions have a "negative net position of $63,749 million as of September 30, 2020." Making matters worse, the "projected insolvency year for the Multiemployer Program is now FY 2026."
In 2017 and 2018, with the House, Senate and White House, Congressional Republicans had an opportunity to pass meaningful multiemployer pension reforms, but opted instead to do nothing, thereby punting the issue to Democrats who took the House in 2018, and who as it turns out, were more than ready to hand unions a no-strings attached multibillion dollar bailout as soon as they had the Senate and White House.
Concessions might have been achieved as part of a long-term fix for the nation's ailing defined benefit pension systems. These were borne out of collective bargaining arrangements that offered benefits far in excess of contributions and market returns. The legislation could have addressed these concerns, and if it really had an eye towards real reform, could have done away with the defined benefit formula once and for all, and moving to defined contributions.
A loan program could have required unions to have skin in the game and sharing 50/50 with corporations on any risk pool. Annual external audits for all affected multiemployer pension plans could have been included as well, and companies could have been allowed to exit and decertify the union by replacing the lump sum payment with payments over a longer period of time.
Instead, Congress is simply doing a cash infusion to the troubled plans to the tune of $88 billion.
After the failure to act in 2018, another big bailout was all but guaranteed, not merely because of the political constitution of Congress and the White House, but because if anything the time for reform passed years ago.
Sometimes, being in the majority means having to make big decisions. On multiemployer pensions, sadly, when they briefly had all the levers of government, Republicans were not up to the task.
Which after former President Donald Trump's narrow win in 2016 with union household support in Pennsylvania, Michigan, Ohio and Wisconsin, was politically inexplicable. Republicans could have addressed the multiemployer plans and potentially helped to shore up Trump's support with unions, who as President already had a strong message on trade. Could that have helped to make a difference in 2020?
Moreover, from a policy perspective, if Congress had acted earlier in the Trump administration, a better deal could have been achieved for taxpayers, and some reforms to boot that long-term could have helped shore up the multiemployer pensions and unwind the unsustainable defined benefit pension formula.
Instead, they waited for House Speaker Nancy Pelosi and Senate Majority Leader Chuck Schumer to deliver for the unions, which, of course in the end they did. This is the most unsurprising bailout in recent memory.
Robert Romano is the Vice President of Public Policy at Americans for Limited Government.