Red states have picked up a net three Electoral College votes and if Trump ran again and managed to flip Georgia, Arizona and Wisconsin back to the Republicans' column, it would give him a 272 to 266 Electoral College majority in 2024.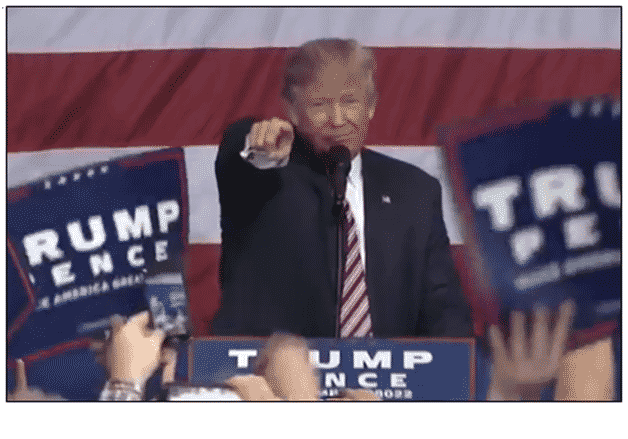 Just a scant 43,000 votes in Georgia, Arizona and Wisconsin separated former President Donald Trump from throwing the 2020 election to the House of Representatives had those races gone the other way, which would have had the Electoral College tied at 269 to 269.
2020 was determined by a very narrow margin, and one that likely gives the current occupant of the White House, President Joe Biden, some pause in pushing for some of his most radical policies. He cannot afford to lose even a half a percent of support.
After all, what if Trump decides to run again?
Now, thanks to the 2020 Census, red states have picked up a net three Electoral College votes—Texas got two more House seats, Florida got one, North Carolina got one, Montana got one while West Virginia and Ohio lost one apiece.
Meaning, if Trump ran again and managed to flip Georgia, Arizona and Wisconsin back to the Republicans' column, it would give him a 272 to 266 Electoral College majority in 2024.
It may not be as far-fetched as it seems.
On April 28, following Biden's address to the joint session of Congress, Trump told Fox Business' Maria Bartiromo who asked if he was thinking of running again, "Yes, a hundred percent and the polls show everybody wants me to do it. A hundred percent I'm thinking about running and we will I think be very successful if—we were very successful, look, I ran twice and the second time I got 12 million more votes than the first time, which very rarely ever happens for a President."
Trump's got a point. Trump demonstrated he had coattails on the campaign trail as the GOP picked up 14 seats in the House, coming very close to taking back a majority there. In 2022, Republicans will only need to flip five seats to win back the House and just one seat in the Senate to win it back, which they stand a good chance of doing.
In midterm elections dating back to 1906 through 2018, the party that occupies the White House usually loses on average 31 seats in the House, and about three seats in the Senate. That's more than enough for Republicans to take back one or both chambers of Congress in 2022.
In addition, in 2020 Republicans increased their majorities in state legislatures, including gaining two more trifectaswith control of state houses, senates and governorships in 23 states, up from 21, while Democrats held onto 15 trifectas. 12 states have divided government.
That will surely favor Republicans when it comes to redistricting in the House of Representatives, further tilting the advantage the GOP's way in 2022, just as it did a decade ago when Republicans picked up a number of state legislatures in the 2010 elections.
It is one of the reasons Congressional Democrats have been so hell-bent on passing H.R. 1, which besides making mail-in ballots all but mandatory, which would favor Democrats, but would also provide for national regulation of Congressional redistricting by a federal commission.
And yet, there is some question about whether even if H.R. 1 passed, those reforms would not take effect until the 2030 Census reapportionment, or if it could be modified to take effect immediately.
Plus, with Senators Joe Manchin (D-W.Va.) and Kyrsten Sinema (D-Ariz.) dead-set opposed to abolishing the Senate filibuster to pass any major pieces of legislation, those reforms look to be dead on arrival in the Senate.
Meaning, if Republicans triumph in the 2022 midterms, and President Joe Biden's legislative agenda has been effectively derailed to mega-spending bills on budget reconciliation, it could leave the incumbent Biden more vulnerable than usual to a challenge in 2024.
Something Trump is surely pondering over himself.
Given how difficult it is to seat any incumbent — himself included since Biden barely won — most prospective Republican candidates will likely be setting their sights on 2028 for their next potential major run, perhaps leaving the field open for Trump. Another wrinkle to consider is Trump being on the board may cause Biden to seek reelection even if he'd rather retire — especially if Democrats believe that he's the only one who could beat Trump.
And, with the electoral map potentially tilting the Republicans' way in the near term in time for 2024, it could leave the field wide open for a Trump-Biden rematch. Stay tuned.
Robert Romano is the Vice President of Public Policy at Americans for Limited Government.