Previously, budget reconciliation was understood by both parties to mean the Senate could pass just one budget resolution a year. No longer. Now the Senate parliamentarian has effectively changed Senate rules allowing the Senate majority to in effect "double dip" on the procedure that only requires 51 votes to pass spending legislation.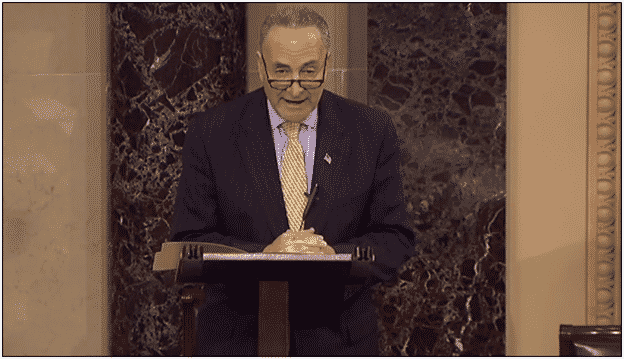 Senate Democrats led by Majority Leader Chuck Schumer (D-N.Y.) and Senate parliamentarian Elizabeth MacDonough have effectively changed Senate rules with regards to budget reconciliation, allowing the Senate majority to in effect "double dip" on the procedure that only requires 51 votes to pass spending legislation.
Budget reconciliation was already used to pass President Joe Biden and Congressional Democrats' $1.9 trillion Covid spending bill, legislation that was already signed into law as H.R. 1319. What is unprecedented by the new gambit is repeating the reconciliation process by amending that law.
The provision of law being invoked is 2 U.S. Code § 635 allowing for amendments to the budget resolution: "At any time after the concurrent resolution on the budget for a fiscal year has been agreed to pursuant to section 632 of this title, and before the end of such fiscal year, the two Houses may adopt a concurrent resolution on the budget which revises or reaffirms the concurrent resolution on the budget for such fiscal year most recently agreed to."
Previously, both parties in the Senate had informally agreed that meant just one budget resolution a year, and that amendments could be made before it was signed into law. No longer.
On one hand, this could mean that Senate Democrats have resigned themselves to not having the votes needed to end the Senate filibuster under Rule XXII — the rule that required three-quarters and then, eventually, three-fifths majorities to advance legislation — which has stood since 1917.
After all, if Democrats were just going to eliminate the filibuster, they would not need to resort to such chicanery on budget reconciliation. In addition, the Senate parliamentarian ruling could also remove pressure to end the filibuster, meaning that, for now, two-party rule in the U.S. has been preserved.
As reported by the New York Times' Emily Cochrane, "with some Democrats reluctant to dismantle the filibuster, the rest of Mr. Biden's agenda risks stalling amid Republican objections… Seeking alternative avenues, Senator Chuck Schumer, Democrat of New York and the majority leader, had argued that the rules permitted the Senate to revisit the budget blueprint, which allowed for passage of the pandemic relief plan, and take at least one more crack at reconciliation before the end of the fiscal year on Sept. 30."
Similarly, the Associated Press' Lisa Mascaro reports, "Republicans still pledge to do all they can to halt Biden, but an official parliamentarian's opinion this week is a potential game-changer. It unleashes multiple options for Democrats to advance parts of Biden's agenda … with 51 votes in the 100-member Senate rather than the 60 typically needed to move major legislation past filibuster threats."
This is classic "priming" of an issue by news sources, telling readers and viewers to expect no change to filibuster rules, in effect setting expectations for particularly Democratic readers. Here, Democrats are being told not to expect big, radical changes.
So that means no nationalization of election law under H.R. 1.
No packing of the Supreme Court beyond nine justices by amending the Judiciary Act.
No statehood for D.C. and Puerto Rico.
No expansive public option, although a more limited one may yet be attempted under reconciliation.
No expansive, radical Green New Deal, but again, a more limited version will most certainly be attempted via regulation — and budget reconciliation when it comes to spending.
For now, Republicans and conservatives appear to be dodging a once in a century bullet on radical changes to Senate procedure. But it will come at a very steep price financially — potentially unlimited budget resolutions with trillions of dollars of big spending items passing the Democratic-controlled Senate on a partisan basis.
And with $4.96 trillion added to the national debt since the beginning of 2020, the Federal Reserve will have to keep ordering more ink to print more cash to keep U.S. Treasuries markets liquid.
Preventing Democratic one-party rule, and the protection that offers to the liberty of the opposition party, in this case the Republicans, is coming at a very expensive financial price, but it may be a necessary one. Especially considering that if they ended the filibuster, they'd pass all the same spending bills anyway. If Republicans hope to limit spending, they will have to reclaim one or both houses of Congress in the 2022 midterms.
Robert Romano is the Vice President of Public Policy at Americans for Limited Government.