"Voter integrity is the number one issue with Republican activists by far. Nothing else even tilts the scale."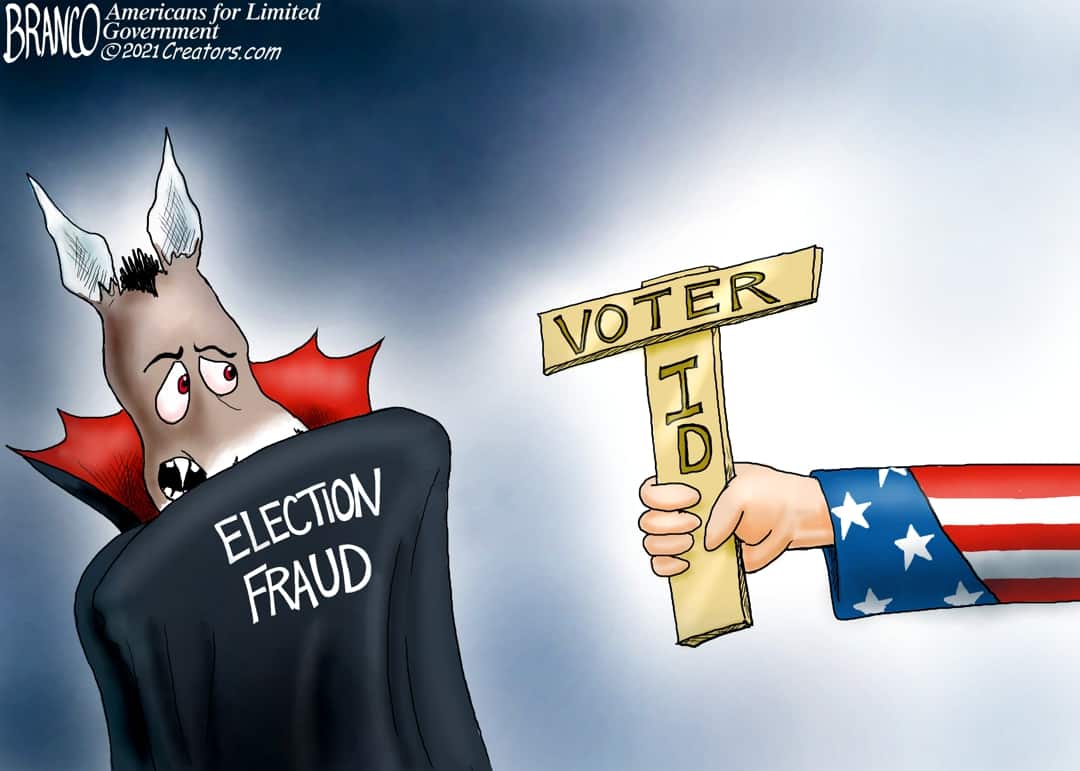 Is faith in U.S. democracy being eroded?
Introduction
Voting, the bedrock act of a democratic political system, has itself become one of the nation's most divisive issues. Republican-controlled states are on track to pass the most laws restricting voting and registration of any year in recent history, arguing that election fraud is a serious problem that needs addressing. Democratic-led states, conversely, are expanding access, particularly to absentee voting. In Congress, Democrats proposed setting nationwide standards for registration, absentee and early voting and the redrawing of congressional districts, but the measure lacked sufficient support to pass the Senate. Studies show that laws designed to either restrict or expand voting have had only minimal effect on turnout. Nevertheless, both parties are using heated rhetoric, accusing the other side of changing rules to permanently entrench itself in power. Meanwhile, former President Donald Trump's repeated claims that the 2020 election was rigged against him have led many experts to worry that public faith in the U.S. election system may have been seriously undermined. 
Overview
Texas has long had some of the nation's tightest voting restrictions — and lowest voter turnout.In the wake of the 2020 elections, the Republicans who control the Texas Legislature decided they needed to impose even more restrictions.
During an unusual Saturday session there in May — the second time voting legislation was considered during an overnight session this year — the Texas House appeared ready to pass a sweeping election bill that would impose restrictions on various forms of voting.
Republicans argued the rules are needed to combat fraud. But Democrats, who said the rules were aimed at hampering their own voters, temporarily blocked passage of the bill by walking out of the session, preventing a vote on the measure before the legislative session adjourned. Republican Gov. Greg Abbott said he will call lawmakers back for a special session on July 8 to act on the bill.
Assuming that Republicans are likely to prevail in imposing voting restrictions — as they have in more than a dozen other states this year — Texas Democrats came to Washington to meet with Vice President Kamala Harris and members of Congress to plead for a federal voting rights law.
"States [are] putting in place laws that are designed, in many cases quite intentionally, to make it difficult for people to vote," Harris said on June 16.
The debate in Texas reflects a broader argument between the two major political parties about voting, which has become one of the most partisan issues of the day. The controversy has politicians on both sides arguing — for diametrically opposed reasons — that no less than the future of American democracy is at stake.
"There is something eerily haunting about the present state of American democracy," says Wade Henderson, interim president of the Leadership Conference on Civil and Human Rights, an advocacy coalition in Washington. "It is reminding us of a previous time when we saw the withering of democratic traditions and the effort to suppress the minority vote, and we see it replicated again. That to me represents an existential threat to democracy as we know it."
Democrats accuse Republicans of erecting hurdles that will make voting more difficult, particularly for members of minority communities. They compare the new legislation to the racially discriminatory "Jim Crow" laws enacted in the late 19th century and early 20th century that, among other things, disenfranchised Black voters across the South for decades.
"Our democratic system faces extraordinary threats today because of sustained attacks from Republican leaders who throw up roadblocks to voting," wrote Stacey Abrams, a former Georgia state legislator who has become a prominent voting rights advocate. "We as Democrats must act before it is too late."
But across the country, GOP lawmakers say they are only trying to enhance election security. Their actions reflect the unsubstantiated claim, expressed by Republican politicians from former President Donald Trump on down, that Joe Biden was elected president last November due to security lapses and fraud.
"Democrats value as many people as possible voting, and they're willing to risk fraud," Arizona state Rep. John Kavanagh said this year. "Republicans are more concerned about fraud, so we don't mind putting security measures in that won't let everybody vote — but everybody shouldn't be voting."
Throughout American history, there has been a push and pull between the desire to make sure every eligible citizen can vote and the need to ensure security, which has sometimes been exaggerated by one party or the other looking to tighten rules to its own advantage. In recent years, it has been the GOP that has been more likely to enact restrictions. Since a 2013 U.S. Supreme Court decision that weakened the federal Voting Rights Act, Republican-sponsored bills have imposed voter ID requirements and closed polling places, largely in majority-Black areas, leading to much longer lines in cities than in predominantly white suburbs.
But Republican officials insist that the security of last year's election was hampered by late rules changes — such as allowing drive-through voting or providing drop-off boxes — adopted due to the coronavirus pandemic. This has led a majority of rank-and-file Republicans to believe the outcome was determined by fraud, according to polls. Groups including the Republican National Committee, the Republican State Leadership Committee and the American Conservative Union have created election integrity task forces, arguing that more safeguards are needed against fraud.
"It casts doubts on the entire system," says Rick Manning, president of Americans for Limited Government, a conservative advocacy group based in Virginia. "Voter integrity is the number one issue with Republican activists by far. Nothing else even tilts the scale."