"We are helping stand up a coalition of advocacy groups focused on restoring election integrity, limited government, and individual freedom to Virginia, and have been for the past five months."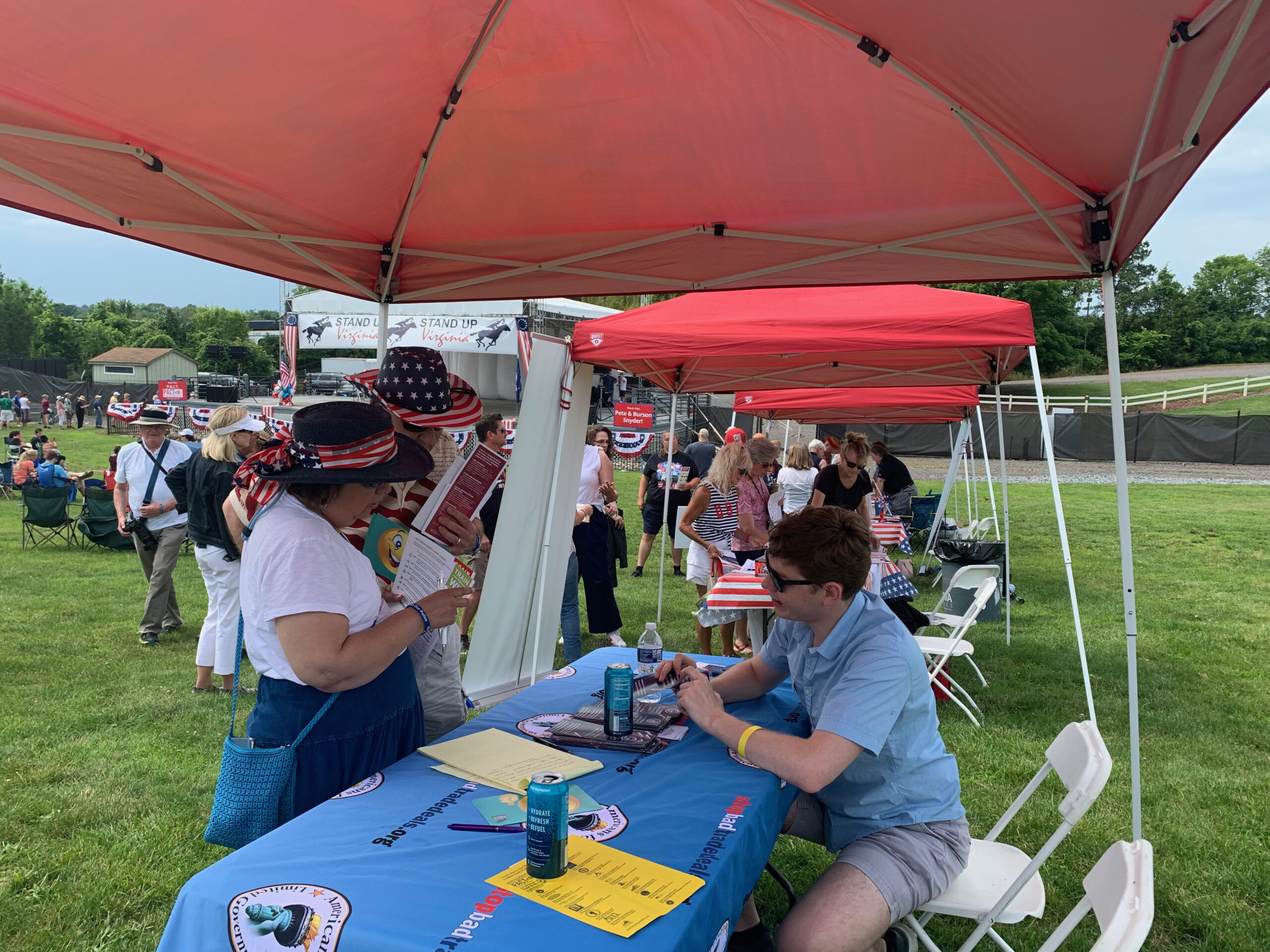 On a sweltering day under cloudy skies that threatened rain at any moment, hundreds of committed conservative grassroots activists from across Virginia gathered on a grassy field close to the Manassas Battlefield in Northern Virginia to rally the troops for the statewide fall election which will determine which party controls the governor's office and the House of Delegates.  
Because Virginia is one of only a handful of states with off-year elections, it has become a bell weather for national elections, giving America some insight into how the midterm elections may swing. Virginia's elections will be under a microscope this fall and conservatives are certain that if the election is fair, transparent, and honest, Virginians will choose a Republican takeover of the House of Delegates and perhaps the governorship.  
To avoid a repeat of last November's election which was marred by reports of widespread election fraud, Americans for Limited Government (ALG) helped sponsor Stand Up Virginia's Freedom Festival Saturday.  
ALG president Rick Manning explained, "We are helping stand up a coalition of advocacy groups focused on restoring election integrity, limited government, and individual freedom to Virginia, and have been for the past five months. The battle is now, and we will not allow the sanctity of the vote to be hijacked by the left." 
ALG's election integrity arm signed up volunteers at the festival who are willing to be part of small teams that visit their local city and county election board in July to put them on notice that citizens are watching. Our teams will be asking basic questions such as: 
Can you show us how you remove names from the voter rolls of those who have moved or who are deceased? 
Can you show us how you plan to verify signatures on absentee ballots? 
How will you ensure the chain of custody of a ballots? 
"In many local and state jurisdictions, we still don't have answers to these simple questions about November's elections," said Manning. "Our goal is to collect this information ahead of the election to prevent local boards of election and left-wing activists from even considering voter fraud. We don't want to try to clean up problems after the fact. We all saw how poorly that worked out for Trump last year," Manning added. 
At the Freedom Festival many of the speakers talked about the importance of election integrity. For good reason. A recent poll from The Associated Press-NORC Center for Public Affairs Research found about half of Americans say they are highly concerned that the country's voting systems might be vulnerable to hackers, and about that many also are strongly concerned about foreign governments interfering by tampering with election results or influencing American attitudes. Sixty-seven percent of Republicans say voter fraud is a major concern in the elections. 
"Millions of Americans still don't trust the results of last November's presidential election and want to get out in front of issue," explained Manning. "We are offering people in Virginia a way to get involved and hold our local election boards accountable. Our goal is to have teams in place to train others across the country for the midterms elections in 2022." 
Groups ranging from Tea Party activists to a bus full of New York Blexit supporters were out in force at the Festival. Blexit is a group started several years ago by conservative activist Candace Owens who said she wants to "free" black voters from the decades-long grip of the Democratic Party. 
"Blexit is a Renaissance," Owens told Fox News. "[It] is the black exit from the Democratic Party. It's the black exit from permanent victimhood, the black exit from the false idea that we are somehow separate from the rest of America." 
As I stood in line for a pulled-pork sandwich and coleslaw salad, I spoke with a couple of New Yorkers who came down with the Blexit group. Both were fired up about three issues, personal safety, election integrity, and the teaching of Critical Race Theory in public schools. In other words, the same thing everyone at the Festival was fired up about!  
"They're trying to take away my gun rights and defund the police at the same time? That's crazy," one of them told me. "I live in New York City. That ain't right."   
"Ain't nobody going to be telling my kid they can't succeed," the other one said. "That CRT s**t is messed up." 
They both seemed to like what I told them about ALG's election integrity campaign. That's because everyone, regardless of political affiliation, wants to be able to trust the election results. Fair and honest elections are something all Americans can rally behind.  
If Virginians can have a fraud-free election in November, I predict Republicans will regain control of the State Assembly and perhaps even the governorship. In addition, we will serve as a beacon of hope for the rest of the country and a model for saving our republic. 
Catherine Mortensen is Vice President of Communications at Americans for Limited Government.