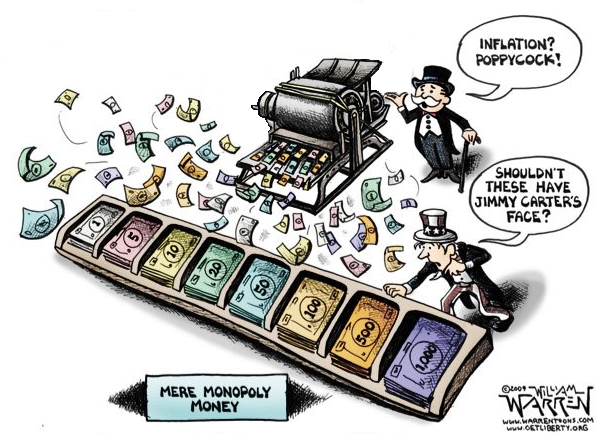 The unadjusted consumer price index as measured by the Bureau of Labor Statistics was 5.28 percent for the month of July, slightly lower than June at 5.32 percent, but still measuring the highest inflation on record since July 2008, when it hit nearly 5.5 percent.
The latest numbers come as Congress has easily passed another gargantuan $1.2 trillion infrastructure spending plan that included $550 billion of new spending. Interest rates have already reacted as 10-year treasuries came off a near-term low of 1.17 percent on Aug. 2 to 1.36 percent as of Aug. 12, slightly increasing inflation expectations.
The $1.2 trillion spendathon was just the latest in a long line of spending that has added $5.25 trillion to the national debt since Jan. 2020 in response to the Covid pandemic all the way to the current $28.5 trillion: the $2.2 trillion CARES Act and the $900 billion phase four under former President Donald Trump, and then the $1.9 trillion stimulus under President Joe Biden. It's been a bipartisan affair.
Nearly $3 trillion of the new debt and counting has been financed by the Federal Reserve's printing press since Jan. 2020. And they're not through yet, although there is now talk of a taper. We'll see.
Adding to the nation's fiscal woes, the Congressional Budget Office is projecting a $3 trillion deficit for fiscal year 2021 alone.
And now, with the clock running out on the 2021 fiscal year, House Democrats are pushing another $3.5 trillion stimulus bill. The Senate advanced the budget resolution on Aug. 11 by a 50 to 49 vote. Now, the House will return Aug. 23 to begin work on it. The Senate returns of Sept. 13, but Schumer wants the bill done in the House by the time.
This will be the second budget reconciliation bill this year. The reason that's possible is because Senate parliamentarian Elizabeth MacDonough effectively changed Senate rules with regards to budget reconciliation, allowing only requires 51 votes to pass spending legislation in the same fiscal year.
The provision of law being invoked is 2 U.S. Code § 635 allowing for amendments to the budget resolution: "At any time after the concurrent resolution on the budget for a fiscal year has been agreed to pursuant to section 632 of this title, and before the end of such fiscal year, the two Houses may adopt a concurrent resolution on the budget which revises or reaffirms the concurrent resolution on the budget for such fiscal year most recently agreed to."
Previously, both parties in the Senate had informally agreed that meant just one budget resolution a year, and that amendments could be made before it was signed into law. Now Congress is getting at least two bites at the apple per fiscal year. That may be why Schumer wants it done before Sept. 30.
Assuming Senate Democrats can keep their bare majority intact on this bill. With only 50 seats in the Senate, they cannot afford to lose a single vote, Americans for Limited Government President Rick Manning noted.
"The devil is in the details of the $3.5 trillion spending bill, and that's where Senate Majority Leader Schumer is going to have problems keeping his 50 votes together. Americans for Limited Government is determined to break apart this Democrat coalition that depends on vulnerable rural Senators to vote against rural interests," Manning declared.
"I believe Schumer will find that his mid-September timeline is much harder to achieve than he even imagines," Manning added.
Adding uncertainty to the bill's final fate, Sen. Joe Manchin (D-W.Va.) poured cold water on its prospects somewhat after voting to advance the legislation. In an Aug. 11 statement, Manchin explained, "Early this morning, I voted 'YES' on a procedural vote to move forward on the budget reconciliation process because I believe it is important to discuss the fiscal policy future of this country. However, I have serious concerns about the grave consequences facing West Virginians and every American family if Congress decides to spend another $3.5 trillion."
Manchin added, "Given the current state of the economic recovery, it is simply irresponsible to continue spending at levels more suited to respond to a Great Depression or Great Recession – not an economy that is on the verge of overheating. More importantly, I firmly believe that continuing to spend at irresponsible levels puts at risk our nation's ability to respond to the unforeseen crises our country could face. I urge my colleagues to seriously consider this reality as this budget process unfolds in the coming weeks and months."
Sen. Kyrsten Sinema (D-Ariz.) has a similar tact, saying that $3.5 trillion is too much last month: "I have also made clear that while I will support beginning this process, I do not support a bill that costs $3.5 trillion – and in the coming months, I will work in good faith to develop this legislation with my colleagues and the administration to strengthen Arizona's economy and help Arizona's everyday families get ahead."
On the other hand, both Manchin and Sinema's statements leave the door wide open to pass a slightly smaller, and yet still massive bill potentially totaling trillions. Where do these Senators draw the line? $3 trillion? $2 trillion? $1 trillion? Only time will tell. And in the meantime, the Fed will keep the printing press warm for Congress. Stay tuned.
Robert Romano is the Vice President of Public Policy at Americans for Limited Government.