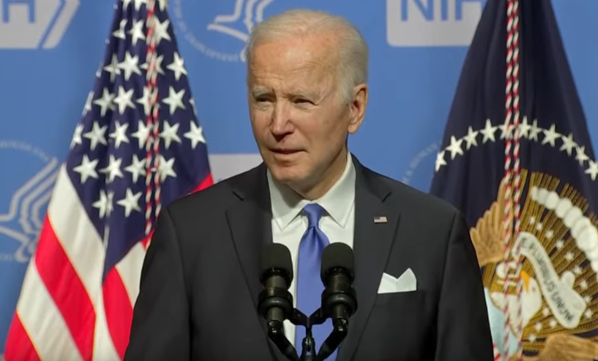 America has basically run out of tests for Covid-19 as lines are forming at emergency rooms, urgent care facilities and doctors' offices, and now patients are simply being turned away nationwide. In the meantime, tests are being rationed to those with greater risk factors just a month after President Joe Biden was pushing "test to stay" in order for Americans to be allowed to go to work, school and to travel.
This comes as the Institutes for Health Metrics and Evaluation (IHME) project an estimated 1.9 million probable Covid infections in the U.S per day — and rising. By the end of January, IHME estimates as many as 2.8 million new cases per day, largely thanks to the new omicron variant that accounts for 95 percent of all new cases, the Centers for Disease Control say.
For perspective, last year, IHME estimated cases peaked at over 500,000 a day in early Jan. 2021.
President Joe Biden let this happen. On Dec. 2, he promised, "this winter we are going to make free at-home tests more available to Americans than ever before. To better detect and control the Delta variant, I made testing more available, affordable, and convenient.  I used the Defense Production Act to increase production of rapid tests, including at-home tests."
But not nearly enough tests have been produced. Perhaps at a peak of 500,000 cases per day, the amount of tests the U.S. has produced would have been enough. But not at 1.9 million and soon 2.8 million a day.
On the other hand, cases increasing at the height of the cold and flu season was very much predictable. But the only way to have anticipated this outcome would have been a skeptical policy that brought contingencies into play in case the vaccines were not as effective at containing variants.
Instead the Biden administration put all its eggs in the vaccine basket, and policy makers never considered: Even if it reduces the lethality of the virus, what if the vaccine on its own doesn't stop the spread of the virus? What if cases go up?
Why, that would mean we would have needed more tests. A lot more. And more treatments. And now more prudence, so that those most vulnerable to adverse outcomes are given priority for testing until supplies are boosted.
Under Biden's "test to stay," if you want to go to school, or to work, everyone needs a test. Without enough tests, that policy was always going to fail as that regime lasted less than a month.
When Trump left office in 2021, we had enough tests. The most tests were performed on Jan. 6, 2021 at 2.34 million, according to data compiled from official sources by Our World in Data. A year later, testing capacity is no better despite more than quadruple the cases as testing peaked at 2.32 million on Dec. 22, 2021. Now the shortages are real.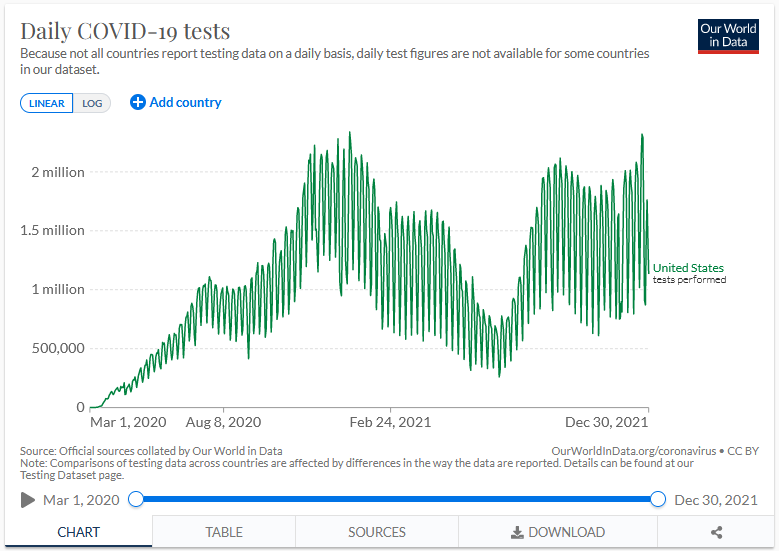 In March 2020, when Covid was brand new and there was not enough testing, the mainstream media and Washington, D.C. establishment waged a propaganda war against former President Donald Trump urging more testing — that did not yet exist. Within several months, a testing regime was finally put into place. By the end of 2020, everyone who needed a test could get a test.
Where is the outrage now? Workers and parents with children are now left guessing if they have Covid and if it is safe to travel, go to work or school. This is beyond being inconvenienced. For those unfortunate enough to have a poor outcome to Covid, they may not find out they need treatment until they've already been sick for a week or so.
Unfortunately, the best treatments like monoclonal therapy appear to work best if administered within five days of symptoms, according to a May 2021 study by Dr. Anil Gupta and others published at Medrxiv and eventually appeared in the New England Journal of Medicine in Nov. 2021.
Rapid testing would lead to rapid treatments. But those are being rationed, too. According to the Surgeon General of Florida, Dr. Joseph Labado, stating, "The federal government is actively preventing the effective distribution of monoclonal antibody treatments in the U.S. The sudden suspension of multiple monoclonal antibody therapy treatments from distribution to Florida removes a health care provider's ability to the best treatment options for their patients in this state."
So, under Biden, it's not enough tests, not enough treatments. Just the vaccine.
The good news is that thanks to the vaccines, treatments and other precautions taken by the American people, the overall death rate of Covid continues to drop substantially.
In April 2020, per IHME projections, peak cases per day was projected to be 161,000, and peak death per day was about 2,300, about a 1.4 percent fatality rate.
By July 2020, with better treatments and the elderly isolating in order to prevent infection, the 2020 summer surge in cases was 164,000 per day at the peak, and 1,150 dead per day at the peak, and so the apparent fatality rate dropped to 0.7 percent.
By Dec. 2020, cases had peaked at 504,000 per day in the next cold and flu season — a quadrupling — and death peaked a month later at 3,406, a 0.67 percent fatality rate.
By September 2021, cases were peaking at 400,000 per day, and death peaked at about 2,000 per day, a 0.5 percent fatality rate.
Now, with omicron, IHME says there will be 2.8 million cases per day by the end of January — more than quadrupling last year's total — and death is currently projected to reach 2,079, dropping the fatality rate to just 0.07 percent.
So, if nothing else, the vaccines have bought us a year to arrive at a thankfully less deadly variant. But with so many more cases, still more testing and more treatments will be needed.
To add insult to injury, Congress had allocated hundreds of billions of dollars the past two years for Covid vaccines, tests and treatments  — still there's not enough to go around and perhaps there will never be enough to "test to stay". It didn't have to be that way, but unspent Covid spending, about $600 billion, was recently repurposed to the Biden infrastructure bill instead of for more testing. Those were the choices that were made.
The Biden administration has been more concerned about censoring Covid vaccine dissent on social media than in providing an all of the above approach that would have anticipated predictable contingencies like cases increasing just like they did last year.
Now, for those will suffer this month, it may be too late to get a test, and many will only find out they're sick with Covid when they get to the hospital.
Updated 1/6/2022, 5:38 p.m. EST and 1/7/2022, 11:56 a.m. EST.
Robert Romano is the Vice President of Public Policy at Americans for Limited Government.