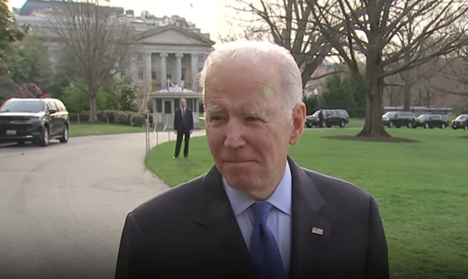 By David Potter
According to a new Ipsos/Reuters poll that was conducted on March 21st and March 22nd, Joe Biden's approval rating has continued to fall to 40 percent, with Americans citing economy and foreign conflict as their top concerns. It was discovered that 54 percent of Americans had an unfavorable opinion about President Biden's job performance as inflation continues to rise. When asked about the president's involvement in the Russian invasion of Ukraine, only 32 percent said they approved while 47 percent disapproved. This is a five-point increase from last month.
For 28 weeks straight, the economy has remained the top issue of concern for both Democrat and Republican voters. The record-breaking inflation recorded by the Bureau of Labor Statistics illustrates the poor economic performance under President Biden's leadership. At the end of February 2022, the cost of fuel was up 43.6 percent from February 2021. The cost of food has also increased dramatically. "The food at home index rose 8.6 percent over the last 12 months, the largest 12-month increase since the period ending April 1981. The index for meats, poultry, fish, and eggs increased 13.0 percent over the last year as the index for beef rose 16.2 percent. The other major grocery store food group indexes also rose over the past year, with increases ranging from 5.2 percent (dairy and related products) to 8.2 percent (other food at home)." Used car prices are up 41 percent in the past 12 months. The cost of electricity is up 9 percent in the last 12 months.
Since Biden's inauguration, consistently rising inflation has been inversely correlated with Biden's overall approval numbers. This trend has accelerated sharply in 2022 as gas prices are nearing, or even setting, all-time high records throughout the country.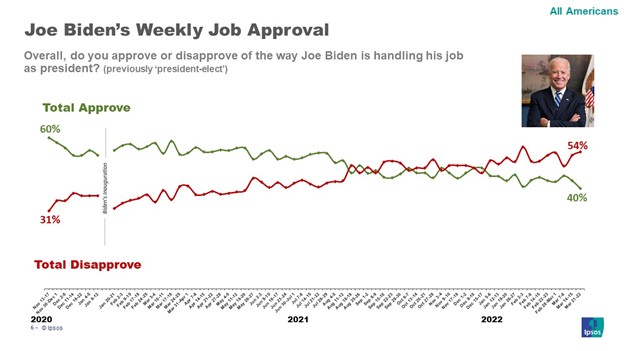 As gas prices and the cost of other goods increased in December 2021 during the holiday shopping season, Biden's total disapproval started to sharply rise. For blue collar workers and middle-class families with moderate to long commutes, this increased cost was something personal that they felt up close. Partisanship aside, only 27 percent of independent approve of Biden's performance according to this same Reuters poll.
Importantly, Biden's approval rating has been underwater in most polls since August of 2021. That was the month during which Biden withdrew U.S. military presence from Afghanistan. Thirteen U.S. Servicemembers were killed in a suicide bombing at the poorly secured Kabul airport during the final days of exiting. The withdrawal has been criticized by the media on both sides of the isle as hasty and poorly executed.
The Afghanistan withdrawal could be considered Biden's Katrina – an event from which there is no return and no light at the end of the political tunnel. It had the effect of raising questions about Biden's competency as Commander-in-Chief.
His performance overseeing the withdrawal remains relevant to voters in 2022 as the U.S. is now involved in another major international conflict. Amidst the Russian invasion of Ukraine, Biden is heavily sanctioning Russia and providing weaponry and supplies to Ukraine. Many fear that Biden may lead the country into a significant war. War/foreign conflict is the second biggest concern of all Americans.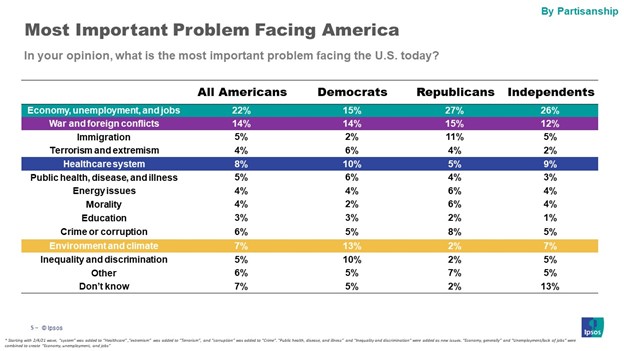 Pocketbook issues along with increased tensions with the world's largest atomic power and general unease about the President's health are three major factors contributing to Biden's record-breaking disapproval. His upside approval may be here to stay for good.
More generally, what this signifies is that congressional Democrats are in trouble in November 2022. The Real Clear Politics 2022 Generic Congressional Vote average reflects this reality.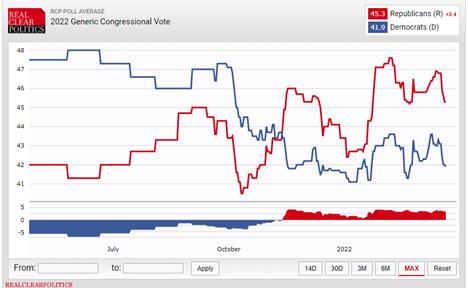 The average taken across multiple polls indicate a 3.4% advantage for Republicans overall. This advantage started to grow, like Biden's disapproval, around the Christmas and holiday shopping season of 2021. If history proves itself as an accurate indicator, Democrats will lose the majority in the House and possibly the Senate in 2023. Biden will then be even more legislatively impotent and his biggest opportunity to make an impact will be behind him.