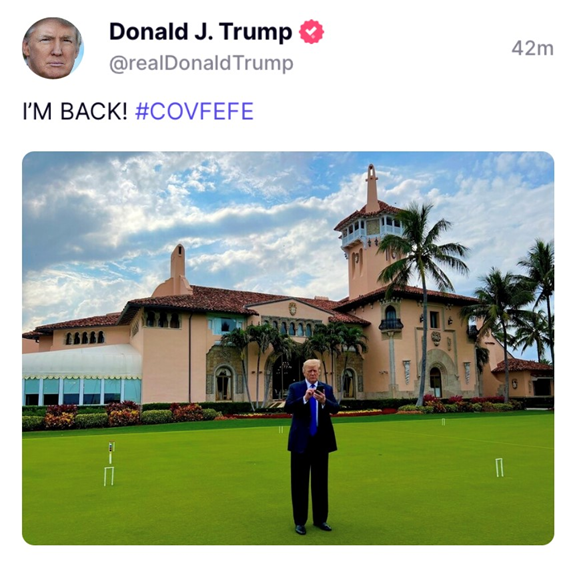 By David Potter
On April 28, former President Donald Trump returned to social media by sending out a "Truth" on Truth Social, announcing, "I'm back! #COVFEFE" as the new app continues its public beta test on Apple devices.
But Trump has stated that he will not be returning to Twitter, even after that platform, which banned Trump following the riot on Jan. 6, 2021 at the U.S. Capitol, was purchased by billionaire Elon Musk to be a free speech platform. "I am not going on Twitter, I am going to stay on TRUTH," Trump told Fox News.
Meaning, for the tens of millions of conservative and moderate Americans who were inspired by his populist, Make America Great Again leadership style, they will want to sign up for Truth Social in the Apple app store to be able to hear from their favorite President.
Americans for Limited Government can also be found there too by searching for our username @limitgov. While Truth Social is currently only available to iPhone and iPad users, expect an Android and web release in coming months.
While Elon Musk's purchase and proposed plans for Twitter are certainly a huge victory for freedom of speech in the online public square, Truth Social appears poised to particularly dominate the conservative social media space. On the other hand, liberals seem unlikely to join Truth Social en masse. Tens of millions of conservatives will join though because they are eager to hear from Trump.
But a united social media platform for conservatives could also create an electoral advantage that the GOP never knew they needed.
For over a decade, social media has been dominated by the left, along with search engines, and the internet with their brand of politics. They haven't been explicit about it, but these platforms' algorithmic manipulation tells us everything we need to know. Even prior to Trump's 2016 campaign victory, former Facebook employees admitted to routinely suppressing conservative news.
If you build it, they will come might not always be true, but it could be for Truth Social. This week it was the top free app in the entire Apple App Store. Interestingly, Elon Musk tweeted about this and attributed the reason why was because of Twitter and Facebook's censorship of Trump in 2021: "Truth Social (terrible name) exists because Twitter censored free speech…"
Truth Social is currently beating Twitter & TikTok on the Apple Store pic.twitter.com/RxawVUAYKH

— Elon Musk (@elonmusk) April 27, 2022
Musk is right. Conservatives' accounts and tweets have been throttled; a process known as shadow banning. Left-leaning Vice News reported on this: "Vice News found that the accounts of big-name Republicans including Republican Party chair Ronna McDaniel and several conservative Republican congressmen weren't showing up in the drop-down list. But when they plugged in the names of prominent Democrats, such as the head of the Democratic Party, there was no problem." PolitiFact later claimed that it was a technical glitch, but it's undeniably odd that a glitch demonstrated a partisan bias. The complete account banning of Trump, Tucker Carlson, Charlie Kirk, Marjorie Taylor Greene (her personal account), Dr. Robert Malone, and many others drove a lot of conservatives off the platform entirely. With 99 percent of Twitter employees' political donations still going to Democrat candidates, Musk will face a challenge until he diversifies his employees. Former Twitter CEO and Founder Jack Dorsey once said that Twitter is so liberal that conservative employees "don't feel safe to express their opinions".
On April 27, Musk tweeted, "For Twitter to deserve public trust, it must be politically neutral, which effectively means upsetting the far right and the far left equally."
For Twitter to deserve public trust, it must be politically neutral, which effectively means upsetting the far right and the far left equally

— Elon Musk (@elonmusk) April 27, 2022
In recent years, two popular leftist memes aimed at conservatives tired of censorship were "learn to code" and "start your own platform". Now those memes are reality as Trump controls a platform that grants access to the conservative base, then not only will his supporters show up, but so will conservative candidates with big advertising budgets.
An important ingredient in the success of any new tech venture is the choice of leaders. Trump made a wise decision when he tapped retired Congressman Devin Nunes (R-Calif.) to be the CEO of Truth Social. As the former Chairman of the powerful House Permanent Select Committee on Intelligence, Congressman Nunes acted fearlessly to expose the Russiagate scandal. Nunes was the first to uncover and report to the American people that it was the Hillary Clinton campaign and the Democrat Party who ordered the fake Steele dossier. Nunes used his subpoena powers to pressure the Justice Department to release revealing documents.
Not only has Nunes demonstrated fearless character, but also astute foresight and business intelligence. As opposed to using Amazon Web Services to host Truth Social, and praying that Truth Social would get better treatment than Parler's deplatforming, Nunes has led Truth Social to establish itself on hardware and infrastructure belonging to Rumble, a company with a CEO who has publicly declared that he will not engage in political censorship.
"We're going to operate in a jurisdiction that's for free speech… the foundation of democracy, that's what this company is all about," said Rumble CEO Chris Pavlovski.
Nunes echoed Pavlovski's message in a separate interview with Fox Business: "We have to build this company block by block. We don't want the company to have an existential threat where we could be cut off at any given moment by any one of these companies. That's what our team is doing, working closely with Rumble, the only company that has survived big tech, it is a YouTube alternative. Plus it has a cloud feature [like] Amazon Web Services. We're working to build this slowly to make sure we cannot be canceled by Big Tech oligarchs, that's our goal at Truth Social. And it's going to take time."
Nunes understands that to future proof a free speech platform, it is necessary to turn away from the companies that have engaged in censorship in the past. This rebuilding from the ground up is a massive technical endeavor. Therefore, recent criticism of Truth Social may be premature. Giant social media platforms are glitchy upon launch. Facebook, YouTube, and Twitter were all full of glitches during their early years. If the decision to use Rumble Cloud and open Truth Social to all waitlisted users is any indicator, Nunes appears ready to effectively guide the company ahead through the initial rough phase.
While not confirmed, there are rumors that the Google Play Store and the Apple App Store may remove Musk's Twitter if he does not use their algorithmic moderation. Truth Social is complying Apple terms of service for moderation, but that does not prevent Truth Social for allowing political speech. Conforming to some moderation is a weakness of releasing an app on Apple and Android phones, but it appears not to hinder free political speech — so far. Until a neutral company develops phones and an app store, or buys Apple or Google, this will remain a weakness to any conservative tech venture. Nonetheless, people could jail break their Apple phones if it ever came to it.
Republicans and conservatives still need Truth Social (and Parler and Gettr, etc.), not only to hear from former President Trump, but over the long term to build alternatives to ensure their political views won't be censored. Truth Social appears ready to be the leader of the pack for conservative political engagement because it is led by the most-loved Republican President (by conservatives) in modern times. GOP candidates will also need Truth Social to tap this audience for their campaigns. Conservatives still need to be building their own platforms.
David Potter is a contributing editor at Americans for Limited Government.