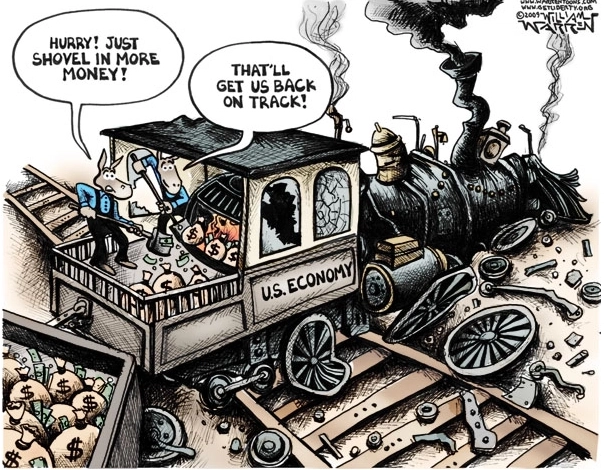 Inflation continued to run hot into September, with consumer inflation still up 8.2 percent annualized and producer inflation at 8.5 percent annualized, according to the latest data by the Bureau of Labor Statistics, as the post-Covid supply crunch continues and the economy overheats, now with demand on the downturn as OPEC curtails oil production and another apparent global recession imminent emanating from Europe as energy costs remain extremely elevated especially for natural gas.
As these are the last two inflation reports before the November Congressional midterms, voters only have but one attitude to express about prices: they're high and they continue getting higher. This is undoubtedly bad news for Democratic leaders including House Speaker Nancy Pelosi (D-Calif.) and Senate Majority Leader (D-N.Y.) who are hoping to retain control of slim majorities in Congress. A swing of six seats in the House and just one seat in the Senate are all that is needed to put Republicans back into majorities.
If 2022 is a referendum on cash-strapped household budgets, there can only be one outcome at the polls.
Food prices are up 11.2 percent compared to a year ago.
Energy all told is up 19.8 percent.
Gasoline even coming off its highs is still up 18.2 percent compared to last year. Fuel oil is up 58.1 percent.
Electricity is up 15.5 percent and utility piped gas service is up 33.1 percent.
New cars are up 9.4 percent and used cars are up 7.2 percent.
Transportation services are up 14.6 percent.
Shelter is up 6.6 percent and medical services up another 6.5 percent.
In the meantime, real incomes continue to take a huge hit, with the Bureau of Labor Statistics reporting, "From September 2021 to September 2022, real average hourly earnings decreased 2.5 percent, seasonally adjusted." That is the American people's wages, on a real basis, being decreased just as prices are increasing.
And interest rates are way up, too, with 30-year mortgages now up to 6.66 percent, according to Freddie Mac data, as banks demand more in return for lending.
As a result, revolving consumer credit owned and securitized has skyrocketed 15.3 percent annualized, according to data compiled by the Federal Reserve, as households resort to plastic to settle payments on all the goods and services that cost so much more now. That should continue until households on balance curtail spending, which will contribute to the recession that looks to be ongoing into the new year.
Politically, it is hard for Americans not to look to their elected representatives and the policies they are pursuing for an explanation for the crunch we are in.
Covid lockdowns dramatically collapsed global production, but when the economy reopened sooner than expected, producers could not catch up. Meanwhile, Congress and the Federal Reserve borrowed and printed $6 trillion to shore up the economy during the pandemic as the M2 money supply exploded.
As far as energy goes, Environment, Social and Governance investing has successfully reduced the growth of America's oil production, which is still below pre-Covid levels, and Congress has invested heavily in more expensive green energy, which has the opportunity cost to conventional forms of energy, since the subsidies are designed to reduce consumer demand for carbon-based energies. It's supposed to drive prices higher.
Combine those policies with a botched foreign policy towards Saudi Arabia—President Joe Biden has been favoring a nuclear deal with Iran at the expense of Riyadh—where Biden requested expanded production and instead got reduced production from OPEC, and prices had nowhere to go but up.
And then there's the war in Europe, which appears to be entering its most dangerous phase yet after the sabotage of the Nord Stream gas pipelines from Russia to Germany and the Russian annexation of Donetsk, Luhansk and other areas in eastern Ukraine, with the presidents of Russia, Ukraine and the United States all talking about a nuclear war. If nothing else, assuming there is no wider war, the supply crunch for Europe is real and will be ongoing, where inflation is far worse than here.
But telling voters "It could be worse" is the same thing as telling them "It could get worse," likely not a winning formula for Pelosi and Schumer, who may be watching their paper-thin majorities evaporate in a hurry without too much to show for it in the way of legislation. Certainly, there has been no true inflation reduction for households as prices continue rising—and that may be all that matters at the end of the day on Nov. 8.
Robert Romano is the Vice President of Public Policy at Americans for Limited Government.