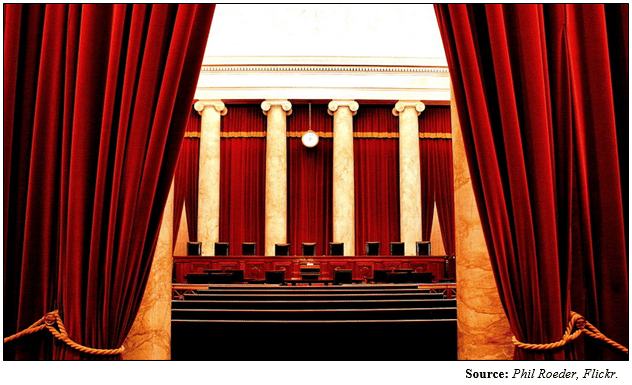 By Rick Manning
You can always tell when the left has fully polled and focused group a talking point, you see it everywhere.  So, to no one's surprise, the media is full of blaring headlines attacking the Supreme Court's "legitimacy."
The Washington Post featured a headline, "The Supreme Court, dogged by questions of legitimacy, is ready to resume."
A New York Times editorial huffed, "The Supreme Court Seems Awfully Nervous About its Own Legitimacy."
This followed a previous Old and Grey Lady editorial pouting that the Supreme Court has squandered its legitimacy writing, "As a result, the court's legitimacy has been squandered in the service of partisan victories. The Dobbs decision in June, which overturned Roe v. Wade, eliminated American women's constitutional right to control their own bodies and was a priority of the Republican Party for decades, is only the most glaring example."
The very same left-wing blathering which poses as their intelligentsia demands absolute fealty to the results of the 2020 election, without evidence that the thousands of affidavits contending that fraud had been committed were falsely sworn, now worries about the legitimacy of the Supreme Court?
What a bunch of frauds.
Over the past six months, America has witnessed the GOP appointed Supreme Court Justices subjected to on-going and continuing intimidation through protestors at their personal residences. Threats stoked by a leaked draft decision on the abortion issue from inside the Court itself. Protests which are specifically illegal under federal law, which the Attorney General of the United States refuses to enforce. 
Attempt to intimidate a Supreme Court decision through the threat of violence?  You are A-Okay in Biden-Obama Media and Legal World, but stand up to that intimidation and follow the Constitution to overturn a court case which has divided the nation since it was first unleashed in 1973, and suddenly their legitimacy is at stake? 
The irony is that conservatives have for decades suffered as enumerated individual rights were eroded by activist Courts seeking to make law from the bench which Congress and the Executive Branch would not. Witnessing the same Court using tortured logic to creatively write 'rights' into the Constitution with little fear about their legitimacy.
Now, as this Supreme Court continues to affirm individual religious liberties found in the First Amendment and the individual right to keep and BEAR arms found in the Second, the left is going increasingly nuts.  After all, decisions that can actually find credence in the Constitution as amended by the Bill of Rights are dangerous aberrations which cannot be tolerated.
Horrors and Boo Hoo – crybaby whiners.
The truth is the Supreme Court has restored its legitimacy.  On abortion, it is up to the states to decide how they handle the issue.  Just as abortion was not found to be in the Constitution to enable it, it was also found to not be in the Constitution to judicially ban it. 
Imagine the idea that those people elected to make laws to govern their respective states should be empowered with doing just that? 
Isn't that what this whole representative republic idea is supposed to be about – the consent of the governed? 
The Supreme Court opened for business again this week.  They face a slew of important issues that have landed at their feet because they have Constitutional significance and in many cases, lower courts disagree on the answer. 
Let's pray that they continue to restore the legitimacy of the Court as they return America to the rule of law.