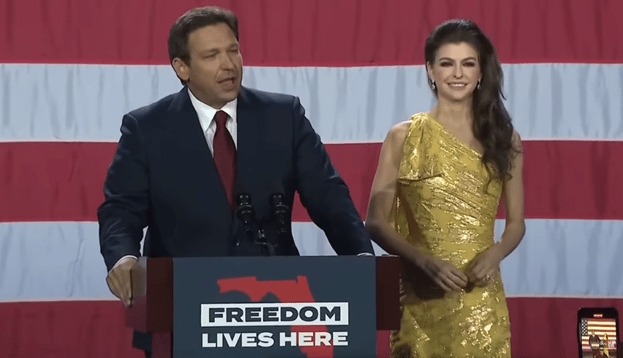 In 2022, Florida stood out as a bright spot for the Republican Party, with Republican Gov. Ron DeSantis easily defeating Democrat Charlie Crist by a whopping 1.5 million votes, almost 20 points — 59.4 percent to just 40 percent — and the GOP went on to scoop up another four seats in the House of Representatives.
Just four years ago, DeSantis barely beat Andrew Gillum by 33,000 votes, 49.6 percent to 49.4 percent. So, what was different?
In 2018, Democrats were completely out of power, having just lost the White House, the U.S. House and the U.S. Senate, and so, in that off-year election, Democrats overperformed in states that voted for former President Donald Trump in the 2016 election like Florida.
That year, Democrats boosted turnout among younger voters who traditionally shied away from off-year elections, something they were also able to replicate in 2022, with 27 percent of 18-29-year-olds voting in 2022, similar to 2018's 31 percent of that demographic who voted, according to research by Center for Information and Research on Civic Learning and Engagement at Tufts University.
In 2022, Republicans like Lee Zeldin in New York similarly overperformed in a deep blue state that President Joe Biden easily carried in 2020, where the GOP netted another four U.S. House seats. There the shift simply appeared owed to the quality of the campaign Zeldin waged on the issue of crime, making significant inroads on western Long Island in households that had traditionally voted Democratic and helping to take New York's 3rd and 4th Congressional Districts.
In wave years—2018 was a much larger wave for Democrats than 2022 was for Republicans—those are the opportunities for an upset that sometimes exist.
Another factor of course is demographics.
Everyone knows that Florida is the top retirement destination in America, with its great weather and low taxes, and so it is no surprise that only 35 percent of 21.8 million Floridians were even born in Florida (7.4 percent from New York alone), according to U.S. Census data.
And naturally, retirees are older and so Florida ranks 2nd in the nation with the highest percentage of seniors, at 21.3 percent of the population, a 2021 Kaiser Family Foundation study of U.S. Census data shows.
But it ranks 48th in the number of 19-25-year-olds at 7.7 percent and 45th among 26-34-year-olds at 11.2 percent.
Of all the large states in America — California, Texas, Florida and New York — Florida has the highest percentage of seniors and the lowest percentage of younger people.
That is a recipe for a Republican paradise when one considers the 2022 CNN exit poll, which showed Republicans nationally leading Democrats in the U.S. House races among seniors by 12 points, 55 percent to 43 percent.
But in Florida, thanks to the retirement deluge into Florida disproportionately favoring Republicans, plus it being a wave year for the GOP which means Republicans made up a higher percentage of the electorate than usual as a greater percentage of Democrats stayed home than in 2018, Republicans' lead among Democrats in the gubernatorial contest was 28 points among seniors, 64 percent to 46 percent. For comparison, in Florida in 2020, with presidential levels of turnout, Trump's lead against Biden lead was more like 10 points among seniors, 55 percent to 45 percent.
Even so, Charlie Crist still carried 95 percent of Democrats in the state per the CNN exit poll. DeSantis won independents solidly, 53 percent 45 percent and received 97 percent of Republicans' support.
Unfortunately for Republicans, Florida's demographics cannot be replicated in any other state. For example, Arizona ranks 13th in the nation among younger voters, with 8.8 percent of the population aged 19 to 25. And Georgia ranks 20th at 8.6 percent, and on the other hand only has 14.9 percent of its population as seniors, 48th in the nation. On the other hand, thanks to declining fertility, Millennials and Generation X are still larger than Generation Z, and may be more Republican than Baby Boomers when they started aging.
But don't be deceived by aging demographics. In blue states like Maine, the state with the greatest percentage population of seniors, it wass no help to Republicans at all.
On the other hand, curiously, in New Hampshire, which ranks 9th among seniors in the country, defeated Republican challenger Don Bolduc was leading Democratic Sen. Maggie Hassan among younger voters and losing among older voters in a St. Anselm poll taken before the election.
In other words, Democrats do not suddenly morph into Republicans when they turn 65. They get old, too, a factor that could eventually help Republicans in areas currently dominated by Democrats, too.
Whereas, thanks to its geography and already favorable demographics, Florida looks like it will always be a top retirement destination for Americans. So far, that has trended Republican in that state. The side effect though is that it makes the youth vote that much more critical everywhere else, a critical factor in the Republicans' near miss in the 2022 midterms.
Robert Romano is the Vice President of Public Policy at Americans for Limited Government Foundation.