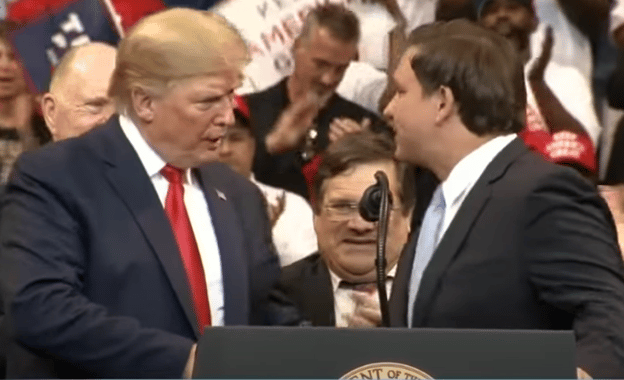 Former President Donald Trump and Florida Republican Gov. Ron DeSantis are utterly annihilating the entire Republican field of potential candidates in the 2024 Republican presidential race in the latest Economist/YouGov poll, with Trump garnering 44 percent, DeSantis 32 percent and then former Vice President Mike Pence gets just 5 percent and former South Carolina Republican Gov. and UN Ambassador Nikki Haley gets 4 percent.
Combined both candidates garner 76 percent of the vote. That's pretty much where the polls were last month, too. Republican voters, particularly, Trump supporters were completely unphased by the appointment of Special Counsel Jack Smith to investigate Trump for documents Trump says he declassified before he left office.
That is complete domination, and in many ways could be shaping up to be somewhat of a repeat of 2016, when Trump and Sen. Ted Cruz (R-Texas) similarly left all other comers in the dust. Both had strong positions on securing the southern border but differed on reciprocity in trade agreements, with Trump in favor of tariffs on Chinese goods and Cruz opposed.
Conservatives in the GOP flocked to Trump and Cruz, leaving more moderate or centrist candidates in the dust. But Trump had an edge with blue collar Republican supporters and over 2016 and 2020, grew the Republican Party, garnering 63 million and then 74 million votes, more than George W. Bush (62 million in 2004), John McCain (59.9 million in 2008) and Mitt Romney (60.9 million in 2012).
Trump's coattails also extended to members of Congress, wherein Republicans in the House picked up 14 seats in 2020.
Simply cobbling together states like Michigan, Pennsylvania and Wisconsin in 2016 was something of a miracle in modern politics. Trump only got there by running against unfair trade deals like NAFTA and the Trans Pacific Partnership, winning over just enough blue collar Democratic and union households who still cared about the issue, who it turned out were crucial members of the coalition that elected him.
But it was Republican voters becoming more active in the GOP nominating process that made it possible, and it was in order to root out the Washington, D.C. establishment that voters perceived had squandered past majorities without getting much of accomplished to either limit the size and scope of government or restoring America.
The GOP has always been a big tent style party, and so the politics of immigration and trade, or DeSantis' crusade against wokeism in Florida and to retake public schools there today, very much suit the party's penchant for big discussions.
To pause on that because what DeSantis is doing is incredibly important. Republicans have also largely abandoned the institutions, like schools and higher education but also the bureaucracy, media, entertainment, corporations and so forth. The result today is political discrimination in the form of ESG racial and gender hiring quotas. Here, DeSantis says, no, take back your institutions.
Only the arena of politics it appears might be one of the GOP's last islands of power. But they're going to do more than just occasionally win elections or cut taxes to deal with the problems they are facing nationally.
In truth Republicans are in the fight for their lives. Vast censorship on behalf of Democrats has been revealed via the Twitter files and disclosures from Facebook, but also publicly available records of government agencies like CISA at the Department of Homeland Security and the FBI's Foreign Influence Task Force instituting takedown requests against Republicans on social media.
The FBI's raid of former President Trump's home for the documents he says he declassified also reveal an administrative war against the Republican frontrunner and really the GOP itself. But the Justice Department's investigation of Trump began at least in 2016 when he was accused of being a Russian agent by Hillary Clinton and so DOJ waged a nearly three year, endless investigation that did massive damage to the Article II presidency and the unitary executive under the Constitution.
Now, there's three special counsels that have been appointed, largely beyond review from the Attorney General and the President, the latter of who is supposed to be the head of the executive branch. No longer. Senior attorneys at the Justice Department execute the laws, and declare special counsels to prevent presidents from administering to their functions and frankly constitutional duties. It's an abomination under the Constitution.
Only through disclosures and declassifications by Trump have the American people learned anything about how the Foreign Intelligence Surveillance Act (FISA) is being used to control powerful figures in Washington, D.C. It's essentially blackmail every day of the week just by reading in presidents, former presidents or members of Congress into any and all classified information.
It's the permanent state, the one you're not really supposed to talk about, and therefore the one that can never truly garner the consent of the governed, except only tacitly or out of fear. And Republican voters, especially GOP presidential primary voters, know it and intend to get rid of it, even while realizing failure is not only possible but perhaps even likely.
It is an existential threat to the two-party system we have enjoyed since the election of 1800, and so Republicans know the most power they have is in that nominating process. They're saying they trust Trump and DeSantis, and almost nobody else.
Robert Romano is the Vice President of Public Policy at Americans for Limited Government.