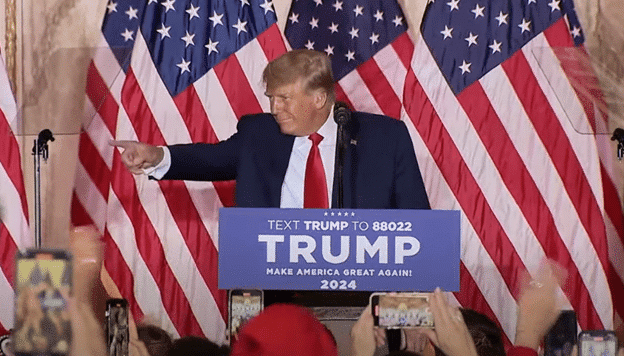 Former President Donald Trump continues to press his advantage against incumbent President Joe Biden in the latest HarrisX-Messenger poll, 51 percent to 49 percent, a lead that jumps to five points when Robert Kennedy, Jr. and Cornell West are included in the mix, with Trump garnering 41 percent, Biden 36 percent, Kennedy 11 percent and West 2 percent.
In the four-way race, Trump loses 10 points of support and Biden loses 13 points of support, underscoring independents' desire for third-party alternatives.
Democrats are more likely than Republicans to support a third-party candidate, with 11 percent of Democrats supporting Kennedy over Biden and 2 percent supporting West. Only 6 percent of Republicans support Kennedy and 0 percent of them support West.
Trump does a better job than Biden at retaining his party's support in the four-way race, garnering 82 percent of Republicans versus Biden getting 74 percent of Democrats. Biden only gets 5 percent of Republicans to Trump's 8 percent of Democrats.
On independents, Trump leads both the two-way and four-way races, garnering 53 percent of independents to Biden's 47 percent, and in the four-way race, Trump gets 33 percent, Biden gets 25 percent, Kennedy 18 percent and West 4 percent.
Amazingly, in the two-way race, Trump is achieving historically high support among minorities — confirming results in other recent polls — with Trump getting 35 percent of Blacks and 47 percent of Hispanics, Biden getting 65 percent of Blacks and 53 percent of Hispanics.
Similarly, Trump is crushing the gender gap, getting 57 percent of males to Biden's 43 percent, and Biden only getting 54 percent of females to Trump's 46 percent.
In short, those numbers are catastrophic for Joe Biden, with the Nov. 2024 election just one year away now as the incumbent president appears to be exceedingly vulnerable to a challenge. Biden only gets a 41 percent approval rate, with 56 percent disapproving.
This is persistent job disapproval for Biden, with support collapsing since the botched, deadly withdrawal from Afghanistan in Aug. 2021, never going back above 50 percent since, according to the RealClearPolitics.com average of national polls taken since 2021. Sticky inflation, Covid fatigue and unpopular wars overseas haven't helped, but foremost on voters' minds is the President's age, who will be turning 81 on Nov. 20.
This has led to more and more calls for Biden to step aside, including most recently former Obama senior advisor David Axelrod, citing "legitimate concern" over Biden's reelection prospects on X (formerly Twitter) on Nov. 5, showing Trump leading battleground states easily, a devastating sign of chaos among Democrats panicked over Biden's poor showing now that there is no longer the Covid pandemic to run against.
The knives are out.
Axelrod stated, "The greatest concern is that his biggest liability is the one thing he can't change. Among all the unpredictables there is one thing that is sure: the age arrow only points in one direction… [T]he stakes of miscalculation here are too dramatic to ignore. Only @JoeBiden can make this decision. If he continues to run, he will be the nominee of the Democratic Party. What he needs to decide is whether that is wise; whether it's in HIS best interest or the country's?" 
That's a good question, but the state of the country will not improve if Biden steps aside, thus creating a succession crisis within the Democratic Party. Age aside, voters are still likely to judge the incumbent party by the conditions of the economy and America's current position. For Democrats, it might be the only thing worse than running Joe Biden in 2024 is not running him. We'll find out soon.
Robert Romano is the Vice President of Public Policy at Americans for Limited Government Foundation.