On: 07/16/2008 16:07:36
The House of Representatives' "conservative" Blue Dog Democrats Coalition needs to start practicing what it preaches, lest the self-proclaimed watchdogs become lapdogs.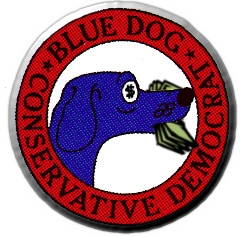 The Republican Study Committee recently posted a list of representatives who have sworn off Congressional earmarks. However, only 1 of the 48 so-called Blue Dogs, a group of Congressmen who supposedly seek to balance the Federal budget, have made the pledge not to take earmarks in their districts.
On their website, the Blue Dogs state their "commitment" to fiscal responsibility:
"The Coalition has been particularly active on fiscal issues, relentlessly pursuing a balanced budget and then protecting that achievement from politically popular 'raids' on the budget."
Americans for Limited Government President Bill Wilson recently sent this letter to the sole Blue Dog Democrat who has taken the pledge, Jim Cooper of Tennessee:
"Dear Congressman Cooper:

"Americans for Limited Government would like to commend you for taking the 'No Earmarks Pledge' this year. You've done a great thing here, but clearly there has been an oversight.

"You are the only Representative of the Blue Dog Democrats Coalition who has sworn off earmarks. To be kind, we assume that your colleagues have simply not heard of the 'No Earmarks Pledge,' but either way we think you should encourage them to take it.

"We very strongly agree with your statement that it is time for Congress to 'put a stop to ATM politics.' In attempting to restore fiscal sanity to Washington, and in these times of economic uncertainty, the American taxpayer will be depending on the Blue Dogs to play a key role in putting an end to the era of pork. The first step is for Representatives of both political parties to swear off earmarks.

"Keep up the good work, and take care. Please encourage your colleagues to take the pledge!

"Sincerely,
"William Wilson
"President, Americans for Limited Government"
As your faithful and loyal attack dogs, we at ALG will keep you apprised of any response that we may receive – or not – from Representative Cooper.
ALG-CTA: The American people ought to give the Blue Dogs a call and encourage them to take the "No Earmarks Pledge", as their colleague Rep. Jim Cooper (D-TN) has done. Their offices can be reached via the phone numbers listed on their website here.