On: 11/19/2008 10:00:35
In:
First Amendment
By Alex Rosenwald
"[In the] CU case….not only would the FEC deter CU from getting out its message, but also it would keep it from even advertising the fact that it has a message to get out." –Quin Hillyer, "Quin-Essential Cases: A High Court Docu-Drama," November 18th, 2008.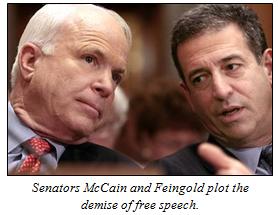 The Washington Examiner put out a piece yesterday, written by their associate editorial page editor, Quinn Hillyer, concerning "government censorship of politically tinged speech" and its possible consequences for conservatives and advocates of First Amendment protections.
Citizens United (CU), a conservative advocacy organization located in Washington DC, is under fire for an alleged violation of the infamous McCain-Feingold. Yes, that McCain-Feingold—the onerous gag order that has now turned on an innocent group of documentarians.
For those who may not be entirely familiar with McCain-Feingold, it prohibits soft money and limits outside groups from running campaign ads within the periods of an election or primary (60 days for an election, 30 days for a primary). Come February 2009, the Supreme Court will invite Citizens United to argue its side in the case of Citizens United v. Federal Election Commission (FEC).
Now, the context: CU is facing backlash from the FEC for producing a film, "Hillary: The Movie" during the primary season. The FEC has stepped in and put its foot down claiming that CU couldn't promote and market the film because of McCain-Feingold restrictions. Does this seem just? Well, of course not.
The First Amendment of United States was ratified January 15, 1791, protecting the American People's right to speak their minds freely and to criticize government officials, which is exactly what CU was restricted from doing by the FEC's enforcement of McCain-Feingold. This is a right that the government must not be allowed to rescind, restrict, or regulate in any circumstance for the sake of liberty.
Many find not only this situation, but the whole McCain-Feingold creation to be a disaster. Take it from the words of former FEC Chairman Brad Smith, who laid a TKO on McCain-Feingold, saying, "You can't stop citizens from coming together and spending money to talk about politics." And, "the first thing people who believe in political freedom need to understand is that the opposition, the regulators, are relentless.
ALG News believes the Supreme Court dase should be ruled in the favor of Citizens United. If CU doesn't win, McCain-Feingold will continue to be a major hindrance to free and open discussions about key political issues. If CU does win, Americans across the political spectrum can breathe a sigh of relief—and once again safely utter a word of dissent.
Alex Rosenwald is a contributing editor of ALG News Bureau.
---