Continuing on the Recovery Summer and Stimulus: State by State, we head to Washington.
Quick Washington facts:
The employment trend in Washington has not been good. While a brief period of "recovery" began in March of 2010, that came to a close by the time that "Recovery Summer" was in full swing. The employment situation in Washington has started swinging downward yet again. (Source: Bureau of Labor Statistics)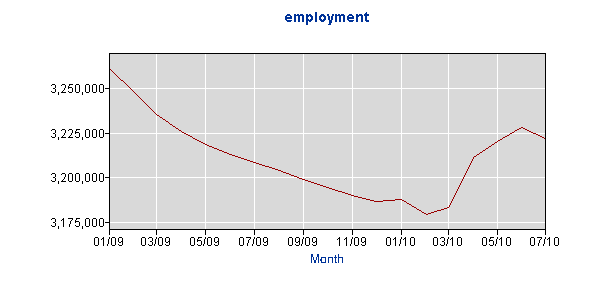 Has the Recovery Act done anything for Washington? No.
Has "Recovery Summer" done anything for Washington? No.
Washington has faced increasing unemployment since Obama took office in 2009. With a key Senate race in Washington this year, one would think that Senator Patty Murray would be hard at work trying to make a bad situation better. Instead, Senator Murray has been a continuous cheerleader for failed Big Government policies that have harmed the state.
Read more on Recovery Summer and the Stimulus Effects on States.
*: The number of jobs created/saved conflicts with other government sources on Recovery.gov. This number was pulled from the latest figured offered on Recovery.gov