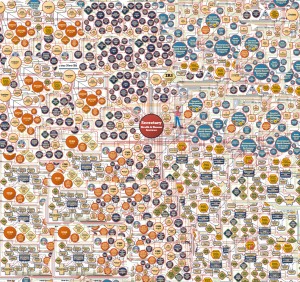 By Evan B. Kozierachi — Following Chief Justice Roberts' decision to uphold the Affordable Care Act's (ACA) individual mandate as a "tax," there are 23 cases left challenging another mandate from the ACA, which has been dubbed the Health & Human Services (HHS) mandate. The HHS mandate's constitutionality is being challenged, not under the limitations imposed on Congress by the Commerce Clause, but by the First Amendment's assertion of each citizen's right to religious freedom. The plaintiffs challenge a regulation that requires "certain preventive services" to be provided by employers. According to Secretary Sebelius, these "preventive services" include contraceptives and abortifacients, but the "exemption" for religious employers applies much too narrowly.
Fifty-six individual plaintiffs, representing various institutions and people, are asserting their religious freedom guaranteed by the Constitution in the face of Obama's administration.[1] If Obama's mandate is not dropped, then religious employers will not be able to conscientiously participate fully in our economy.
After the mandate was issued in August 2011, the Becket Fund for Religious Liberty filed suits on behalf of both Belmont Abbey College, a Catholic liberal arts college founded by Benedictine monks, and Colorado Christian University, an evangelical college located outside of Denver in November and December of the same year, respectively.[2]
In addition to the pending lawsuits, the Federal Register recorded a total number of comments exceeding 200,000—an unprecedented number for any Obamacare regulation.[3] The Obama administration's response to these comments was to extend the deadline by a year for which these institutions must comply. In other words, this administration interprets the religious freedom stipulated by the Constitution as a right with an expiration date.
Priests for Life v. Sebelius filed by the Charles LiMandri Law Offices of San Diego is one of the 23 ensuing lawsuits. Priests for Life cite three affronts to their freedom and constitutional rights by the regulation promulgated under the ACA, which are the "rights to the free exercise of religion and the freedom of speech under the First Amendment to the United States Constitution, the Religious Freedom Restoration Act, and the Administrative Procedure Act."[4]
Besides the clear violation of the First Amendment, the HHS mandate violates both of the aforementioned acts. The first of which states: "Government shall not substantially burden a person's exercise of religion even if the burden results from a rule of general applicability."[5] Mandating a Christian employer to pay for contraceptives and abortifacients is such a "burden."
The ACA violates the Administrative Procedure Act (APA) on two fronts since it is both "without the observance of procedure required by law" and "arbitrary, capricious, an abuse of discretion, or otherwise not in accordance with the law."[6] In the former case, the APA requires that laws and regulations shall not be promulgated until after a "general notice of a proposed rulemaking and an opportunity for public comment…."[7] The Obama Administration found "good cause" to forego public comment on August 3, 2011—the day the ACA's preventive care mandate entered the Federal Register. In effect, the Obama Administration attempted to preempt public critique of this mandate and ended any subsequent dissent outside of the courts.
The 56 plaintiffs against the HHS mandate and 23 cases pending for judicial review argue against a regulation that is not only without procedural adherence but is "arbitrary, capricious, [and] an abuse of discretion."[8]
Along with Catholic priests and Christian employers, Rabbis have come together in order to fight the Human and Health Services' (HHS) mandate. The Rabbinical Council of America (RCA), the largest organization of Rabbis in the United States, issued a statement that "urges the Administration, in consultation with relevant religious bodies, to include further necessary protections to safeguard the religious rights of all Americans."[9]
This week plaintiffs in two cases taking issue with the Mandate have asked for preliminary injunctions in federal court. The first of which, Newland v. Sebelius, concerns the Newlands' family-owned heating and air conditioning business, Hercules Industries. The Newlands are a Catholic family that consists of conscientious objectors and are seeking an injunction of the mandate before it takes effect on August 1, 2012. Judge John L. Kane Jr., a Carter appointee, may issue his decision as soon as Friday, July 27, 2012.[10]
The second case will be heard by Judge Robert Hardy Cleland, a George H. W. Bush appointee. Politico Pro reports that The Thomas More Law Center "filed an emergency motion with a federal judge, Robert H. Cleland of the Eastern District of Michigan, asking for a temporary restraining order to keep the Obama administration's contraception rule from going into effect Aug. 1."[11]
The various people profoundly concerned about this mandate and the precedent it will set for other illiberal laws and regulations epitomize the universal value of liberty.
---
[1] "How Will the Supreme Court's Decision Impact the HHS Mandate?" (June 14, 2012) http://www.becketfund.org/how-will-the-supreme-courts-decision-impact-th….
[2] "Becket Fund's HHS Mandate Challenge" (Last visited July 26, 2012) http://www.becketfund.org/hhs.
[3] 77 Fed. Reg. 8725, 8726
[4] Complaint for Plaintiff, Priests for Life v. Sebelius, No. 1:2012-cv-00753 (E.D.N.Y. filed Feb. 15, 2012) available at http://www.priestsforlife.org/hhsmandate/priests-for-life-v-sebelius.pdf.
[5] Religious Freedom Restoration Act § 3(a), 42 U.S.C. § 2000bb–1(a) (1993).
[6] Supra note 4 at 21 (quoting 5 U.S.C. § 706).
[7] Id. at 22 (citing 5 U.S.C. § 551, et seq.)
[8] Supra note 6
[9] Rabbinical Council of America, "2012 Convention Resolution: Safeguarding the Religious Rights of all Americans" (May 10, 2012) http://www.rabbis.org/news/article.cfm?id=105683.
[10] Jennifer Haberkorn, PoliticoPro, "Contraception policy ruling expected Friday" (July 25, 2012) https://www.politicopro.com/story/healthcare/?id=13040.
[11] Joanne Kenen, PoliticoPro, "Thomas More tries to block birth control rule" (July 25, 2012) https://www.politicopro.com/story/healthcare/?id=13052.
Evan B. Kozierachi is a Koch Summer Fellow at Americans for Limited Government.