By Bill Wilson
It is no mystery that the U.S. is a consumer-based economy.
Approximately 71 percent of the $16 trillion Gross Domestic Product (GDP) is personal consumption. So, when consumption expenditures decline — as they did in April — by $20.5 billion, or 0.2 percent as reported by the Bureau of Economic Analysis, people take notice.
The same month, personal income and disposable income both took hits, dropping 0.1 percent.
The latest hit came in manufacturing output hitting a four year low, according to the Institute for Supply Management, another sign of slack demand.
But those may not even be the most worrisome statistics.
The personal savings rate as a percent of disposable income reported by the Federal Reserve is rising after hitting a 6-year low of 2.1 percent in January. The last time the rate got that low was in 2007 when it hit 2.0 percent, right before the economy fell off the rails. Another low of 0.9 percent was reached in 2001 while the economy was contracting.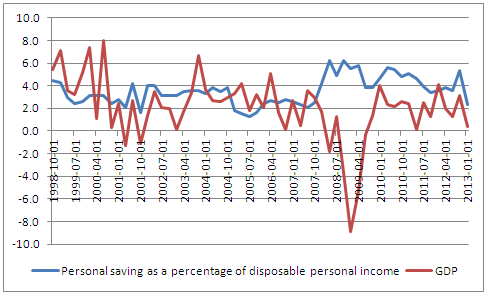 When savings start rising, it is often a sign that consumers are already feeling the pain of a coming economic downturn and are curbing expenditures.
Now, the savings rate is up to 2.5 percent, unchanged from March.  However,  the rate would have increased last month, too — but for the amount of disposable income Americans have, which fell in April.
Another troubling sign comes in the level of household debt to median income, which although it peaked in 2007 at 235 percent, is still above 200 percent. For comparative purposes, in 1999, it was 150 percent. This indicates that consumers are still overleveraged, almost five years after the financial crisis.
None of which is good for the economic outlook, and could indicate we are already in the latter end of what has been a lackluster recovery and entering a cyclical downturn.
It makes a lot of sense. With Americans still maxed out on debt, once personal savings are exhausted — as appears to have happened in January — then one would expect a slowdown or contraction in consumption to follow.
Perhaps that all explains why U.S. stocks are suddenly contracting after reaching all-time highs last month.
After all, so goes the U.S. consumer, so goes the economy. Hang out tight.
Bill Wilson is a member of the board of directors for Americans for Limited Government.