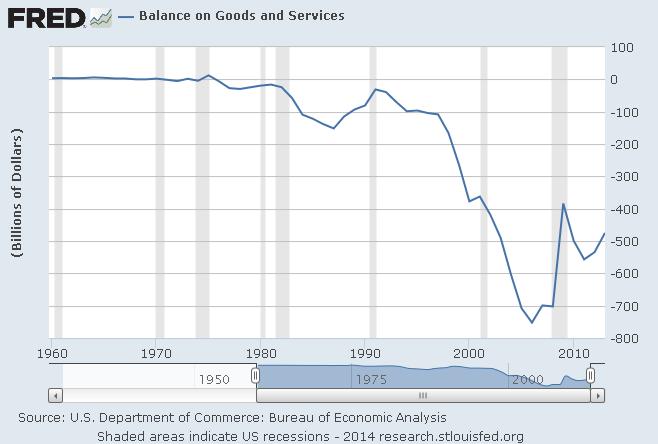 The U.S. trade deficit shrank slightly in March by $1.5 billion to $40.4 billion amid slight gains in exports for the month.
Missing in the monthly and quarterly streams of data, however, is an understanding of overall trends. Here, the trade deficit has been unquestionably been shrinking like clockwork since 2011 — by about $82 billion.
That's usually not a good sign, U.S. Commerce Department data shows. Narrowing trade gaps have coincided with recessions in 2008, 2001, 1990, 1980, and 1975.
That is because as imports from overseas dry up, it is an overall indicator of global trade slowing down. And there is no question imports have been slowing down. They only grew by a mere $1 billion in 2013.
Exports are starting to slow down too. In the first quarter they were $3 billion lower than they were than the fourth quarter of 2013.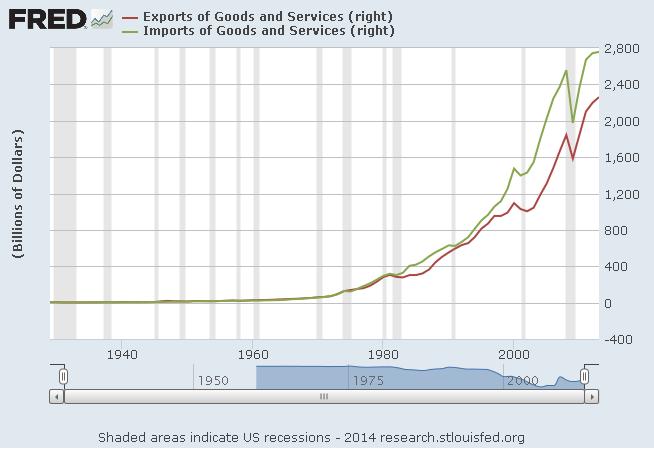 So, what do the recent trends mean?
Maybe nothing. It could just be a lull in trade flows. However, they are worth watching. It is not causative, per se, but it is a pretty good indicator. When both imports and exports take a hit that can often indicate or predict a recession.
And with continued stagnation in Europe and the slowdown in China and throughout the Pacific region, plus the weak economy here, it would be little wonder why.
If so, then don't expect a Federal Reserve wind-down of quantitative easing any time soon as concerns over the economy's well being grow. The calls for Janet Yellen to keep printing will become deafening. Not that it will do any good.
The Fed has expanded its balance sheet by $3.4 trillion since August 2007 when the financial crisis began. It was unable to prevent the downturn then, and it has not led a robust recovery since then.
Unemployment is still too high, labor participation is sliding, incomes are stagnant, and yet prices for staples like food and energy are rising. The regulatory environment for job creators has never been worst.
The middle class is still getting crushed under the weight of too much debt. Younger Americans are failing to enter the labor force. And growth is nowhere to be found.
Overall, the narrowing trade deficit is just one symptom of a weak economy. But it's not the only deficit we face, where in Washington, D.C. there is deficit of public confidence that is growing.
Policy makers still believe that more borrowing and regulation will somehow help. They won't. And until they stop, Americans will continue to suffer under these failed big government economic assumptions.
Robert Romano is the senior editor of Americans for Limited Government.