By Robert Romano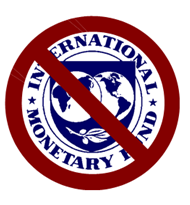 Tucked into the omnibus spending bill for the remainder of fiscal year 2016 was a $56.7 billion increase in the U.S. quota subscription to the International Monetary Fund (IMF).
This will double the current U.S. quota to $115.2 billion at today's exchange rate.
The legislation also puts a 2022 sunset on the now-$95.8 billion New Arrangements to Borrow, a program enacted in 2009. However, watch for that to be reauthorized akin to the same way the Export-Import Bank comes up periodically before Congress. No government program ever truly dies.
In any event, for the foreseeable future, the U.S. commitment to the IMF will rise to $211 billion in credit lines in total.
The U.S. already disproportionately lends to countries via the IMF credit lines. Despite a 17.68 percent quota at the IMF, in actuality the U.S. currently lends 22.83 percent of all outstanding IMF credit, thanks in large part to the New Arrangements to Borrow.
That accounts for $18.4 billion out of $80.5 billion lent worldwide. Half of current U.S. lending comes from the New Arrangements to Borrow.
And most of that lending goes to just three countries — Greece ($18.98 billion), Portugal ($22.7 billion) and Ireland ($5.2 billion) — still suffering from the European sovereign debt crisis.
Americans for Limited Government President Rick Manning said the IMF expansion was a betrayal by Republican congressional leaders.
"It is particularly troubling that ending the New Arrangements to Borrow was once a priority for House Republican Conference Chairwoman Cathy McMorris-Rodgers, and now with her in leadership, our nation is trapped into a funding commitment that swamps that promise," Manning said.
Rep. Cathy McMorris-Rodgers (R-Wash.) had sponsored legislation in 2011 that would have ended the New Arrangements to Borrow. It had 83 cosponsors.
Now with the omnibus, not only is the $95.8 billion New Arrangements to Borrow not eliminated, but the quota is doubled, too.
"This is just one more gigantic proof point that the GOP establishment cannot be trusted with the public treasury," Manning concluded.
Robert Romano is the senior editor of Americans for Limited Government.