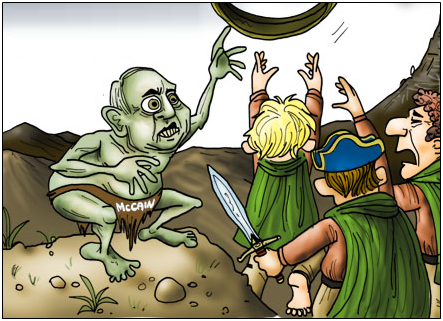 By ALG staff
Arizona U.S. Senator John McCain openly worried that his re-election may be in jeopardy due to the ascendancy of Donald Trump to the role of the GOP's presumptive presidential nominee.  McCain should know something about how a crummy candidate at the top of the ticket can adversely impact down ballot races.
When McCain was at the top of the ticket in 2008, the GOP lost eight seats in the Senate which were previously held by Republicans including the defeat of incumbents, Ted Stevens, Norm Coleman, John Sununu, Elizabeth Dole and Gordon Smith.  In addition, open seats in Colorado, New Mexico and Virginia were lost setting the stage for the passage of Obamacare, and the $800 billion stimulus plan to name just two bad policy outcomes. Plus, another 21 seats were lost in the House.
One could argue that John McCain was both the most disastrous and oblivious GOP presidential nominee in the past than fifty years, who even suspended his campaign in Sept. 2008 so he could sit down in Washington, D.C. to bail out Wall Street and foreign banks that bet poorly on U.S. housing, so take his insights on the political impact of Trump with a grain of salt.