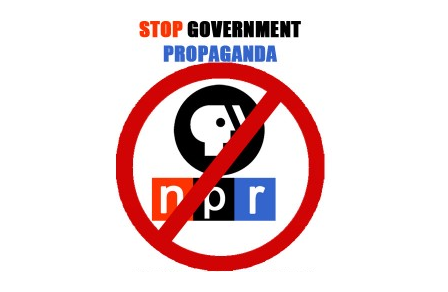 By Natalia Castro
The Iran nuclear deal had opposition in Congress, but if you were listening to National Public Radio, you might not have known that. National Public Radio (NPR) has been accused of bias before, but its mishandling of the Iran deal and its subsequent denials have proven the partially government funded organization is much more to blame than they appear.
The agreement was meant to be the pinnacle of President Obama's foreign policy initiative, supposedly building a positive relationship with a country known for mistrust. Instead, the deal provided them with a path to nuclear weaponry, critics said.
Rep. Mike Pompeo (R-Kan.) was one of only 25 members of the House who actually voted against the bill that authorized the Iran nuclear deal, H.R. 1191 by Sen. Bob Corker (R-Tenn.).
The legislation allowed President Obama to lift sanctions on Iran. Congress gave away their oversight, leaving the people in charge of keeping President Obama in check.
But hardly anybody knew that. And now we know at least part of the reason why.
As reported by the Washington Free Beacon, the true level to NPR's manipulation of the news is revealed in Adam Kredo's May 23 story, where he wrote "emails viewed by the Free Beacon show that NPR cancelled a 2015 interview with Pompeo while featuring others, including Iran deal supporters".
Pompeo's office consistently attempted to reach out to NPR to discuss the deal and its implications but his status as a known adversary to the deal caused NPR to reject him. Meanwhile NPR allowed supporters to be aired, and when questioned about the cancelled appearances by both the Washington Free Beacon and the AP, NPR made false claims that they were never in contact with Pompeo.
Pompeo told the Associated Press "he repeatedly asked NPR to be interviewed last year as a counterweight to a Democratic supporter of the agreement, Rep. Adam Schiff of California, who he said regularly appeared on the station. But NPR refused to put Pompeo on the air, he said." Pompeo attempted to balance the Iran Deal discussion, and NPR denied him of that opportunity due to funding bias.
The aforementioned Free Beacon article continues to explain that consistently through 2015 NPR created scheduling conflicts to prevent Pompeo from being interviewed, making claims such as "Morning Edition is a bit full on Iran at the moment" coming directly from NPR producer Kitty Eisele.
While NPR officials were eager to reject Pompeo, when the AP requested a reason for NPR initially claiming they had not spoken the Pompeo office, no response was provided.
Despite the overwhelming odds that President Barack Obama's agreement was going to fly through Congress anyway, the administration invested greatly in ensuring the American people would only hear one side to the story, his side.
So, with the help of his team he used media to suppress opposition. A New York Times investigative report by David Samuels from May 5 revealed Ben Rhodes, national security adviser for strategic communications, and Rob Malley, White House point person during the latter stages of the Iran negotiations, worked closely to determine the best way to sell the idea to Congress and the American people, even if it meant ensuring slanted coverage by the press.
Malley controlled negotiations, while Rhodes focused on media perception. The Times report even quoted Malley as saying, "we created an echo chamber. [The media] was saying things that validated what we had given them to say."
NPR, a publicly and privately funded organization was easy to pressure, because the Obama administration was not alone. A Nonprofit Quarterly report by Michael Wyland of May 2016 explains that NPR received significant funding from Ploughshares Fund, a global security company. In fact, NPR has received over $700,000 over several years and $100,000 just for research on the Iran Nuclear Deal. While this is a lofty donation, it is not an innocent one.
Ploughshares has not been shy to discuss their position on the deal. A post on the Ploughshares website entitled "How we won" explains in detail the avid support for the deal.
This evidence alone makes it nearly impossible to believe NPR would be able to remain impartial in their reporting of the deal — their two funding drivers, the government and Ploughshares, favored the deal.
However, if the pressure was not enough, NPR producers proved they had lost integrity in their journalism through blatantly mismanaging interview schedules and lying to major media outlets. There were so few voices of dissent, including Pompeo, and they could not even let him on the air.
Congress cannot condone this violation of the American people's access to information. Which is exactly why in 2013 Rep. Doug Lamborn (R-Colo.) submitted congressional bill H.R. 2597 to prohibit Federal funding of National Public Radio and the use of Federal funds to acquire radio content. This legislation highlighted the bias within NPR and forced politicians to rely on the dissemination of news outlets which actually provide the American people with adequate information. Unfortunately, Lamborn's bill never moved past the House.
NPR's own funding site claims the network cannot exist without government funding, saying, "federal funding is essential to public radio's service to the American public. Its continuation is critical for both stations and program producers." But what is this service to the American people? Being a propaganda outlet? Lying about their coverage? Allowing Democrats and large companies to control public knowledge?
NPR has been a puppet for the liberal establishment and allowed to beguile the American people for far too long. Lamborn took a key step forward 3 years ago, but now more than ever Congress ought to shut down funding of NPR — and the rest of the Corporation for Public Broadcasting's $445 million annual budget — as it is neglecting the responsibility it was originally handed, the simple task of honest journalism. There's enough bias out there. Taxpayers shouldn't have to fund it.
Natalia Castro is a contributing editor at Americans for Limited Government.