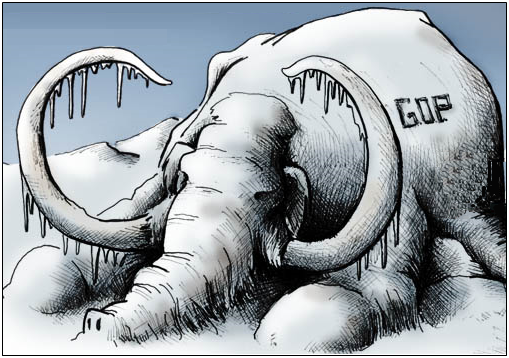 By Peter Hong
Republicans in Washington today are breathing a huge sigh of relief that Democrat House candidate Jon Ossoff did not attain the 50 percent plus one majority needed to win last night's special election in the tony Georgia suburbs surrounding Atlanta.  But the vote came with a resounding message to the GOP: shape up!
Will Republicans get it? If not, Ossoff — a 30-year old filmmaker and liberal celebrity wannabe — will win the June 20th runoff election — a contest in which he cannot even vote for himself due to residency ineligibility. More importantly, it could mark the start of a vicious political cycle, which would jeopardize the House Republican majority in 2018.
After wiping the sweat off their collective brows (as they did last week in another closer-than-expected special election in Kansas), Republicans may be tempted to shrug off last night's results. After all, Ossoff was the anointed Democrat in an 18-candidate field dominated by Republicans who spent the better part of the campaign fighting for second place (GOP candidates actually won a slim majority of the total vote). Ossoff's campaign raised over $8 million — only 5 percent of which came from Georgia — blitzing the expensive Atlanta airwaves and turning out disgruntled voters. Finally, Georgia's 6th Congressional District is a traditional Republican stronghold, previously represented by Newt Gingrich, Senator Johnny Isakson, and Tom Price. In fact, Price won reelection with 62 percent of the vote in 2016 (although Trump only won the district by a single point) before his appointment as HHS Secretary opened up the seat.
So, no worries, right? All Republican candidate Karen Handel has to do by the runoff is throw together a party unity rally, hit Ossoff for being a shameless carpetbagger, and the district's natural GOP leanings will allow her to pick up all the remaining Republican votes. Problem solved.
The bad news for Republicans is that this was not a typical special election.  Special elections tend to generate little interest and correspondingly, very low voter turnout. Last night's race attracted 193,000 voters, only 9 percent off the 210,000 vote mark set in the last regularly scheduled midterm election in 2014.  President Trump appeared to have a "reverse coattails" effect on the race, generating little traction for Republican candidates most closely tied to him while fueling the liberal animosity responsible for Ossoff's out-of-state contributions.
And had Republicans not launched a last-minute, multi-million dollar spending spree, liberal filmmaker Jon Ossoff might be Congressman-elect Ossoff. Fortunately, for the House Republican leadership, voters in Georgia's 6th Congressional District gave them a temporary reprieve, but only a temporary one. If Speaker Ryan and his team ignore this wake-up call, it will have disastrous electoral implications reverberating into next November's mid-term races.
When voters last year gave Republicans the keys to the White House and both houses of Congress, they expected results: repeal of Obamacare, conservative Supreme Court appointments, tax reform, a border wall, and the deconstruction of the administrative state. To date, all they have received in return is one outstanding Supreme Court justice and a few Congressional repeals of last-minute Obama-era regulations.
The rest of the voters' agenda is in tatters.
Obamacare repeal? — witness the "Ryancare" disaster.
Tax reform? — wait till Obamacare "repeal."
And the wall?
On Jan. 27, House Speaker Paul Ryan, said of border wall funding "But this is something we want to get on right away. And so we do believe this is one of the most important promises the president made running for office. It's a promise he's going to keep and it's a promise we're going to help him keep," adding that the timing was "in the first quarter we can get this done."
Following a threat by Senate Minority Leader Chuck Schumer to fight the wall (even to the point of shutting down the government) and comments by Senate Republican leadership that funding for a border wall would be put on hold, Ryan reversed course, saying "The big chunk of money for the wall really is next year's — next fiscal year's appropriations because they literally can't start construction even this quickly."
If this kind of messaging smells too suspiciously "Washington," it's because it is.
Donald Trump won the 2016 election — and Republicans maintained their majorities in the House and Senate — because he energized his base, and, more importantly, Clinton depressed hers. Because of overall lower voter turnout, special and midterm elections are particularly sensitive to the energy (or lack thereof) of a party's base.
If Speaker Ryan doesn't want to walk Republican candidates through a political minefield, he'll have to start delivering on genuine repeal of Obamacare and funding for the wall — as soon as Congress returns next week. He can show Republican resolve by making the House work through the traditional Memorial Day and August recesses.
Before the midterms, Republicans have at least six legislative vehicles to drive through the voters' agenda, including reconciliation measures (not subject to filibuster), likely continuing resolutions, omnibus appropriations and the debt ceiling extension. In other words, they have plenty of opportunities — now, do they have the will?
The best way for House leadership to help Karen Handel on June 20 and the slate of Republican candidates in November 2018 is to keep their promises, pass the voters' agenda and communicate this message clearly, loudly, and proudly.
In other words, act like a majority — or be prepared to lose it.
Peter Hong is a contributing reporter at Americans for Limited Government.