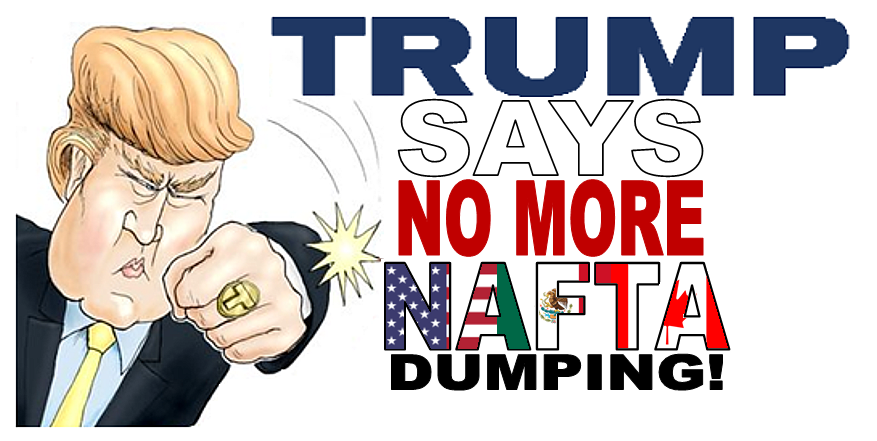 We are still more than two months away from the much-anticipated renegotiation on NAFTA starting on August 16 by the Trump administration, but the opening round has already occurred, resulting in a June 6 settlement by the U.S. Commerce Department with Mexico over that country's dumping of government-subsidized sugar on U.S. markets.
Under the settlement, according to the statement from Commerce Department Secretary Wilbur Ross, "We have gotten the Mexican side to agree to nearly every request made by U.S. industry to address flaws in the current system and ensure fair treatment of American sugar growers and refiners."
The agreement increases the price at which raw and refined sugar must be sold at the mill in Mexico, from 22.25 cents per pound to 23 cents per pound and from 26 cents per pound to 28 cents per pound, respectively, excluding packaging and transportation. Also, the percent of refined sugar that may be imported to the U.S. has been reduced from 53 percent to 30 percent.
Significantly, according to the Commerce Department, the U.S. reserves the right to enforce U.S. law and institute further sanctions should the sugar dumping continue: "Mexico agreed to increased enforcement measures and to accept significant penalties for violations, including a reduction in the amount of sugar allowed to be imported equal to twice the amount of any sugar found to be in violation of the modified agreements.  In addition, Commerce can increase this reduction to three times the amount if necessary to deter further wrongdoing."
Like any negotiation, there was give and take. In exchange, the U.S. agreed to give Mexico "a right of first refusal to supply 100 percent of any 'additional need' for sugar identified by USDA after April 1 of each year." According to the department, additional need is defined as "demand for sugar in excess of the demand USDA had predicted for that crop year."
In a statement issued by the American Sugar Alliance, the industry expressed concerns that this particular concession contained a major loophole which might enable Mexican sugar dumping to continue and is continuing talks with the administration to tighten up the language of the agreement.
Still, on the surface, the situation appears to be better than it was, validating the tough position Trump is taking on trade with Mexico — and Canada, for that matter — ahead of the NAFTA renegotiation.
Americans for Limited Government President Rick Manning said the proof will be in the pudding, noting in a statement, "The proof on whether this settlement is a success will be if Mexico now complies with the agreement, and if the U.S. government follows through on its threat to immediately and aggressively impose further sanctions should they fail to do so."
In other words, trust but verify. The deal can be okay, but the enforcement provisions must have real teeth or the U.S. will be walked all over on sugar — and all other agreements.
With an eye toward NAFTA, Mexico should be well advised that there will be many growing seasons for sugar while negotiations are ongoing, and that any violation of the settlement now in place between the U.S. and Mexico could portend badly for those broader negotiations.
That might have sugar producers in Mexico thinking twice about the geopolitical implications of dumping on U.S. markets in the future. It also sends a message to other trade partners currently engaged in similar practices.
This sets up a new paradigm where favorable trade relations with the U.S. are now based on complying with U.S. laws against dumping and other unfair trade practices — exactly what President Donald Trump promised to do on the campaign trail, particularly in relation to NAFTA and other trade agreements.
Either, the U.S. will get a better deal from these agreements in the nation's economic interests, or that deal can be scrapped. NAFTA is not a sacred cow. It can be slaughtered. Which is how an administration should act when it comes to any agreement with foreign powers on security or economic or environmental concerns.
The lesson of Paris and now this settlement on Mexico's sugar dumping is that under President Trump, it is far better to deal with the U.S. than it is pursue economic practices contrary to U.S. interests. Both of these instances now serve as warning shots to those who want to test the resolve of the new administration. So far, Trump appears to be holding firm.
Robert Romano is the senior editor of Americans for Limited Government.