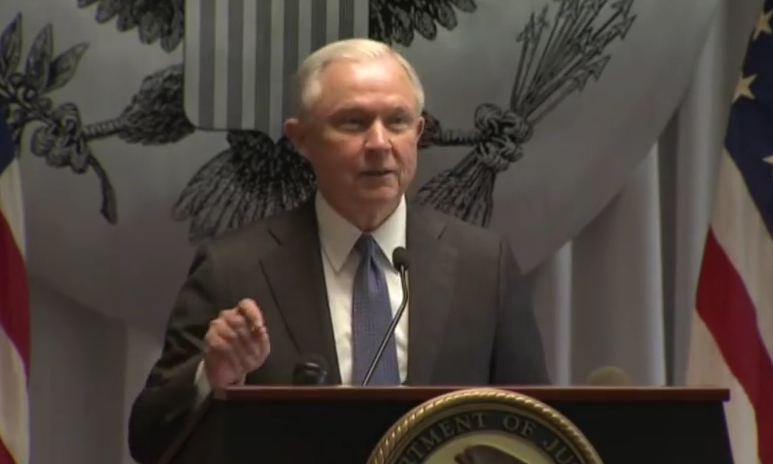 By Natalia Castro
Jeff Sessions was one of the first Republicans to endorse President Trump on the campaign trail, because he believed in the law and order approach to justice. As Attorney General, Sessions has continued to be an adamant defender of the rule of law. Now, the American people must be the first to defend him for ensuring that violent gang members are off the streets and empowering police officers to enforce the law.
Ramon Aguirre-Ochoa was deported in 2009, but chose to illegally re-enter the United States. In 2015, he was placed in custody for aggravated assault, making a terrorist threat, and harassment. Federal law enforcement officers asked the city to hold the violent offender so they could apprehend and deport him once again, but the city refused. In July, Aguirre-Ochoa was arrested again, this time for raping a small child.
Philadelphia, the city of brotherly love, refused to detain Aguirre-Ochoa for deportation allowing him to commit his heinous crime. Philadelphia is a sanctuary city, and the child who was assaulted is a victim of the city and its liberal policies.
Sanctuary cities, which purposefully ignore federal immigration law and even forbid local police from cooperating with federal immigration officers, are unquestionably dangerous. Therefore, Sessions has followed up on President Trump's executive order to defund sanctuary cities.
Despite objection from state courts, such as a court in Massachusetts which refuses to allow police to follow through on detainer requests from federal law enforcement for illegal immigrants, Sessions announced in May that the Trump Administration would withhold certain types of federal aid from these jurisdictions.
Sessions action prevents these sanctuary cities from receiving federal grants from the Justice Department and the Department of Homeland Security when they refuse to comply with national immigration law. It sends a clear message that federal law and the protection of all citizens takes precedent to any rogue court or local government.
The real-world impact of legislative steps such as ending sanctuary cities has been a decrease in the brutal violent crimes like the one committed by an illegal immigrant in Philadelphia.
In Long Island, New York, Sessions vowed to assist in eradicating MS-13, an international violent drug game comprised of primarily illegal immigrants from Central America. In September, local police believed about 400 MS-13 gang members were operating in Suffolk County.
Following Sessions pledge for assistance, more than 250 Suffolk officers have taken part in investigating gang membership with federal authority assistance, leading to 170 gang arrests. When local jurisdictions do their part in cooperating with the federal government, the federal government is eager to assist in uncovering this criminal activity and preventing it from occurring again through a new, aggressive deportation system.
In April, Sessions announced the Department of Justices "Renewed Commitment to Criminal Immigration Enforcement" by adding 50 additional immigration judges to the bench and established a plan for another 75. Addressing the backlog in the court system and demonstrating a strong commitment to protect the police, was partially responsible for decreasing illegal border crossings by 40 percent in the first month of the Trump presidency. By the third month, illegal crossings dropped 72 percent compared to the month before the President was inaugurated, the lowest monthly figure in 17 years.
Not only are criminals being apprehended by law enforcement, but their reentry is preventing crimes before they occur.
But this is only one half of the equation. President Obama's biggest stain on the criminal justice process was his war on police. Through consent decrees, Obama's Justice Department Civil Rights Division accused police departments of racial discrimination and excessive force in policing, despite no evidence for federal convictions in support of these reports. The police departments would then need to negotiate formal "reform agreements" in order to prove they were changing their actions.
In Seattle, a city of 1,500 officer policing 650,000 people, a consent decree resulted in booking times tripling and lengthy, obtrusive officer questionnaires that delve far beyond the probable cause necessary for arrest.
Luckily, in March, Sessions ordered the Justice Department to review all consent decrees entered into with police and corrections departments across the country. When police are no longer afraid to do their jobs due to liberal pushback, they can adequately enforce the law.
Attorney General, Jeff Sessions has empowered police and dismantled illegal immigrant gang networks by forcing cities to enforce the law. President Trump ran as a law and order candidate, and Sessions has been integral to implementing that plan; by abiding by the rule of law, Sessions has made our nation safer and the American people should stand by him as he stands by them.
Natalia Castro is a contributing editor at Americans for Limited Government.