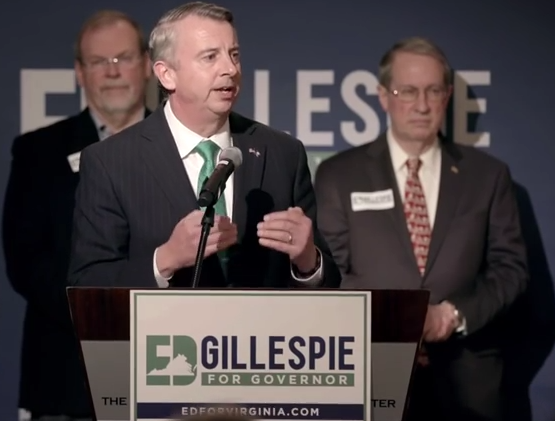 By Jim Crumley
It's important for conservatives to look at some hard numbers and accept some very hard truths about Virginia's recent elections.
First, Democrats who despise Donald Trump turned out to vote in droves to swamp Republican Ed Gillespie and elect Democrat Ralph Northam governor.  Liberals will crawl through fire to express their hatred for the man.   That put Ed Gillespie at a big disadvantage, and it was something, quite frankly, he couldn't control although he certainly tried.  Democrats are everyday reminded that they lost to a billionaire reality show host.  They aren't going to simply forget that Donald Trump is President.  Whether you like Trump or despise him, he's sitting in the White House and it infuriates Democrats.   It was entirely rational to assume that Hillary-loving voters from every corner of Virginia would turn out in higher numbers than usual to, in effect, send a message to the White House.
And that's exactly what happened.  Democrat Ralph Northam, turned out the equivalent of 71 percent of Hillary Clinton's 2016 voters — a large but not particularly historic number — and swamped Gillespie and the entire GOP ticket.  There was probably nothing at all Republicans could have done to convince Democrats to stay home.  Gillespie tried to distance himself from Donald Trump. He didn't campaign with the President.  He didn't even mention Trump's name.  He did everything possible to cool the passions of "the resistance" to Donald Trump and either win over their votes or convince them to stay home, and it didn't work.  A big blue wave of Democrat voters showed up on Tuesday and wiped out the Virginia Republican Party.
That brings us to critical point number two.  It didn't have to end this way.
While Ed Gillespie was desperately trying to distance himself from Trump, his campaign was only able to turn out the equivalent of 66 percent of Donald Trump's 2016 voters.  Although Trump lost Virginia fairly handily, he still got a lot of votes.  There are a lot of Trump fans in the Old Dominion.  Not enough in 2016 to win.  But way more than enough to win in 2017.
That's where this story gets interesting.
596,117 fewer people voted for Gillespie than voted for Donald Trump.  That's more people than live in Virginia Beach, the commonwealth's largest city.  Of course, some voters moved or died.  Some did vote and cast their ballots for the Democrat.  Some simply refused to vote for a candidate for governor.  However, the fact remains, a lot more people voted for Donald Trump in 2016 than voted for Ed Gillespie in 2017.  Enough in fact, for Ed Gillespie to at least make the election close if not win it. Had Gillespie turned out 79 percent of the Trump votes he would have won.  Had he turned out 75 percent that probably would have been enough to limit Republican losses in the General Assembly and make the governor's race really exciting.  But he only turned out the equivalent of 66 percent of Trump voters.
I'm not trying to criticize the efforts of the GOP volunteers and staffers who worked overtime to turn out votes for Gillespie on Elections Day.  I'm sure they worked hard.  Campaign work is difficult, stressful and exhausting.  However, Ralph Northam and the Democrats were able to turn out 71 percent of Hillary voters.  Driving presidential-year voters to vote in off-year state-wide elections can be done.  In fact, in some parts of Virginia Gillespie and company were able to turn out 80 percent of Trump voters.  They just weren't able to do it statewide or even where huge numbers of Trump voters lived.
In Fairfax County, the massive uber-wealthy D.C. suburb that every Virginia Republican fears, Gillespie was actually able to garner 74 percent of Trump's vote in the county resulting in 117,000 votes.  In left-wing Arlington, an urban county on the banks of the Potomac River across from Washington, Gillespie got 80 percent of Trump's vote.  In a way Gillespie did exactly what he needed to do in these Democrat strongholds.  He just didn't do it anywhere else and at a scale that would have at least made the race competitive.
In Prince William county, another big D.C. suburb, Gillespie could only manage 63 percent of the Trump vote.  In Loudoun, the wealthiest county in America, he got only 66 percent.  These are big counties.  In Loudoun alone Donald Trump received over 23,000 more votes than Gillespie did.  That's a lot of vote to leave on the table when your opponent is turning out his people like crazy.
Out in western Virginia, Gillespie received 5,000 fewer votes than Trump did in Shenandoah.  In Spotsylvania, a Republican county that is home to a number of Civil War battlefields (and monuments) Gillespie could only muster 58 percent of Trump's vote.   Trump received 15,000 more votes than Gillespie, there. Fauquier and Stafford counties, outer D.C. "exurbs" where Republicans do well, performed similarly poorly.
Results were similar in Virginia's coal country as well.  Gillespie won small counties like Lee overwhelmingly just not as overwhelmingly as he might have.  He won 70 percent of Trump's support in Lee while the opportunistic Northam campaign won 80 percent of Hillary's total.  Even where Democrats were losing big they were still scraping together additional votes in batches of hundreds or even dozens.
In the Hampton Roads region Gillespie all but collapsed.  In Virginia Beach City he could only get 61 percent of Trump's 91,000 votes and lost this traditional GOP area that Trump won.  The same thing happened in Suffolk and Chesapeake.  These are counties heavily tied to the navy and shipbuilding industries.  Donald Trump received over 170,000 votes there.  Ed Gillespie only received 105,000.  In Chesapeake Trump won and Gillespie lost because the Democrats were able to turn out 73 percent of Hillary Clinton's vote while Republicans only turned 61 percent of Trump's.
It's not hard to imagine that a rally with the nation's commander in chief vowing to work with Ed Gillespie to build more ships could have helped drive up Republican turnout in these communities.  But it never happened.
In fact, it's easy to imagine ads, mailings, emails, digital video ads, radio spots or anything for that matter featuring Trump helping boost Trump voter turnout.  However, the Gillespie campaign didn't want any part of that strategy.  Maybe they really did hope that Democrats across Virginia would simply forget about Donald Trump and stay home.  Or maybe they truly believed Trump voters would turn out for Gillespie even if he refused to even acknowledge Donald Trump's existence.  I don't know.
There were enough votes in Virginia to get them at least close to victory.  For whatever reason, they just didn't go get them.
Jim Crumley is a contributing analyst with Market Research Foundation.