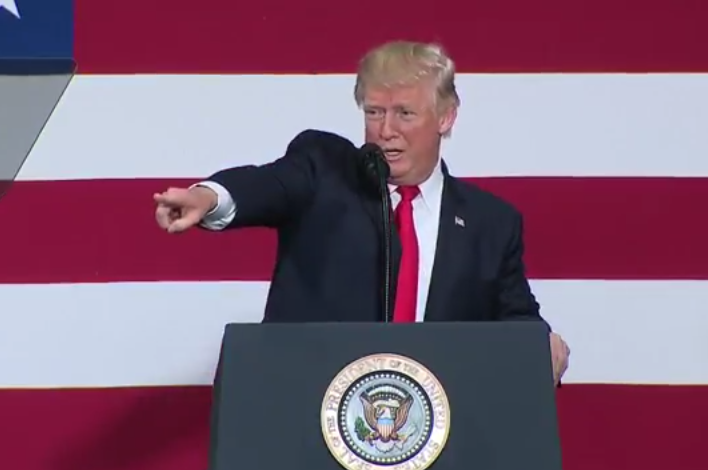 When President Donald Trump stood for election in 2016, he set a national goal of getting the U.S. economy to grow 4 percent annually, and maybe even greater than that.
Speaking to the Economic Club of New York on Sept. 15, Trump said, "it's time to establish a national goal of reaching 4 percent of economic growth. And my great economists don't want me to say this but I think we can do better than that."
It's a good goal for the nation to have. The economy has not grown above an inflation-adjusted 4 percent since 2000, and not above 3 percent since 2005.
Which makes it good news that the Atlanta Federal Reserve is projecting 4.8 percent growth annualized for Q2.
At the current point, the American people would be happy just to get to 3 percent. But in 2017, the economy fell short, only growing at 2.3 percent.
And in the first quarter of 2018, it is only grew at 2.2 percent annualized.
Meaning to get back on track for 2018 with a target above 3 percent, the economy will need to grow at 4.1 percent annualized in the second quarter, according to an analysis of Bureau of Economic Analysis data. After that, it can grow at 3 percent annualized in the last two quarters, and then the U.S. will hit that 3 percent number.
To project to a 4 percent annual growth for the year, where Q3 and Q4 would be at 4 percent annualized, Q2 would need to grow at about 8.5 percent annualized.
All this underscores the critical importance of the first quarter in determining the annual number. It all averages out in the end but gaining momentum is very important to building growth.
Contributing factors include a rapidly growing labor force, with more people working and looking for work, and therefore participating in the economy.
Surely, the individual and corporate taxes, plus deregulation and putting America first on trade, is helping to get Americans back to work — but even then, exigent factors have a way of asserting themselves. The economy, being the free choices of hundreds of millions of people not just in the U.S. but overseas, does not always cooperate, even when you have good policies.
In 1981, President Ronald Reagan enacted his tax cuts, among the largest in modern history, and you know what happened in 1982? Interest rates were still really high, although dropping as the 1970s inflation was still being squeezed out of the economy, and the result was one of the worst recessions in modern history, shrinking at 1.9 percent.
After that, though, it was off to the races. Then it grew at 4.6 percent in 1983, 7.3 percent in 1984 and 4.2 percent in 1985.
So, we've seen the U.S. economy come back from stagnation before. We hope it happens soon, but sometimes these things take time. As usual, stay tuned.
Robert Romano is the Vice President of Public Policy at Americans for Limited Government.