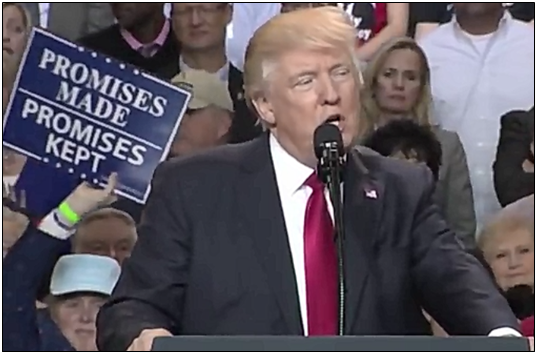 By Penny Arthur
I am an immigrant, a small business owner, a Millennial, a Christian, a Black woman, a mother. And I am a Trump supporter. I am thrilled that you are the Commander in Chief, and I appreciate the positive changes you have already made whether or not you get the credit or not. After decades of politicians making promises and breaking them, you have addressed problems that have long been ignored.
Now that the Mueller investigation is over, and they have found no evidence that you colluded with the Russians, the media's lies have been exposed. The eyes of more Americans have been opened.  This is the time for you to show them who you are. The Democrats are so out of touch with the poor, and the working class. They have little to offer, except socialism and climate change, but the left is excellent at selling their policies to their base. The Republican Party has dropped the ball on this, and it has cost us seats. So please make time for the people who feel forgotten. Go into minority communities and speak honestly from the heart. When you speak in those communities, you might want to talk about what your administration is doing to address the following issues.
One of the problems that the left has failed to solve is our broken education system. The country has grown and changed, and our education system is outdated. It was designed for old-fashioned manufacturing jobs. The system trains children to wake up early and go to school for long hours conditioning them to be prepared for working in factories. This one-size-fits-all education system has to end.
We have graduates who leave college with tens of thousands of dollars of debt, and some of them have learned little of value. Too often, universities are used to indoctrinate students and not to prepare them for the real world. Many graduates end up moving back home and struggle to find a job in their field. Bring back bankruptcy for poor college graduates, and hold universities accountable for offering worthless degrees to naïve young adults.
We should move away from hiring based on credentials and focus on skills. Businesses should be encouraged to participate in local education systems and offer more apprenticeships as an investment in the future workforce. More apprenticeships would also give universities more competition for students, forcing them to increase the quality of the educations they provide.  I also believe that it would give students in low-income communities a better chance of having a successful life.
Attention also needs to be paid to the housing crisis. This is an issue that people care about across the country, but few are even talking about it. Some people live in very dangerous communities, and that is because it is all they can afford. When $60,000 a year is barely enough to live on in Northern Virginia, there is a problem.  Localities should be urged to reduce their housing regulations and wring unnecessary costs out of construction.
In conclusion, there is a great disconnect between Washington, D.C. and the people. For example, after Obama got into office, millions of people lost their homes while he bailed out the banks.  Making matters worse, he increased taxes and implemented the Obamacare penalty. However, I believe you can make that connection with the people because you are fearless.
God bless you, Mr. President. I am rooting for you and cannot wait to see you shake things up in your next term.
Penny Arthur is a small businesswoman, mother, and activist.