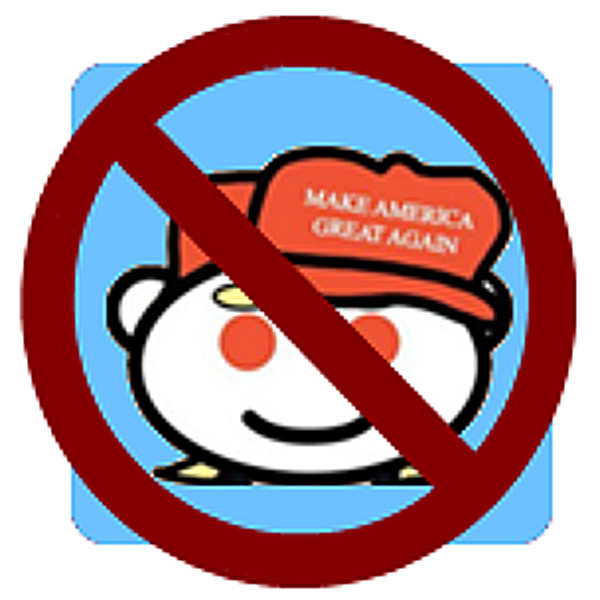 In the latest round of social media censorship, Reddit has quarantined the largest subreddit in favor of President Donald Trump, r/The_Donald, with over 750,000 followers, restricting access. The move comes amid a crackdown of conservative content on social media platforms, with users on Facebook, Twitter and Youtube being censored, suspended, banned and demonetized and Trump calling for a social media summit to address the censorship.
Since 2016, the r/The_Donald subreddit has grown significantly and is a highly trafficked go-to locale for Trump supporters online. It describes itself as "a never-ending rally dedicated to the 45th President of the United States, Donald J. Trump."
In a message to the group by one of its moderators on June 26 announcing the quarantine and measures being taken to be reinstated, it stated, "we were quarantined without warning for some users that were upset about the Oregon Governor sending cops to round up Republican lawmakers to come back to vote on bills before their state chambers. None of these comments that violated Reddit's rules and our Rule 1 [against advocating violence] were ever reported to us moderators to take action on. Those comments were reported on by an arm of the DNC and picked up by multiple news outlets."
So, there were a few posts that advocated violence, but they were not reported to the group's moderators, but to the media. Namely, Media Matters ran an article "A pro-Trump subreddit is full of calls for violence in support of Oregon Republicans." Two days later, the subreddit was quarantined.
So, it's a typical story for the internet. In a forum with hundreds of thousands of users, just like every comments section on a large website or Facebook or Twitter, some nasty, rotten comments get included. When something is reported to moderators, they remove it. But most people just ignore the offending comments and carry on civil discussions, but according to Reddit, they are now expected to wield omniscient control and report any posts that violate rules.
And if they don't, it's ban-land for r/The_Donald.
Never mind that the offending posts violated the subreddit's own rules which they were enforcing manually. Anyone can understand that when you have 750,000 followers it's hard to moderate each and every comment with just a couple dozen or so moderators and so I imagine stuff slips through the cracks all the time.
In any event, the group says it is pro-police, and stated, "we have been very pro law enforcement as long as I can remember, and that is early on in r/The_Donald's history. We have many members that are law enforcement that come to our wonderful place and interact because they feel welcome here. Many are fans of President Trump and we are fans of them. They put their lives on the line daily for the safety of our communities. To have this as a reason for our quarantine is abhorrent on our users' part and we will not stand for it."
The post went on to denounce violence and urged followers to help report any calls for violence, as it has done in the past.
In a letter to the group's moderators, Reddit acknowledged that the subreddit attempts to follow the rules by removing bad posts: "We recognize that you do remove posts that are reported, but we are troubled that violent content more often goes unreported…"
And so, Reddit suggests, "User reports and downvotes are an essential way that Reddit functions to moderate content."
The moderators noted in its initial comment on the letter from Reddit, "It would seem they've set up an impossible standard as a reason to kill us before the 2020 election."
But, the moderators have since promised to do what they could and are enlisting the entire group to help police content on the subreddit, stating, "We have a limited amount of moderators and do thousands of actions a day on things that are reported. Our mods work hard and work for free for the love of our President and this community. We cannot go into threads and read every single comment. That is where we need you to come in and help. If you see something that breaks the rules, report it and hit that deport button. The rest of Reddit and many on the left would like to see us gone. They won't hit that report button. They will see it and send it to the media or admins. Don't give them that satisfaction, report it to us and we will take care of it. We have documented cases where they actually will instigate it with alts that we catch and report those."
The moderators also warned users that any violent content would now be summarily banned, "If you make a comment that breaks the violence rule, you will be banned just like a shill because after this warning, only shills will be doing it to try and get us banned."
In response to the quarantine, Americans for Limited Government President Rick Manning urged the Federal Trade Commission to investigate, saying, "the Federal Trade Commission needs to open an investigation into anticompetitive actions by social media platforms. Given the appearance that the activities of various social media platforms are colluding against Republicans, conservatives and Trump supporters for political purposes along with the threat of deplatforming, this significantly harms conservative groups' ability to monetize their organizations and to communicate with their voluntary followers. These platforms set themselves up as neutral arbiters designed to allow organizations to access to their followings they invested resources to develop. The arbitrary denial of service is a violation of the rights and underlying contract when users chose to invest resources into developing followers on these platforms."
UPDATE: One bright side for the subreddit, since the quarantine was announced, they have acquired about another 10,000 followers as the so-called Streisand Effect attracts onlookers and supporters when something is hidden or censored. The current count as of this writing is 763,000 followers.
No word yet on whether r/The_Donald will be banned for all time, but if it is, watch for calls from conservatives and Republicans that social media Big Tech firms are biased against President Trump and his supporters and need to be regulated in order to protect the digital civil rights of users — and to protect our competitive representative political system. Stay tuned.
Robert Romano is the Vice President of Public Policy at Americans for Limited Government.