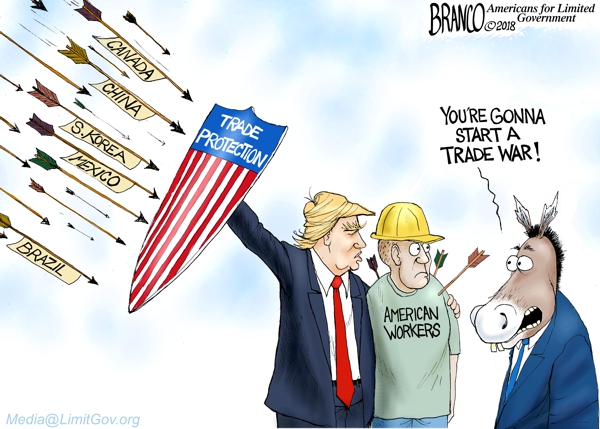 President Donald Trump stepped up the pressure on China last week by leveling sanctions against Beijing for its role in shipping tons of fentanyl to the U.S. that has killed more Americans than the Lusitania and Sept. 11, 2001 combined, plus a new round of tariffs to keep the pressure on Beijing to come to the table on trade.
To top it all off, Trump threatened broader economic sanctions on China and urged U.S. companies to leave, citing authority under the International Emergency Economic Powers Act to block transactions upon declaration of an emergency.
"Our great American companies are hereby ordered to immediately start looking for an alternative to China," Trump wrote on Twitter on Aug. 23, to the shock of the Washington, D.C. establishment. Trump later clarified he was talking about imposing sanctions on China, "For all of the Fake News Reporters that don't have a clue as to what the law is relative to Presidential powers, China, etc., try looking at the Emergency Economic Powers Act of 1977."
It marks a steep escalation in the dispute with China, and with these powers, the President can prohibit "any transactions in foreign exchange," "transfers of credit or payments," "the importing or exporting of currency or securities," and "any acquisition, holding, withholding, use, transfer, withdrawal, transportation, importation or exportation of, or dealing in, or exercising any right, power, or privilege with respect to, or transactions involving, any property in which any foreign country or a national thereof has any interest by any person, or with respect to any property, subject to the jurisdiction of the United States."
With that, Trump could cut off all commerce with China with the stroke of a pen or bar it from treasuries markets. And yes, he can do that. Congress has the power under Article I to regulate foreign commerce and to enact laws deemed necessary and proper to bring them into execution, which is precisely what Trump is doing here. Similar sanctions are used against countries like Iran and North Korea.
On China's opium war with the U.S., almost 29,000 Americans were killed by fentanyl overdoses in 2017 alone. That is up from 3,000 deaths in 2013, and a good chunk of that is coming from China. Now, President Trump is taking decisive action with the latest round of sanctions.
According to a White House press release, "the Department of the Treasury announced it is identifying two Chinese nationals and a China-based Drug Trafficking Organization as significant foreign narcotics traffickers pursuant to the Foreign Narcotics Kingpin Designation Act (Kingpin Act) and designated one associate and a China-based entity for being owned or controlled by one of the Chinese nationals."
On Twitter on Aug. 23, Trump urged UPS, Fedex and the U.S. Postal Service to do its part in enforcing the sanctions: "I am ordering all carriers, including Fed Ex, Amazon, UPS and the Post Office, to SEARCH FOR & REFUSE… all deliveries of Fentanyl from China (or anywhere else!)… President Xi said this would stop – it didn't."
China responded to the sanctions tit for tat by leveling another $75 billion of tariffs on U.S. goods that otherwise appeared unprompted after President Trump had postponed the latest 10 percent round of tariffs on the remaining $300 billion of goods until December. The U.S. already has 25 percent tariffs on $250 billion of goods.
With China's new tariffs, Trump immediately raised the American tariffs to 30 percent on the $250 billion of Chinese goods starting on Oct. 1, and up to 15 percent on the $300 billion of goods, which are no longer delayed and will go into effect on Sept. 1.
Trump wrote on Twitter announcing the move, "For many years China (and many other countries) has been taking advantage of the United States on Trade, Intellectual Property Theft, and much more. Our Country has been losing HUNDREDS OF BILLIONS OF DOLLARS a year to China, with no end in sight… Sadly, past Administrations have allowed China to get so far ahead of Fair and Balanced Trade that it has become a great burden to the American Taxpayer. As President, I can no longer allow this to happen!"
Americans for Limited Government President Rick Manning praised the move in a statement, saying, "Chinese and U.S. negotiators are scheduled to meet next week and President Trump will be meeting with other leaders at the G7 about China. Hopefully they will find a basic common ground that accomplishes three things: ending China's opium war against the U.S. using fentanyl, protecting intellectual property and ending competitive currency devaluations by China. In the past, Chinese and U.S. negotiators have agreed on all three of these points. Let's hope Beijing will finally sign off so the world can begin to embrace fair and reciprocal free trade and the scourge of fentanyl can be shelved forever, saving tens of thousands American lives every year."
It's about time.
The difference between Trump and his predecessors is that he actually fighting, which is what he promised to do in 2016. Getting tough with China has meant addressing the North Korean nuclear threat, arming Taiwan and Trump has also spoken out in solidarity with the people of Hong Kong who are marching for their freedom. In the meantime, Trump is seeking out alternatives to China, for example, with a new trade deal with Japan just announced at the G7 in France on Aug. 25.
Dialogue, of course, is preferred. Chinese officials keep saying that too but they also don't appear to keep any of their promises when they are made. This is all coming to a head, and right now, Beijing appears more interested in inflicting damage on the U.S. economy than talking ahead of the 2020 election in the hopes the American people elect a more acquiescent candidate. We'll see, but history teaches it's usually not a good idea to bet against America.
The strategy appears to be to back Trump into a corner, who has responded by coming out with guns blazing. Whatever he intended to accomplish vis a vis trade, China and globalization, this is Trump's moment and he intends to see it through.
And it could have a lasting impact. With these new sanctions, the likelihood is that Trump has already permanently shifted America's footing to take a harder line on China, a policy his successor whether in 2021 or 2024 will be compelled to continue. For better or for worse, that is Trump's legacy.
Robert Romano is the Vice President of Public Policy at Americans for Limited Government.
Updated 8/24/19, 4:01 p.m. to include International Emergency Economic Powers Act discussion.