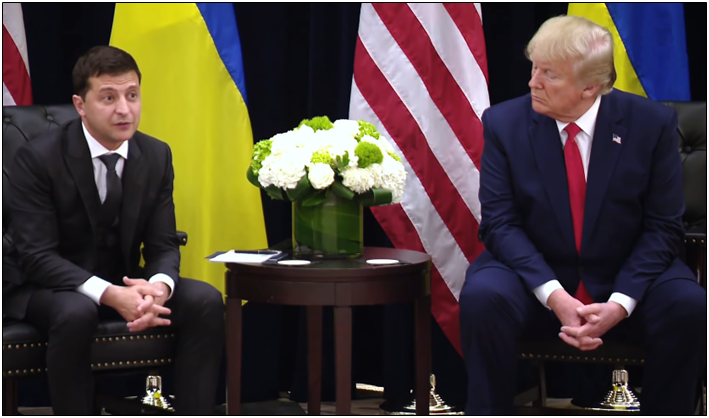 The root of the allegation against President Donald Trump by House Democrats according to the anonymous CIA so-called whistleblower complaint of Aug. 12 is that he temporarily held up U.S. military assistance to Ukraine in order to get Ukraine to "initiate or continue an investigation into the activities of former Vice President Joseph Biden and his son, Hunter Biden" and to "assist in purportedly uncovering that allegations of Russian interference in the 2016 U.S. presidential election originated in Ukraine…"
The complaint pointed to the pause of military assistance on July 18 in its appendix noting Office of Management and Budget (OMB) officials who  "stated explicitly the instruction to suspend this assistance had come directly from the President, but [OMB and National Security Council officials]  still were unaware of a policy rationale," implying that the purpose was to pressure Zelensky.
The pause came a week before President Trump's July 25 phone call with Ukrainian President Volodymr Zelensky, but the released transcript of the call found no such pressure. The only mention of military assistance was Zelensky thanking the U.S. for its help, and both agreeing that Europe needed to do more to provide assistance as well. Zelensky appeared unaware that there was any pause in assistance, saying, "It turns out that even though logically, the European Union should be our biggest partner but technically the United States is a much bigger partner…"
Trump did ask for assistance on Attorney General William Barr's ongoing investigation into the origins of the false allegations by intelligence agencies and the Justice Department that he and his campaign were Russian agents, which had been debunked by Special Counsel Robert Mueller, with Trump saying, "I would like you to do us a favor, though, because our country has been through a lot and Ukraine knows a lot about it. I would like you to find out what happened with this whole situation with Ukraine, they say Crowdstrike…  I guess you have one of your wealthy people…  The server, they say Ukraine has it. There are a lot of things that went on, the whole situation… I would like to have the Attorney General call you or your people and I would like you to get to the bottom of it… Whatever you can do, it's very important that you do it if that's possible."
To which, Zelensky replied, "Yes, it is very important for me and everything that you just mentioned earlier… I also plan to surround myself with great people and in addition to that investigation, I guarantee as the President of Ukraine that all the investigations will be done openly and candidly. That I can assure you."
When the topic of conversation turned to corruption in Ukraine, Trump said, "There's a lot of talk about Biden's son, that Biden stopped the prosecution and a lot of people want to find out about that so whatever you can do with the Attorney General would be great. Biden went around bragging that he stopped the prosecution so if you can look into it… It sounds horrible to me."
Here Trump is referring to former Vice President Joe Biden's Jan. 2018 statement to the Council on Foreign Relations bragging about having the former Prosecutor General Viktor Shokin, Yuriy Lutsenko's predecessor, fired in March 2016 by threatening $1.2 billion of loan guarantees to then-President Petro Poroshenko. Biden had said at the time, "I said, 'You're not getting the billion.' I'm going to be leaving here in, I think it was about six hours. I looked at them and said: 'I'm leaving in six hours. If the prosecutor is not fired, you're not getting the money.' …Well, son of a bitch, he got fired. And they put in place someone who was solid at the time."
Zelensky replied, "I understand and I'm knowledgeable about the situation… Since we have won the absolute majority in our Parliament, the next prosecutor general will be 100 percent my person, my candidate, who will be approved by the parliament and will start as new prosecutor in September. He or she will look into the situation, specifically to the company that you mentioned in this issue. The issue of the investigation of the case is actually the issue of making sure to restore the honesty so we will take care of that and work on the investigation of the case."
Here, Zelensky confirmed an investigation by Ukrainian prosecutors of Burisma Holdings, which he said was essential to his administration, but not into the Bidens. Those are not the same thing.
On April 1, the Hill's John Solomon reported Nazar Kholodnytskyi, an anti-corruption prosecutor in Ukraine, had reopened the office's investigation of Burisma Holdings.  Kholodnytskyi told Solomon, "We were able to start this case again… [But] we don't see any result from this case one year after the reopening because of some external influence."
The Solomon report came a few weeks after former U.S. Ambassador to Ukraine, Marie Yovanovitch, had called for Kholodnytskyi to be fired. Lutsenko said Yovanovitch had given him a do-not-prosecute list, which Yovanovitch denied. Yovanovitch was later removed from her post.
As for Shokin, he told Solomon he was removed in 2016 because of his investigation of Burisma, on which Biden's son, Hunter, served on the Board of Directors. Shokin told Solomon he had "specific plans" to investigate including "interrogations and other crime-investigation procedures into all members of the executive board, including Hunter Biden" but that "I would like to emphasize the fact that presumption of innocence is a principle in Ukraine…"
In an affidavit in a European court, Shokin testified, "The truth is that I was forced out because I was leading a wide-ranging corruption probe into Burisma Holdings, a natural gas firm active in Ukraine and Joe Biden's son, Hunter Biden, was a member of the Board of Directors… On several occasions President Poroshenko asked me to have a look at the case against Burisma and consider the possibility of winding down the investigative actions in respect of this company but I refused to close this investigation."
Shokin's application for a travel visa to the U.S. was denied by the State Department after Trump attorney Rudy Giuliani pushed to get it approved in January so Shokin could share his story about being fired by Biden.
Solomon in his April 1 report noted "Lutsenko said some of the evidence he knows about in the Burisma case may interest U.S. authorities and he'd like to present that information to new U.S. Attorney General William Barr, particularly the vice president's intervention."
"Unfortunately, Mr. Biden had correlated and connected this aid with some of the HR (personnel) issues and changes in the prosecutor's office," Lutsenko said.
On Sept. 26, Solomon also reported at the Hill that Ukrainian prosecutors had been attempting to get the information about Burisma and Biden to the Justice Department since 2018, worried U.S. laws had been violated: "Ukrainian prosecutors say they have tried to get this information to the U.S. Department of Justice (DOJ) since the summer of 2018, fearing it might be evidence of possible violations of U.S. ethics laws."
Lutsenko in a Sept. 29 BBC interview confirmed concerns about Burisma and Biden were that they possibly violated U.S. laws, not Ukrainian laws, saying he told that to Trump attorney Rudy Giuliani: "I told him the same I told you — it is not my jurisdiction… It is likely to be the jurisdiction of the U.S. If you will send me a request, yes, I will give you all official information, but it is not Ukrainian jurisdiction — that was my answer." As for Burisma, Lutsenko said, any "possible embezzlement" at Burisma "happened two or three years before Hunter Biden became a member of the board."
So, while Biden had had the prosecutor looking at Burisma fired while his son was on the board, the conduct under question predated that tenure, and in any event might have been an issue under U.S. law.
Yet, the characterization of investigations by diplomats testifying to the House Intelligence Committee and perhaps by the White House is that they were to be pursued under Ukrainian law remains. Acting ambassador to Ukraine William Taylor told the House Intelligence Committee on Oct. 22, "On August 16, I exchanged text messages with Ambassador Volker in which I learned that Mr. Yermak [an aide to Zelensky] had asked the United States submit an official request for an investigation into Burisma's alleged violations of Ukrainian law, if that is what the United States desired."
Taylor added, "A formal request to the Ukrainians to conduct an investigation based on violations of their own law struck me as improper, and I recommended to Ambassador Volker that 'we stay clear…'"
Now, perhaps a formal request to investigate corruption in a specific case would be not be usual, but it is worth noting that the U.S. routinely asks Ukraine to investigate corruption in its own country, which is said to be widespread there. The State Department even sets aside funds for Ukraine to assist its anti-corruption investigations. The aforementioned Yovanovitch said she wanted Kholodnytskyi  fired "[t]o ensure the integrity of anticorruption institutions," accusing Kholodnytskyi himself of corruption.
Leaving that aside, is Taylor characterizing a request for Ukraine to investigate Burisma, or a request to turn over information of potential violations of U.S. ethics laws in a U.S.-led investigation? According to Lutsenko in his Sept. 26 BBC interview, he said it was the latter, "I told Mr. Giuliani: 'Okay, if you start your investigation in the United States, we can officially help you.' According to international law, we will give you legal, international assistance through requests, or question and answer, or through a joint investigation team." The U.S. and Ukraine signed a mutual legal assistance treaty in 1998 under which such coordination can occur.
On Aug. 28, Politico broke the story that the U.S. had decided to pause U.S. military assistance to Ukraine.
Taylor later in his testimony said that U.S. Ambassador to the European Union Gordon Sondland told Senior Director for European Affairs at the White House and the National Security Council Tim Morrison on Sept. 1 that Sondland had conditioned U.S. security assistance on an investigation of Burisma. Per Taylor, "Ambassador Sondland told Mr. Yermak that security assistance money would not come until President Zelensky committed to pursue the Burisma investigation."
Morrison clarified in his own testimony, saying, "My recollection is that Ambassador Sondland's proposal to Mr. Yermak was that it could be sufficient if the new Ukrainian prosecutor general — not President Zelensky — would commit to pursue the Burisma investigation."
According to both Taylor and Morrison's testimony, Ukrainian officials were unaware of any pause in the funding until the Politico story was published a month after Trump spoke to Zelensky. Absent the leak about security assistance being withheld, then, Ukraine didn't know about it, and all discussions about the assistance being withheld were apparently held after the decision became public. You cannot have a quid pro quo without the person being leveraged is unaware of that.
Either way, Zelensky had already told the President in the July 25 phone call he would look into both Burisma and the origins of the Russiagate hoax before Ukraine was ever aware of a lapse in funding.
Sondland, for his part, in his Oct. 17 testimony said that Ukrainian action on the Russiagate hoax and Burisma were essential to the President: "Mr. Giuliani emphasized that the President wanted a public statement from President Zelensky committing Ukraine to look into anticorruption issues. Mr. Giuliani specifically mentioned the 2016 election (including the DNC server) and Burisma as two anti-corruption investigatory topics of importance for the President."
As for a quid pro quo, Sondland said there was none: "On September 9, 2019, Acting Charge de Affairs/Ambassador William Taylor raised concerns about the possibility that Ukrainians could perceive a linkage between U.S. security assistance and the President's 2020 reelection campaign. Taking the issue seriously, and given the many versions of speculation that had been circulating about the security aid, I called President Trump directly. I asked the President: 'What do you want from Ukraine?' The President responded, 'Nothing. There is no quid pro quo.' The President repeated: 'no quid pro quo' multiple times. This was a very short call. And I recall the President was in a bad mood."
But what about the Bidens? Sondland said, "I did not understand, until much later, that Mr. Giuliani's agenda might have also included an effort to prompt the Ukrainians to investigate Vice President Biden or his son or to involve Ukrainians, directly or indirectly, in the President's 2020 reelection campaign."
Might have? Here, Sondland is suggesting he was never told by Giuliani that the ask was to investigate the Bidens. Meaning, the so-called whistleblower complaint was based on suspicion, not facts.
On Sept. 11, the U.S. released security assistance to Ukraine, having completed Defense and State Department reviews.
There are at least four separate issues here: 1) Ukraine seeking to turn over information to the U.S. about possible violations of U.S. ethics laws should the U.S. open an official inquiry, which you can see public statements from Lutsenko and other Ukrainians that predate Zelensky's tenure in office, which did not begin until after he won the election in late April; 2) Ukraine's own investigations into Burisma which had been ongoing, which are well-documented; 3) the U.S. holding back security assistance; and 4) Trump allegedly asking for an investigation specifically into the Bidens in exchange for security assistance, for which there is no evidence.
They are not all the same thing.
So, taking these all one by one.
Can the U.S. demand that Ukraine investigate corruption there into Burisma or turn over information of potential violations of U.S. law and to cooperate with the Attorney General's investigation of the origins of the Russiagate conspiracy theory? Yes.
Can the U.S. pause military assistance to Ukraine? Yes.
Sondland is said to have tied the two together in his talks with Ukraine's administration. Can Burisma and cooperation in Attorney General William Barr's investigation into the origins of the false Russiagate investigation be conditioned on security assistance? Yes.
Specifically on this point, Ukraine is accused of helping U.S. intelligence to gather and disseminate false information that President Trump and his campaign were Russian agents. Justice Department spokeswoman Kerri Kupec said on Sept. 25, "A Department of Justice team led by U.S. Attorney John Durham is separately exploring the extent to which a number of countries, including Ukraine, played a role in the counterintelligence investigation directed at the Trump campaign during the 2016 election… While the Attorney General has yet to contact Ukraine in connection with this investigation, certain Ukrainians who are not members of the government have volunteered information to Mr. Durham, which he is evaluating."
Figuring out what role was played by foreign intelligence agencies, including ones allied with the U.S., in interfering in the 2016 elections or the extent of corruption in the government there are essential to national security. It goes to the legitimate question of whether Ukraine is a reliable ally and can be trusted with military assistance.
Does that mean Trump was ordering Ukraine to investigate the Bidens? No, because the information Ukraine was providing in the first place was said to be of violations into U.S. law, not Ukrainian law, and that whatever violations occurred were long before Hunter Biden ever served on the board at Burisma. Taylor, Morrison and Sondland all testified that the ask was to investigate Burisma, not the Bidens. Moreover, the Ukrainian prosecutor who had been trying to get the information to the Justice Department has specifically said it did not relate to violations of Ukrainian law by the Bidens, with Lutsenko saying, "I don't know any reason to investigate Joe Biden or Hunter Biden according to Ukrainian law."
Meaning, neither the alleged whistleblower, who is a public official and figur who once worked at the White House, and not some secret agent — nor any of the diplomats who have testified — had any first-hand knowledge of any allegation to interfere in the 2020 election by Ukraine to "initiate or continue an investigation into the activities of former Vice President Joseph Biden and his son, Hunter Biden…" That is all speculation.
Now, there may be something to Biden's admitted firing of Shokin who said he was investigating Burisma in March 2016 coming after Hunter Biden was hired in April 2014. And that might come up in any potential investigation of Burisma, and it might not. That potential does not delegitimize looking at the company, nor decouple U.S. interests in looking at the company.  If anything, any Americans' involvement in foreign corruption will certainly be a matter for the Justice Department to consider, for example, under the Foreign Corrupt Practices Act.
Either way, it is in U.S. interests that corruption in Ukraine be rooted out, that foreign intelligence interference into U.S. elections be deterred and, ultimately, the President has a constitutional responsibility to enforce U.S. laws, even if those accused of breaking laws are politically connected natural gas firms or the former vice president. As Democrats have liked to point out in this process, no one is above the law.
Robert Romano is the Vice President of Public Policy at Americans for Limited Government.