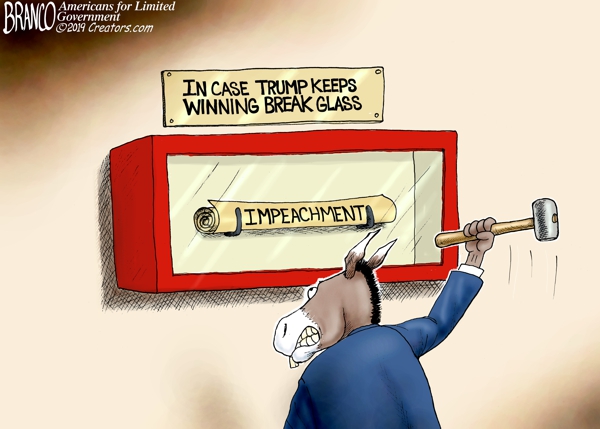 By far the most laughable "charge"—if we can call it that since it's not a crime—of the Articles of Impeachment House Democrats have brought against President Donald Trump is the silly "obstruction of Congress" charge.
Here, Democrats are complaining that in the pursuit of their quest to impeach Trump that certain administration officials have refused to testify, including former National Security Advisor John Bolton and Chief of Staff Mick Mulvaney.
Here's the thing. The House has never even subpoenaed Bolton to testify. Full stop. They invited him to testify, he declined and had his lawyer go out and say that if a court orders him to comply with a subpoena, he'll testify, but then the Democrats never subpoenaed him.
As for Mulvaney, he was subpoenaed and has refused to testify, citing executive privilege against testifying as to the candid advice he provides to the President. Now, the normal course of business would be for the House to appeal to a federal court to attempt to compel Mulvaney's testimony, but the House has not done that and it does not look like they have any intention to do so.
That, even though a federal judge had just ruled that former White House Counsel Don McGahn could be compelled to appear to testify, even if executive privilege would then be asserted at the hearing: "White House aides can withhold the kinds of confidential and privileged information that distinguishes them from everybody else; they can do so by asserting an appropriate privilege if needed, when legislators ask questions that probe too deeply."
So, Democrats could have pursued these subpoenas in court and perhaps won those cases, and compelled appearances by these officials even if not answers to specific questions.
In other words, the House has obstructed itself by not pursuing its own rights, in this case, in federal court where they might be expeditiously adjudicated. Maybe House Democrats should impeach themselves for doing such a poor job.
Instead, now Senate Minority Leader Chuck Schumer (D-N.Y.) wants to the Senate to do what the House failed to do, writing in a letter to Senate Majority Leader Mitch McConnell (R-Ky.) on Dec. 15 that the Senate should lock in witness testimony before the House had even voted to impeach, "I propose, pursuant to our rules, that the Chief Justice on behalf of the Senate issue subpoenas for testimony by the following witnesses with direct knowledge of Administration decisions regarding the delay in security assistance funds to the government of Ukraine and the requests for certain investigations to be announced by the government of Ukraine: Robert Blair, Senior-Advisor to the Acting White House Chief of Staff; Mick Mulvaney, Acting White House Chief of Staff; John Bolton, former National Security Advisor; and Michael Duffey, Associate Director for National Security, Office of Management and Budget. All four of these witnesses were asked to testify in the House impeachment inquiry but did not appear."
For his part, McConnell is holding his ground, noting in a floor speech that the 1999 trial of then-President Bill Clinton was governed by two resolutions, and the second resolution on witnesses did not occur until after opening arguments had been made.
McConnell also noted that Schumer was pre-judging what witnesses the House might wish to call, stating, "presumably it will be the House prosecutors' job to ask for the witnesses they feel they need to make their case. Why does the Democratic Leader here in the Senate want to pre-determine the House impeachment managers' witness request for them before the House has even impeached the president? Might he be coordinating on these questions with people outside the Senate?"
That's a good question. But the larger element is that it is not the job of the Senate to do the House's job, McConnell declared, stating, "Chairman Adam Schiff and House Democrats actively decided not to go to court and pursue potentially useful witnesses because they didn't want to wait for due process. Indeed, they threatened to impeach the President if they had to go to court at all. That intentional, political decision is the reason why the House is poised to send the Senate the thinnest, least thorough presidential impeachment in our nation's history."
McConnell added, "By any ordinary legal standard, what House Democrats have assembled appears to be woefully inadequate to prove what they want to allege. So now the Senate Democratic Leader would apparently like our chamber to do House Democrats' homework for them. He wants to volunteer the Senate's time and energy on a fishing expedition to see whether his own ideas could make Chairman Schiff's sloppy work more persuasive than Chairman Schiff himself bothered to make it."
Here, McConnell has a point. The House has made a mess of its impeachment sham hearings and have utterly failed to build a bipartisan consensus for removing President Trump, and instead has united Republicans around their leader headed into the 2020 reelection cycle.
The House has utterly failed to make a public case for impeaching the President and now polls have gone south on Democrats. Go figure.
In the meantime, McConnell notes that Schumer apparently does not even understand the Senate's role in trying impeachments. McConnell said, "This misunderstanding about constitutional roles brings me back to something I raised earlier. The Democratic Leader's letter to me, by way of the press, literally misquoted the Constitution. Senator Schumer wrote that we should exercise, quote, 'the Senate's 'sole Power of Impeachment' under the Constitution with integrity and dignity.' He attributed to the Senate, quote, the 'sole Power of Impeachment.' 'Well, there's his problem. That's the role the Constitution gives to the House! Article I, Section 2 says 'The House of Representatives… shall have the sole Power of Impeachment.' [emphasis McConnell's]"
McConnell continued, "If my colleague wants to read about our responsibilities here in the Senate, he needs to turn to the next page. Article I, Section 3 says, 'The Senate shall have the sole Power to try all Impeachments.' We don't create impeachments. We judge them. The House chose this road. It is their duty to investigate. It is their duty to meet the very high bar for undoing a national election. As Speaker Pelosi herself once said, it is the House's obligation to, quote, 'build an ironclad case to act.' End quote. If they fail, they fail. It is not the Senate's job to leap into the breach and search desperately for ways to 'get to 'guilty.'' That would hardly be impartial justice."
That is exactly right. The Senate is under exactly zero obligation to make the case for impeachment on behalf of the House. If the House did not get the job done in the House when it had full control of the proceedings, that's House Speaker Nancy Pelosi's (D-Calif.) and House Intelligence Committee Chairman Adam Schiff's (D-Calif.) fault for rushing through the process.
Witnesses have contradicted the key allegation that President Trump leveraged military assistance to Ukraine in exchange for investigations into former Vice President Joe Biden and the corrupt natural gas firm Burisma his son worked for.  Others have relied on hearsay and presumptions about the motives of the President's policies.
The Articles of Impeachment remarkably do not even include any allegations that the President has committed a crime. If anything, at this stage the case ought to be dismissed.
The fact is, Democrats are in such a hurry to get impeachment over with before the election season in 2020 that they're not even going through the motions. They just want to check the box to satisfy their radical base. There are no crimes and now they're saying they didn't fight hard enough to get the right witnesses to testify—  and now they expect the Republican Senate to make up for their own deficiencies.  It's as if they were trying to lose.
Robert Romano is the Vice President of Public Policy at Americans for Limited Government.