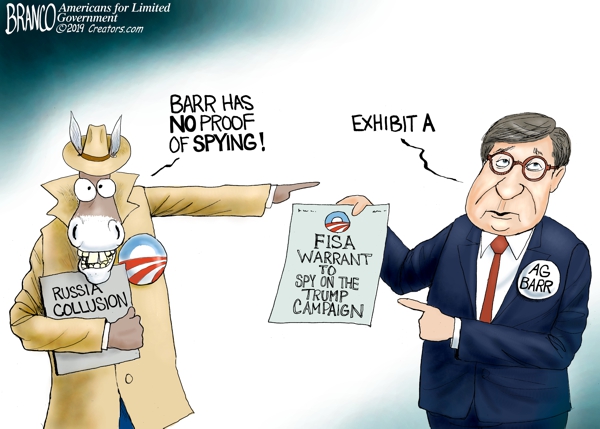 On Dec. 9, the long-awaited report from Justice Department Inspector General Michael Horowitz will be released, shortly before Congress is expected to vote to reauthorize the Foreign Intelligence Surveillance Act (FISA) alongside the annual omnibus appropriations bill.
The Horowitz report is supposed to address allegations that intelligence agencies and the Justice Department acted inappropriately or illegally in obtaining top secret surveillance of the Trump campaign in 2016 on what turned out were false allegations by the Hillary Clinton campaign and the Democratic National Committee that President Donald Trump and officials on his campaign were bought and paid for Russian agents.
Initial reports suggested that the Horowitz report would include criminal referrals, including a Nov. 21 CNN report: "An FBI official is under criminal investigation after allegedly altering a document related to 2016 surveillance of a Trump campaign adviser, several people briefed on the matter told CNN… The finding is expected to be part of Justice Department Inspector General Michael Horowitz's review of the FBI's effort to obtain warrants under the Foreign Intelligence Surveillance Act on Carter Page, a former Trump campaign aide."
But now a Dec. 2 New York Times report  states the Horowitz report is going to say the FBI had a sufficient basis for its investigation of the Trump campaign. According to the Times, the report will contain "a conclusion by the department's inspector general that the F.B.I. had sufficient information to open the investigation into whether any Trump associates conspired with Russia during the 2016 presidential race."
Now, both things can be true. That is, that there were some crimes committed by agents pursuing the false claims against Trump and his campaign that are now being pursued in criminal court. And that the inspector general is concluding that those crimes would not have altered the FISA court's decision to approve the surveillance, or the FBI's decision to initiate the investigation.
A key question is whether Horowitz looked at any material before July 31, the official start date of the investigation? Or if Horowitz was even able to uncover how the fraud against Trump was perpetrated and by whom.  Were agents aware that the allegations they were pursuing were concocted?
On April 10, Attorney General William Barr testified before the Senate Appropriations Subcommittee on Commerce, Science and Justice, acknowledging that the surveillance had occurred: "I think spying did occur… but the question is whether it was predicated, adequately predicated?"
Barr explained, "I think spying on a political campaign is a big deal, it's a big deal. The generation I grew up in, which was the Vietnam War period, people were all concerned about spying on anti-war people and so forth by the government. And there were a lot of rules put in place to make sure that there's an adequate basis before our law enforcement agencies get involved in political surveillance."
"I'm not suggesting those rules were violated but I think it's important to look at that." Later in his testimony, he couched his description of the spying he would be reviewing, saying, "I want to make sure there was no unauthorized surveillance."
And that's a real key term there and a key question: When did the surveillance really begin? In Oct. 2016 with the FISA warrant? In July, when agents began following the trail of bread crumbs left by Trump's political opponents? Or earlier?
As far as whether it was fully authorized, as far as can be seen, it was most certainly authorized by the FISA court beginning in Oct. 2016.
Was it adequately predicated? I don't think there's any question here. Special Counsel Robert Mueller already told us:  "[T]he investigation did not establish that members of the Trump Campaign conspired or coordinated with the Russian government in its election interference activities," and "the evidence does not establish that the President was involved in an underlying crime related to Russian election interference."
That included all members of campaign. Per Mueller, "the Office did not find evidence likely to prove beyond a reasonable doubt that Campaign officials such as Paul Manafort, George Papadopoulos, and Carter Page acted as agents of the Russian government — or at its direction, control or request — during the relevant time period." As for former Trump attorney Michael Cohen, per Mueller, "Cohen had never traveled to Prague…" which discredited a key allegation from the Steele dossier.
All of which raised the question: If in the end there was not enough evidence to bring a prosecution on a conspiracy with Russia, the key allegation against Trump — based on probable cause — why was there enough evidence to conduct surveillance for months on end, which supposedly falls under the same standard?
The answer seems to lay in the so-called dossier by Fusion GPS and former British spy Christopher Steele, paid for by the Democratic National Committee (DNC) and the Hillary Clinton campaign, which formed the basis for the FISA warrant.
This was the same dossier that FBI Director James Comey had testified in Jan. 2017 as being "salacious and unverified."
And yet, it was used in the FISA application, even though it was known at the time to be political opposition research by a "U.S. based law firm [that] had hired the identified U.S. person to conduct research regarding Candidate #1's ties to Russia," referring to the DNC law firm Perkins Coie who hired Fusion GPS who contacted Steele to gather information on Donald Trump.
The FBI knew it was political: "The FBI speculates that the identified U.S. person was likely looking for information that could be used to discredit Candidate #1's campaign." That is the most damning statement in the Oct. 2016 FISA application. The FBI admitting it knew it was political gossip all along, and they went ahead and spied on a presidential campaign just weeks before the election anyway.
All based on Steele, who alleged his source had said "there was a well-developed conspiracy of co-operation" between then-candidate Donald Trump and Russia, and that starting in July 2016, "This was managed on the TRUMP side by the Republican candidate's campaign manager, Paul MANAFORT, who was using foreign policy advisor, Carter PAGE, and others as intermediaries. The two sides had a mutual interest in defeating Democratic presidential candidate Hillary CLINTON, whom President PUTIN apparently both hated and feared… Inter alia, Source E, acknowledged that the Russian regime had been behind the recent leak of embarrassing e-mail messages, emanating from the Democratic National Committee (DNC), to the WikiLeaks platform. The reason for using WikiLeaks was 'plausible deniability' and the operation had been conducted with the full knowledge and support of TRUMP and senior members of his campaign team."
In court testimony, Steele said "all material contained this risk" of being disinformation. Further, Steele didn't go to Russia himself, and was said to have relied on a network to relay information, stating that the allegations needed to be "further corroborated and verified."
Steele said his sources were Russian, but they were not named: Source A was a "former top Russian intelligence officer"; Source B was a "senior Russian Foreign Ministry figure"; Source C was a "senior Russian financial official"; Source D was a "close associate of Trump" (golden showers source); Source E was an "ethnic Russian close associate" of Trump (golden showers source); Source F was a "female staffer of the hotel"; and source G was a "senior Kremlin official".
But Steele's sub-sources must have been several layers removed, as we learn later that Steele never went to Russia himself.
According to testimony by Fusion GPS' Glenn Simpson before the Senate Intelligence Committee in Nov. 2017, Steele hired "a network of sources who live in or came from the place that you're interested in… who can travel and talk to people and find out what's going on" to get the dirt. But we don't know who, since, per Simpson, "I didn't ask for the specific identities of specific people."
On why didn't Steele go to Russia himself, Simpson said "[H]e really would not be safe if he went to Russia. He's been exposed as a former undercover British Intelligence officer who worked in Moscow. So it wouldn't be wise for him to go to Russia."
From the FISA warrant application again in Oct. 2016, Steele, that is, "Source #1 tasked his sub-source(s) to collect the requisite information. After Source #1 received information from the sub-source(s), described herein, Source #1 provided the information to the identified U.S. person who had hired Source #1 and to the FBI."
A March 2017 Vanity Fair piece about Steele by Howard Blum similarly stated, "[Steele] could count on an army of sources whose loyalty and information he had bought and paid for over the years. There was no safe way he could return to Russia to do the actual digging; the vengeful F.S.B. would be watching him closely. But no doubt he had a working relationship with knowledgeable contacts in London and elsewhere in the West, from angry émigrés to wheeling-and-dealing oligarchs always eager to curry favor with a man with ties to the Secret Service, to political dissidents with well-honed axes to grind. And, perhaps most promising of all, he had access to the networks of well-placed Joes — to use the jargon of his former profession — he'd directed from his desk at London Station, assets who had their eyes and ears on the ground in Russia."
So, Steele had sources, some of whom would have supposedly spoken to the sources in question but it was hearsay at best. It does not appear Steele spoke to senior Kremlin officials directly, which stand out as key figures in the dossier. And this was reflected in the FISA warrant application by the Justice Department.
And they ran with it anyway; hearsay, in the most top secret court in the land.
The New York Times' Scott Shane, Adam Goldman and Matthew Rosenberg reported on April 20 that in Jan. 2017 the FBI interviewed one of the main sources for the dossier and came away with "misgivings about its reliability [that] arose not long after the document became public" in Jan. 2017.
Per the Times report: "By January 2017, F.B.I. agents had tracked down and interviewed one of Mr. Steele's main sources, a Russian speaker from a former Soviet republic who had spent time in the West, according to a Justice Department document and three people familiar with the events, who spoke on the condition of anonymity. After questioning him about where he'd gotten his information, they suspected he might have added his own interpretations to reports passed on by his sources, one of the people said. For the F.B.I., that made it harder to decide what to trust."
The FBI appeared to discount the possibility of the dossier being Russian disinformation, per the Times report: "F.B.I. agents considered whether Russia had polluted the stream of intelligence, but did not give it much credence, according to the former official."
So, there were tons of red flags that could have and should have been raised about the Steele dossier and the allegations against Trump, all of which would have been cause to end the investigation that went nowhere.
And yet, perhaps the worst possible outcome here would be a self-serving conclusion from the inspector general is that FISA was not violated, even though the allegations into Trump were made up by his political opponents. That would mean that it is the law itself that is broken if it allows hearsay as evidence of treason.
If that's the case, then FISA must not be reauthorized.
On the other hand, we know that in October that the investigation by U.S. Attorney John Durham has been expanded into a criminal probe. So, there's a contradiction, and perhaps a disagreement within the Justice Department over the conduct by the Obama administration in its last few months, when it obtained court-ordered spying on the Trump campaign, the opposition party, in an election year.
It is up to Attorney General Barr to answer these questions. Public confidence in the Justice Department hangs by a thread. If nobody goes to jail for putting the country through this nightmare, this national fraud, it will happen again.
That is why, here, the inspector general's opinion is interesting, but appears preliminary and not the final word on this matter, which lays with Barr. But the Attorney General needs to help out Congress here. If this spying based on false hearsay allegations was not prohibited by FISA, then Congress needs his recommendations, because it needs to be, or else FISA shouldn't be reauthorized.
Robert Romano is the Vice President of Public Policy at Americans for Limited Government.