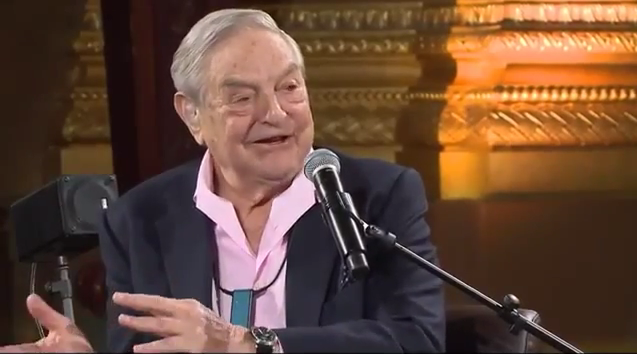 Over the past several years, George Soros and other very wealthy liberals have been dumping millions of dollars into local district attorneys' races all across the country. Why would out-of-touch billionaires be trying to buy district attorneys' offices in localities where they do not live and that they may rarely, if ever, even visit? Because they are left-wing ideologues who want to elect soft-on-crime prosecutors. Before they notch any more wins, the Right needs to get its act together and organize an effective organization to stop these radicals.
Unfortunately, Soros and his cabal have won quite a few victories. For example, Soros helped elect Diana Becton in Contra Costa, California; Kim Foxx in Chicago; Kim Gardner in St. Louis; Kim Ogg in Houston; Rachael Rollins in Suffolk County, Massachusetts; Larry Krasner in Philadelphia; Jack Stollsteimer in Delaware County, Pennsylvania; Parisa Dehghani-Tafti in Arlington, Virginia; Steve Descano in Fairfax, Virginia; Buta Biberaj in Loudoun County, Virginia; and Jim Hingeley in Albemarle, Virginia, among others.
For some reason, these prosecutors do not believe they have to enforce the law; they believe that they can just ignore laws that they do not like. That is why they are refusing to prosecute thefts, disorderly conduct, prostitution, drug possession, and resisting arrest; refusing to pursue the death penalty; and firing experienced prosecutors. Clearly, Soros's prosecutors are more interested in coddling criminals than prosecuting them; their sympathies lie more with criminals than with victims.
The good news is that Soros and his candidates can be beaten. In spite of Soros's money, voters in San Diego; Sacramento; Alameda County, California; Washington County, Oregon; Jefferson County, Colorado; and Monroe County, New York rejected soft-on-crime candidates.
Of course, Soros is not alone in his efforts to subvert our laws. The following are some of the wealthy donors who also support soft-on-crime candidates:
Cari Tuna, the wife of Facebook co-founder Dustin Moskovitz;
Lauren Powell Jobs, the widow of Steve Jobs;
Kaitlyn Krieger, the wife of Instagram co-founder Michael Krieger;
Liz Simons, daughter of hedge fund billionaire James Simons; and
Sonjia Smith, the wife of hedge fund manager Michael Bills.
Fresh off of their 2019 victories, Soros and his cabal are already setting their sights on the Los Angeles District Attorney's office, which is the largest local prosecutor's office in the country. Rather than endure a tough race for reelection in San Francisco where he was the district attorney, George Gascón quit his job and moved over 300 miles south to Los Angeles to challenge Jackie Lacey, the incumbent prosecutor there. Given the sorry state of the city, one can hardly blame Gascón for not wishing to face San Francisco voters. One way or another, moderates and conservatives – and really anyone who values the rule of law – must see to it that Gascón is defeated. No doubt, there are a number of other district attorney's offices that Soros would like to capture as well.
Just how bad do things have to get before an effective counterweight to Soros and his pals emerges? Surely someone can give or raise the $20 million necessary to go toe-to-toe with Soros and expose his radical candidates for district attorney. Otherwise, we will be bitterly complaining next year after Soros wins yet another round of races for district attorney – and the lives and livelihoods of millions of people are unnecessarily put at risk by Soros's dangerous agenda. Over the past few decades, conservatives have wisely focused on taking back the courts, but district attorney races must not be overlooked. After all, what good is having a good judge – or even good laws and good precedent – if prosecutors refuse to do their jobs?
Richard McCarty is the Director of Research at Americans for Limited Government Foundation.