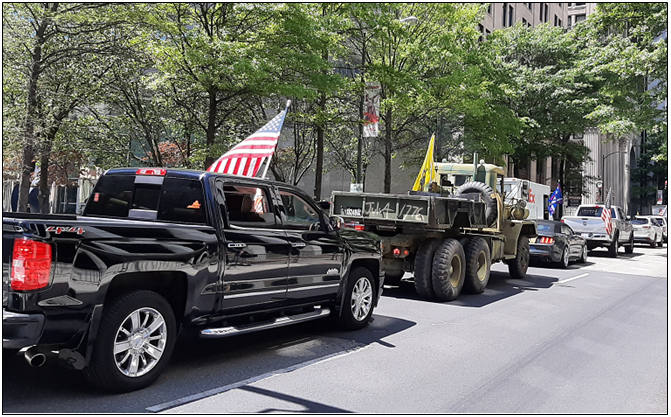 Virginia's capital should be getting used to conservative protests by now. For the third time this year, conservatives flocked to Richmond to protest last week. In January, conservatives assembled to support the Second Amendment and oppose anti-gun legislation. The following month, conservatives rallied in support of the right to life. Last Wednesday, under a clear sky with pleasant temperatures, protesters gathered in Richmond to call for the reopening of the Commonwealth's economy.
Protesters' vehicles formed a slow-moving ring around the State Capitol, and legislators (who were in town for the annual veto session to accept or reject the governor's changes to legislation) were treated to a glorious cacophony of blaring horns. As protesters sat in their cars, they listened to appropriate music: the National Anthem, Lee Greenwood's "Proud to be an American," and Twisted  Sister's "We're Not Gonna Take It Anymore." Amidst the stream of cars, pickup trucks, minivans, and SUVs, a semi-tractor truck and a military surplus vehicle stood out. Some protesters had painted messages onto the windows of their vehicles, some flew American flags, Trump flags, and/or Don't Tread on Me flags, and some held handmade signs.
The protesters' signs called for the reopening of Virginia and referenced the importance of jobs, freedom, and the Constitution. One unique sign asked, "Why is the ABC store an essential business?" (In Virginia, liquor stores are run by the state government.)  Another read, "Poverty kills too." Unsurprisingly, the signs showed that Gov. Ralph Northam (D), who ordered the economic shutdown, was not popular with the protesters.
Several protesters were kind enough to share their thoughts. Paula (a pseudonym), a Virginia physician, stated, "I went to Richmond along with many, many fellow patriots to do my part to send a message to [Gov. Northam] that he is way out of bounds with his efforts to prolong our shut down here in Virginia.  I fail to understand how someone who doesn't mind killing full term babies thinks this shut down that is allegedly being done to flatten the curve of Wuhan Flu is so important."
Paula noted that the protesters "were a happy group of law-abiding, intelligent and passionate patriots who were working in unison for the common goal of protecting our freedom…"
Ellie Lockwood, a concerned grandmother of two, stated that the "legislature seems clueless to our state of mind." She observed that when she "arrived at the meet up location a good number of people were in their work vehicles to make the point that the lock down was seriously dire for them." Ellie went on to note that "social distancing was being practiced where I was."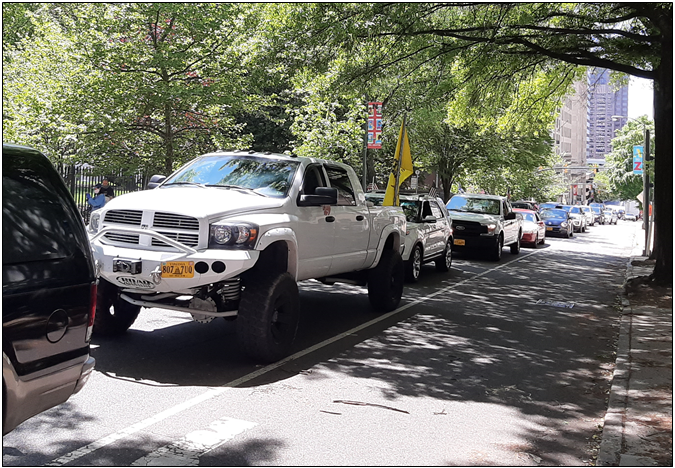 Linda Pellegrino, a longtime community activist, stated, "I went with only one hour [of] sleep because it was very important for me to peacefully express my anger… I found the other protesters like-minded, peaceful… During a traffic jam… I had a nice conversation with a biker with a… Glock on his hip… Every protester was a person I would gladly add to my circle of friends."
Martha Boneta, a small business owner, stated that she "attended the protest because I love America with all my heart. Virginia is our home and freedom is in great peril now." She was struck by the "passion and dedication of everyone. Individuals and families came from all over the Commonwealth and they were determined to be heard and unshakable in defending our constitutional rights." Martha believes that "all businesses are essential" and that the "American people are resilient and want to get back to work… She concluded that "we must continue to fight and keep government from trampling on our liberty."
Counterprotesters were few, but there were some rude individuals. One yelled "f— you" to protesters sitting in their cars; another skated by with his middle finger extended; and then there was the middle-aged, white liberal who insulted a young, black protester with a Trump flag by asking how much he was being paid.
While the views of these conservative protesters may not yet be the majority view, it is likely that their ranks will swell. With a major meat processing company warning that the food supply chain is breaking, with well-run grocery stores struggling mightily to keep shelves filled, with more marriages breaking up, with suicide hotline calls spiking, with long lines forming at food banks, and with unemployment rolls growing, it will soon be blatantly obvious that the status quo is unsustainable.
Americans for Limited Government President Rick Manning urged, "It is time for most of America to re-open before fear of this disease costs too many lives from other untreated diseases, suicides, overdoses and other devastating effects of the poverty created by the shutdown.  This is why Americans for Limited Government has launched the www.ReOpenAmericaNow.org website to help citizens voice the need to restart the economy directly to their politicians."
Richard McCarty is the Director of Research at Americans for Limited Government Foundation.